Review: Blanca in Newport Beach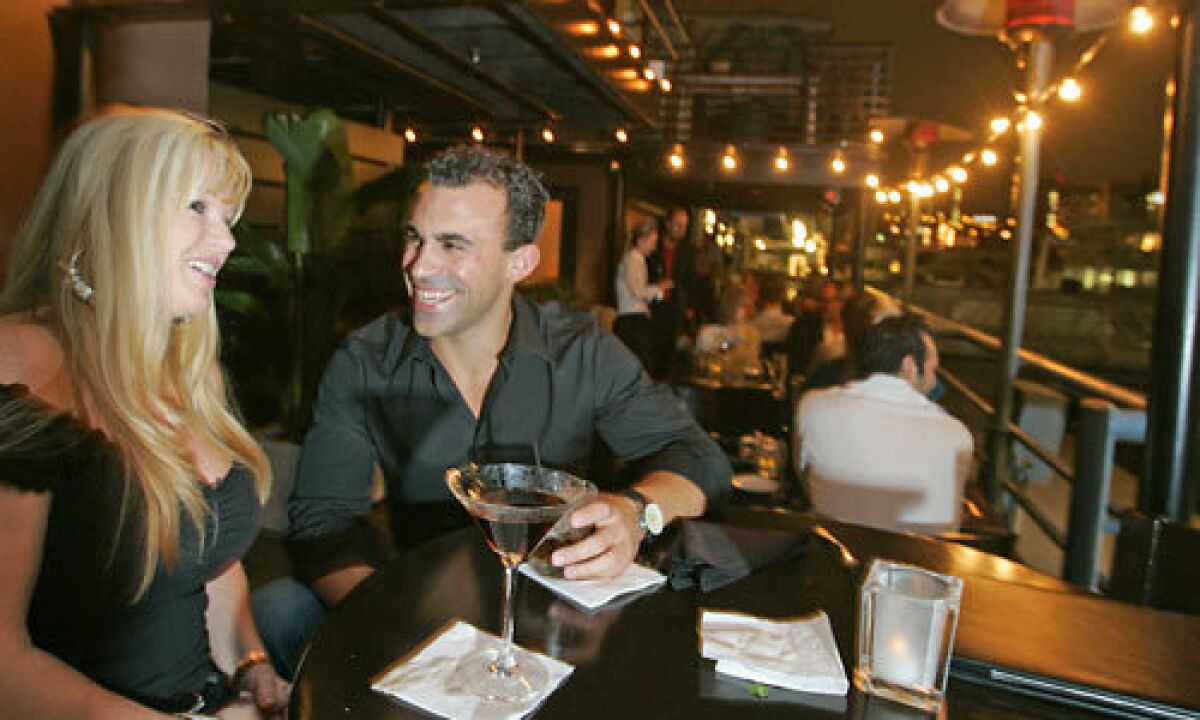 Times Restaurant Critic
FROM OUR table along the water at Blanca, a new restaurant in Newport Beach, we watch as a gondolier in traditional striped jersey and broad-brimmed hat gives his gleaming black gondola a polish with a soft cloth, folding a blanket across the seat. His presence, barely visible in the dark as lights reflected in the water bob in and out of focus, is incongruous among the moored speedboats and party boats for hire. Yet here comes the romantic couple ready for their gondola ride. As they step into the boat, the gondolier hands them each a glass of wine and -- ever the professional -- takes a photo.
I haven't really been back to Lido Marina Village, the small commercial district on Balboa Peninsula, since I was a kid, and though it still retains some of its funky charm, it's changed. Walking toward Blanca, we pass the office for that gondola company, a storefront where an AA meeting is in progress, and a couple of laid-back bars and restaurants. Blanca sticks out for its cool minimalist style.
The restaurant is actually a cluster of small buildings around a courtyard that opens onto the harbor. Nearest the street is the bar area encompassing an outdoor bar and tables in the courtyard. Then comes the restaurant itself, a small bungalow done up in white with white leather banquettes and hot pink accents and a handful of outdoor tables strung along the dock in front. On the other side of the courtyard is a separate crudo bar with tables inside and out.
A coastal match
WHAT would make more sense than crudo -- Italian-style raw fish -- right here beside the Pacific? It's the trend of the moment. And chef Nicholas Weber, who was running the kitchen at Pinot Provence for the last year and a half (and, before that, Catal at the Downtown Disney district in Anaheim), must have been itching to get his hand in and show what he can do outside the familiar format of the Patina Restaurant Group's California-French restaurant. He's also a partner in this MOR Project restaurant.
Weber's menu for Blanca features a special section for crudo and it is excellent. Take, for example, the kampachi garnished with cool, smooth hydrated basil seeds and tiny basil sprouts, more delicate than the peppery full-grown herb. Lemon oil and a sprinkling of Hawaiian salt brighten the effect, creating a truly beguiling dish. Diver scallops are terrific, too, paired with shimeji mushrooms scented, lightly, with truffle oil.
All the fish, including the Scottish salmon topped with tart-sweet dried baby tomatoes, is top-grade sushi quality. And most of the crudo dishes are large enough to share. (Weber also offers a quartet of crudo as an appetizer plate.)
Also outstanding is his albacore crudo topped with a little Espelette pepper from the Basque country, and shards of crisp Serrano ham in a gazpacho-flavored vinaigrette. Now that's an interesting dish.
But Weber is no one-trick pony. He's got plenty of ideas that are not crudo. Bibb lettuce salad is notable for its fine-tuned balance of flavors: a stack of crinkly pale green leaves strewn with crumbled blue cheese, sliced radishes and candied nuts. His foie gras terrine is a real revelation, a cylinder of silky smooth duck liver turned on its side and served with glistening diced strawberries, salted peanuts and a balsamic espuma, or foam. The acidity of the strawberries is brilliant against the richness of the foie gras.
His version of vitello tonnato features rare big-eye tuna scattered with crisp fried sweetbreads, shaved apples and pickled scallops: delicious.
My favorite dish on his menu may be his wild mushroom paella. The rice has the nutty crunch of an authentic paella (as opposed to a more liquid risotto), and each grain has soaked up a full-flavored broth in the cooking. It's garnished with fiddlehead ferns, a dab of aioli and two lacy rafts of toast.
Next up is the large-scale handmade ravioli. Cut into the supple dough and the yolk of the organic egg inside flows out, mixing with wild mushrooms and brown butter.
Charting a course
THE CHEF'S intensity never lets up, and while foodies will flock to this place, I don't know about the beach crowd, which is more prone to seeking out easygoing fare, nothing too challenging. With a menu this large and a small kitchen staff, it must be hard to execute these intricate dishes when and if the place gets really busy. On my visits, there are not so many diners, but later in the evening, the bar and outdoor area is thronged and there's definitely more drinking than eating going on. But that's the beach for you.
Butter-poached lobster, a main course, arrives in a bowl with an egg cooked at 62 degrees Celsius, which gives both the white and the yolk the same tender, barely cooked texture. The lobster sits in a "cioppino" consommé laced with Early Girl tomatoes and leeks. As soon as you break into the egg, the yolk mixes in with the broth to thicken it. Another outstanding dish.
If you love scallops, order the roasted diver scallops. They're crunchy top and bottom, rare at the center, and served with prosciutto and melon in a pickled melon vinaigrette, in this case watermelon.
Funny thing, but the simplest main course is the one that the kitchen blew one night: a basic roasted New York steak. It came medium (when it was ordered rare) with barely a hint of pink at the center, a silky red wine reduction and salty potatoes mixed with Taleggio cheese, a disappointing piece of meat for $40.
Unfortunately the restaurant lacks the wine list to complement the sophisticated food. It's a very young restaurant, and either budget constraints dictated the choices or there's no one around knowledgeable enough to put together a list custom tailored to Weber's cooking. I'm hoping this is just the first draft.
Service is still a little rocky -- disorganized and a little tentative, but the wait staffers are enthusiastic and friendly, and intrigued and curious about Weber's cutting-edge menu. Still, I think the menu could use some simpler dishes to contrast with the more intricate ones for balance.
Desserts are every bit as ambitious as the rest of the menu. Just as we're savoring a dense dark chocolate cake with a fantastic salted caramel ice cream, one of the two party boats usually moored in front of the restaurant heaves into view, lights ablaze. We can see it's a wedding party, and we watch as the bride and groom kiss their guests goodbye. Sweet. Meanwhile, we dig into a fluffy little olive oil cake nestled up to a scoop of Moscato ice cream, a lovely combination of flavors. There's also a bowl of Harry's strawberries and blackberries from the farmers market with a streak of aceto balsamico down the side of the glass and a dollop of goat cheese ice cream.
"It's like a mini-vacation," one of my friends tells me as she adjusts a shawl around her shoulders. I hadn't told her where we were going when I picked her up, and the place was just as much a surprise to everyone else I took. In Southern California, oddly enough, a restaurant right on the water is a rarity, and one that has serious and seriously good food is even rarer. Just hope the two party boats are out cruising so you can enjoy the view of the water while you dine.
BlancaRating: **Location: 3420 Via Oporto, Newport Beach; (949) 673-0414; www.blancanewport.com.Ambience: Sophisticated Mediterranean menu featuring Italian crudo (raw sliced fish) in a relaxed setting with tables overlooking Newport Beach harbor. There's also an outdoor bar and separate crudo bar, which stays open late.Service: Earnest, still learning.Price: Dinner appetizers, $12 to $20; crudo bar items, $9 to $14; main courses, $26 to $40; cheese plate, $14; dessert, $10 to $11.Best dishes: Albacore crudo, kampachi crudo, Scottish salmon crudo, foie gras terrine with strawberries, vitello tonnato, organic soft-egg ravioli, butter-poached lobster, wild mushroom paella, Muscovy duck breast with stone fruit, chocolate decadence with salted caramel ice cream, "zuppa di bacca" with goat cheese ice cream.Wine list: Not very good. Corkage fee, $15.Best table: One on the dock in front of the harbor.Details: Open from 4 p.m. to 2 a.m. Tuesday through Sunday (restaurant kitchen closes at 10 p.m., but bar and crudo bar stay open). Full bar. Street and lot parking; valet parking on the weekends, $9.To see a photo gallery, go to latimes.com/food.Rating is based on food, service and ambience, with price taken into account in relation to quality. ****: Outstanding on every level. ***: Excellent. **: Very good. *: Good. No star: Poor to satisfactory.
---
Get the Latinx Files newsletter
Stories that capture the multitudes within the American Latinx community.
You may occasionally receive promotional content from the Los Angeles Times.