Orange County animal shelter in 'utter disrepair,' grand jury report says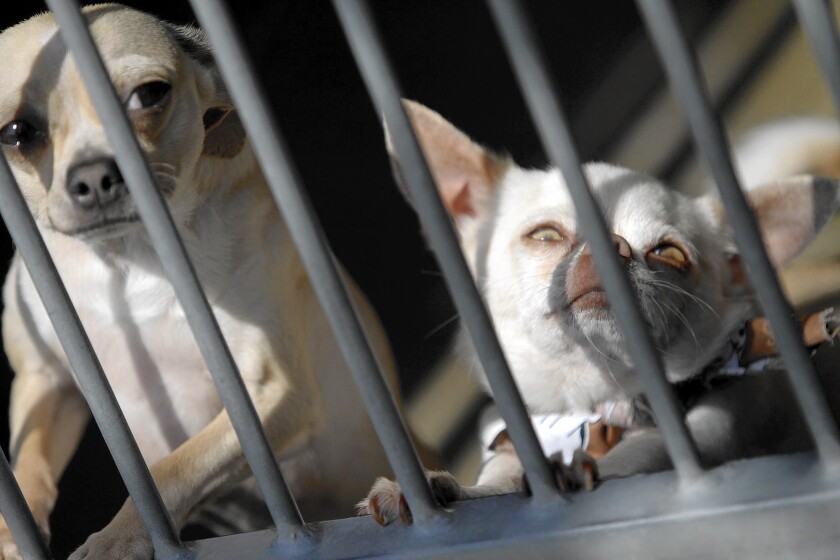 The 74-year-old Orange County animal shelter has fallen into "utter disrepair," creating health risks to both humans and critters, according to a new grand jury report.
The main structure, built with unreinforced brick and surrounded by "piecemeal placements of sheds, gazebos, lean-tos, trailers," and other portable units may not survive earthquakes, the report found.
When the facility first opened during World War II, it was intended to serve about 200,000 residents. But today, with 18 contract cities also depending on the county for animal care services, the coverage area includes roughly 2.1 million people, more than 10 times the original target.
The shelter, which sits next to the Theo Lacy Jail in Orange, is "overcrowded and unable to sustain" its urgent work of providing "compassionate care," said the report, released last week. It noted that structural changes made at the facility over the year could be in violation of building codes, threatening the county with legal liability.
Jurors slammed county leaders for failing to solve urgent problems, including cleanliness and sanitation.
For more than 20 years, the Board of Supervisors "has been keenly aware of the real and immediate need for a new shelter facility," and in 1995 set aside $5 million in seed money to build one, according to the grand jury's findings. Officials asked county executives to oversee the project but "to date, nothing substantive has been accomplished toward achievement of this task."
This report is "right on," says animal rights activist Rose Tingle, who lobbied supervisors to fix the problem. "These are third-world conditions" existing in affluent Orange County, she added, "but, really, no one wants to listen. They give you lip service but their action is to show inaction.
"I would like the county to get out of the animal shelter business," Tingle said. "They do not have the level of consciousness to be in it. What they have at the shelter is appalling. Animals deserve better. Their staff and the public deserve better."
Todd Spitzer, chairman of the Board of Supervisors, could not be reached for comment. To build new shelters, the grand jury suggests that officials fund a position, assigning someone to take charge of design and construction.
Meanwhile "every California county with a population exceeding 500,000 has more than one animal shelter facility," the report noted. "Orange County is the exception, having one shelter facility despite the geographic and demographic need for multiple shelters."
Jean Bland, a member of a South Orange County coalition for a new shelter, said: "I am so thrilled that the grand jury took a thorough look at this unimaginable situation. We've had reports issued in the past but this one is the most hard-hitting."
There are no standard or regularly scheduled inspections of the shelter, according to the report. The last inspection occurred in December 2008, when the California State Board of Veterinary Examiners came to the site, visiting only a vet clinic, rather than the entire facility.
A supervisor told the new grand jury that the county "is unable to inspect the roof of the main structure for fear of its collapse."
"If the county is afraid that the roof could fall in, why haven't they done anything about it?" Bland asked. "I know that the supervisors will continue to sit on it. They truly do not care, unless the voters make them care. Voters have to stand up and say, 'You have to do this or we never vote for you again.'"
anh.do@latimes.com
Twitter: @newsterrier
---
The stories shaping California
Get up to speed with our Essential California newsletter, sent six days a week.
You may occasionally receive promotional content from the Los Angeles Times.