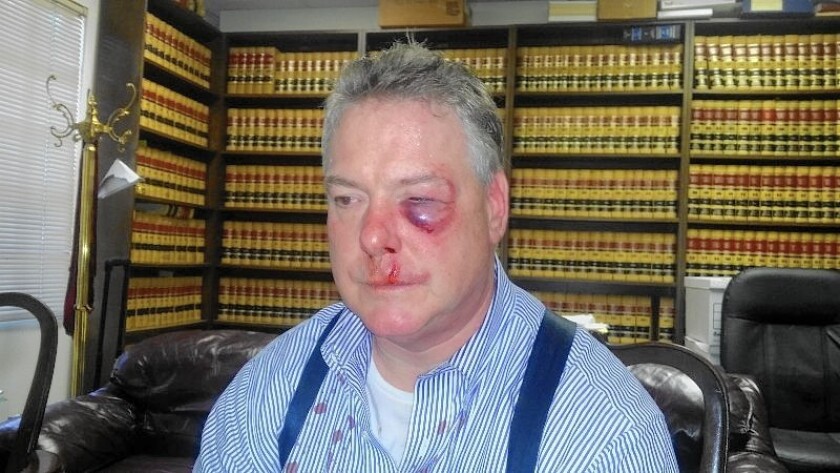 Attorneys for a man accused in a Lake Forest assault have asked that the Orange County district attorney's office be thrown off the case, citing "a pattern of intimidation" against defense witnesses — most recently when one of the district attorney's investigators bloodied an attorney in a courthouse hallway.
Adrian Arellano Arroyo, 29, is accused of participating in a parking lot brawl outside the Kollas Nightclub in August 2014 that left several people injured.
Last Wednesday, a key witness against him, Berenice Gonzalez, was on the 10th floor of the Santa Ana courthouse accompanied by a district attorney's investigator assigned to handle her.
See more of our top stories on Facebook >>
The investigator, identified in court documents as Dillon Alley, exchanged heated words with attorney James Crawford, who was there to advise the witness about her 5th Amendment rights against self-incrimination.
According to Crawford's lawyer, Alley tossed a paper clip at him, which Crawford tossed back. Then Alley slammed Crawford's head into a bench and punched him repeatedly.
In a motion filed Tuesday, Arroyo's attorneys at the Orange County alternate defender's office said that Alley "beat the attorney to a pulp" in front of Gonzalez and other witnesses.
"Dillon continued to punch James with what appeared to be [a] tremendous amount of rage," the motion said, while Crawford held his arms up to shield himself and did not fight back. "According to witnesses, Dillon showed no indication he was going to stop the beating."
The motion described the incident, which ended when two Santa Ana police officers intervened, as a "brutal assault."
"Whether (or not) it was designed to send a message, the effect is still the same," the motion said. "The prosecution team has poisoned the proceedings."
The defense said that one of its key witnesses in the Arroyo case has refused to testify after seeing the courthouse fight. Another has refused to comply with a defense subpoena as a result of "intimidation and dissuasion by the prosecution team," the motion alleged.
No charges have been filed in the fight, which Crawford said left him with a sinus fracture. Photos of his battered face, his left eye swollen, appeared on the Internet.
An attorney representing Alley has said that Crawford's version is "one-sided" and inaccurate. The union representing district attorney investigators has accused Crawford of hoping "to drum up a payday" with a threatened lawsuit.
According to the defense motion, a lawsuit by Crawford would create a conflict of interest for prosecutors in the Arroyo case, since the defendant might be a witness for Crawford against the district attorney's investigator.
Roxi Fyad, a spokeswoman for the Orange County district attorney, said her office opposed the motion to be removed from the Arroyo case and would file a response soon.
A judge was expected to hear arguments in the motion Friday morning.
christopher.goffard@latimes.com
Twitter: @LATChrisGoffard

ALSO
Man convicted of killing four inside Valley Village restaurant
Have you seen this guy? Man with foul body odor sought in attempted kidnapping
Off-duty LAPD officer shoots two burglars who broke into his San Gabriel home, officials say
---