Father Dennis Kriz speaks for the dead and downtrodden
The Santa Ana courtroom filled with whispering as the pastor ambled up to the lectern.
The Rev. Dennis Kriz wasn't there to speak his typical sermon. He was there to represent the dead.
"As many people are dying as being housed," the pastor said.
No dilution in his words.
He spoke for the hundreds of homeless people who die every year in Orange County. They succumb to stabbings, drug overdoses, suicide and neglect.
He spoke directly to U.S. District Judge David O. Carter, who is overseeing a landmark homelessness lawsuit against the county and several of its cities. The case has forced sometimes apprehensive officials to address a spiraling crisis — more than 7,000 homeless people dwell in Orange County.
Most of the local politicians called to court that day spent the hearing congratulating each other on the work so far completed. They engaged the judge with many "yes sir" and "no sirs." But Kriz wasn't there to heap praise on the increasingly beloved "homeless judge" or applaud the work of city and county politicians.
He railed against the 250 homeless deaths last year and Carter's order for the county to only be held accountable for sheltering 60% of its homeless population.
"They don't disappear," the pastor told the judge. "The 40% don't disappear."
Carter had called on Kriz to speak during that early April hearing because he'd been influenced by a series of articles Kriz had written late last year for the Voice of OC. Carter cited this work in a February court request to Sheriff Don Barnes for county data on homeless deaths.
Kriz has for several months been publishing the names and stories of the deceased homeless on Voice of OC — acting as the sole auditor of the county's dead, ensuring the destitute don't pass away without some kind of remembrance.
Local advocates consider this work to be essential.
"If the general public isn't made aware of the issues at hand, then change for the better can't happen," said Dave Duran, co-founder of Housing is a Human Right Orange County. "I think Father Dennis' efforts have started to make a dramatic change."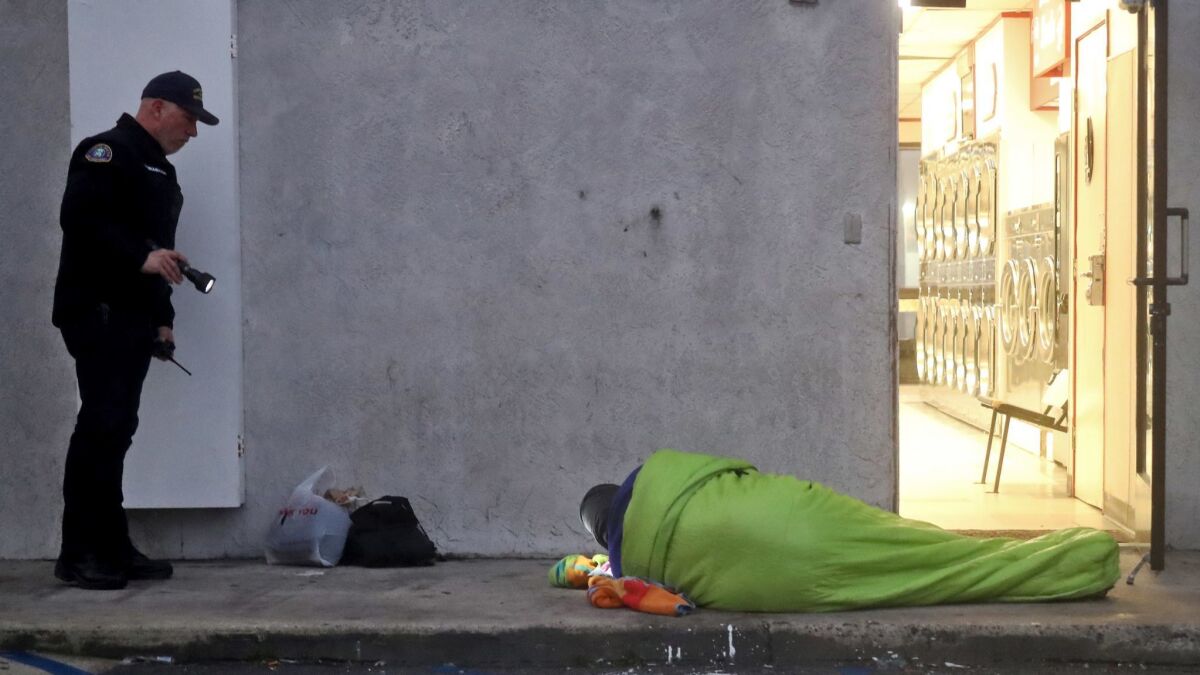 Kriz, 55, of Buena Park has played a critical role in advocating for local homeless people since he was assigned by his Servite order to lead Saint Philip Benizi Catholic Church in Fullerton about two and a half years ago.
The pastor has expanded services to the homeless, currently allowing 30 individuals to sleep in the church's parking lot. The church provides food for them and a large storage container to keep belongings.
Kriz maintains close ties with other local homeless advocates and is a member of Housing is a Human Right OC — a group that promotes supportive, affordable and permanent housing for homeless individuals.
But Kriz's work with the homeless has been met with opposition from his parish.
Kriz said some see the encampment as a visual blight. Crowd control can also be an issue with the homeless and their friends on the campus.
Parishioners have been leaving and the church's collections have dropped in recent months.
"They are good people but they are tired of this," Kriz said of his parish."I really don't know how much longer we can keep this up. It really does feel like we have had a finger in the dike for two years. But it's still leaking and bricks are falling to the left and right of us."
Last year, Kriz was hoping to offer safe parking at the church's lot for homeless people living out of their cars, but the community rose up against that proposal.
Kriz's future at the church may be in question.
"I haven't gotten death threats, but I have had people gunning for me to lose my job," Kriz said. "I thought even the bishop couldn't throw me out without a process, then I looked at canon law and, well yeah there is a process, but it can be a kangaroo process. One of the criteria to be thrown out is you have lost the confidence of the parish. That could very well happen.
"At the end of the day, it's the pastor who decides what happens — and I am the pastor. On the other hand, I am not God. There are always consequences to everything."
Rising up against the status quo is natural for Kriz. Wherever he's been assigned — Portland, Florida, Rome — he's found an important issue to take on.
During his time as an associate pastor at a Chicago church from 2004 to 2016, he regularly butted heads with Servite leaders while advocating for the Latino and undocumented immigrant community's right to be members in the church. Members of the parish and other leaders felt the Latino community didn't belong in the congregation.
"It was racism," Kriz said. "They didn't feel they deserved to be in the church."
Kriz, who had been sent to Mexico by the order to learn Spanish, said the church was located in a south side area with deep historical ties to racism.
"It was so far south in Chicago that the south side was north of us — the steelworker part of the city," Kriz said. "There was a river that separated our neighborhood from the rest of Chicago, and there were Hispanics who remembered that when they first came there they couldn't cross the bridge because they would be beaten."
Kriz spoke regularly with a Latina woman who washed the ministers' linens. She told him that when her kids were younger, a Polish neighbor would chase them with a knife in the front yard. Her's and the stories of so many other Latino members of the congregation affected Kriz.
He brought her story to the order's leadership during a speech in 2015.
"One of the first readings was of Saint Paul saying God chose those who come from nothing to shame those who are something, so no one can boast of God," Kriz said. "I said 'I know that most of you folks are very important and have big positions, and I have mostly just been an associate working in the parish. But you need to hear this reading and hear from the sweet lady who irons all our altar wear who talks about when she was still a young mother that her neighbor would chase her kids with a knife."
Kriz was relocated to Fullerton about a year after this speech.
"Church leadership found that I was needlessly confrontational," Kriz said with a chuckle.
Kriz descended from a long line of religious agitators.
His anti-communist parents were forced out of Czechoslovakia because they didn't conform to the anti-religious dogma — they stuck to their Catholic roots.
Kriz's grandfather had to leave Communist Russia after he sent a letter to a newspaper criticizing the government after he found two of his friends strung up in a town square.
"I had a family that has been outspoken and didn't necessarily think things through all the time," Kriz said.
The conflict ensues.
Kriz once considered asking the homeless to leave the Fullerton church, but the scale of the county's issue and the tragic stories of the homeless who rely on the church for sanctuary deeply impact him.
According to the recent Point in Time homeless count, there are 308 unsheltered homeless people in Fullerton. The church provides refuge for about 10% of them.
"These people have already been rejected so many times in so many ways," Kriz said. "To add the rejection of the church to that list would really be very hard for them."
Abraham Cortez, 38, said he's been sleeping at the church for about two weeks. He's currently working in maintenance and is relying on the church until he can save enough money for rent.
"It's nice to have a place to sleep for now — this is not long-term for me," Cortez said.
Guillermo Beltran, 31, has struggled with mental health issues and has been sleeping at the church for about two months. He currently works as a chef at a restaurant. He said the church has been crucial in helping him get back on his feet.
"It's big what he is doing for us," Beltran said of Kriz.
The pastor seems intent on holding to his convictions, whether or not it costs him his job.
"I have seen the possibility that I could lose my job here," Kriz said. "I'm thinking if I lose my job here, where would my province put me? I suppose I could be a chaplain at some hospital. But well then, I would probably find something there to raise up against or complain about.
"Over the years I have walked into all sorts of things, but through the last two years, I have slept nice. I know that people came to us with no place to go, and we found a place for them."
Support our coverage by becoming a digital subscriber.
For more news and features about Orange County, visit TimesOC.com or follow us on Twitter @timesocofficial.
Get the Latinx Files newsletter
Stories that capture the multitudes within the American Latinx community.
You may occasionally receive promotional content from the Los Angeles Times.