On Food: Women rule the bar at Anaheim's Ranch Restaurant and Saloon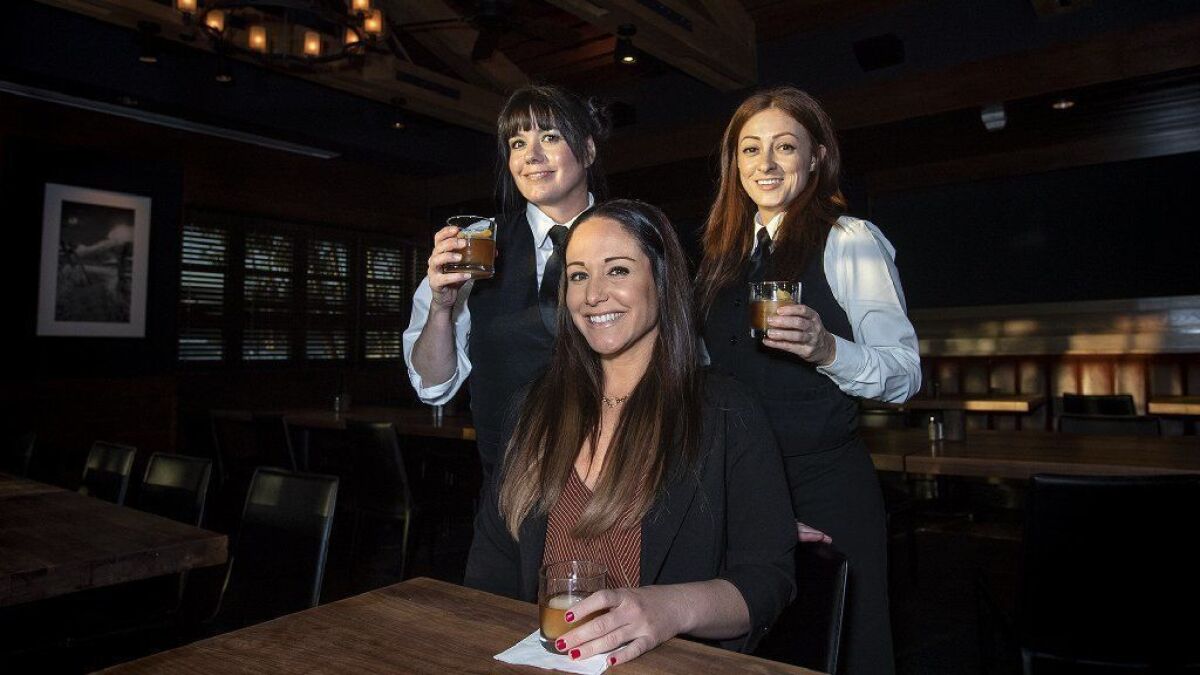 In a bustling, innovative and trend-setting Orange County cocktail scene, people have taken note of the bar at the Ranch Restaurant and Saloon in Anaheim.
What they may not know, however, is that this award-winning establishment is powered by a trio of women — an unusual feat in a bartending world dominated by men.
"We're really proud to have a female-dominated bar," said Christina Smith, who's worked there about a year. "We are encouraging and empowering to each other."
Kristin Markley, Britany Buckett and Smith are three of the four who staff the bar at the Ranch — the fourth is Greg Fairclough. Each brings their own flavor and personal mixology to the bar program, which features fresh ingredients from a local organic farm, a zero-waste reverse osmosis water filtration system, house-cut ice, house-made syrups and house-made liquors. The Ranch Restaurant won a Golden Foodie Award in 2017 for Best Bar Program and was nominated in that category in 2018.
"All three of us have such different tastes and such different approaches," said Markley. "It all really works well together."
Buckett, the Ranch's original bartender since the soft opening in December 2011, noted how the team really enjoys digging into "all the nerdy, weird things" of the cocktail world.
"We can create almost anything," Buckett said. "I had someone who wanted a crème brûlée cocktail for dessert. I think, how can I make this happen? I almost see it as a challenge every single shift."
Markley, a certified sommelier, has been at the Ranch nearly seven years and is the most senior bartender of the three, having bartended since the 1990s. She previously worked at A Restaurant and Oysters, both in Newport Beach, and started the bar program at Memphis Soul Cafe and Bar in Costa Mesa. She is a winner of the Iron Bartender competition (2005), a Cointreau competition (2004) and served as a guest judge on Bravo Network's "Top Chef" in 2006.
She was recently featured in Sauté Magazine, explaining the importance of ice in cocktails. (It helps flavor the alcohol.)
Smith, a bartender since 2006, started her culinary career with the Lucille's Smokehouse BBQ chain. She later learned craft bartending at Five Crowns and its pub, SideDoor, in Corona del Mar.
Buckett has done just about everything in restaurants. She's been a host and a busgirl. She's worked a nightclub and managed a brewery. But she found her true calling in spirits, recently placing second in a Fernet-Branca/Templeton Rye competition hosted by Young's Market.
Smith said she likes how the Ranch's bartending team is a close-knit group whose know-how is valued by management.
"They really take our input to heart," she said. "They respect our experience."
"Our team was selected because they are the best qualified, not because of their gender," said Andrew Edwards, the Ranch's owner. "They are knowledgeable, talented and creative."
IF YOU GO
What: The Ranch Restaurant and Saloon
Where: 1025 E. Ball Road, Anaheim
New drinks in May: Christina's Spicy Momma (vanilla vodka, hibiscus syrup, fresh lime juice, pineapple juice, jalapeño), Kristin's Mama's Girl (Right Gin, St-Germain, yuzu juice, champagne) and Britany's Birds & the Bees (Eagle Rare bourbon, agua de jamaica, fresh lemon juice, honey, hibiscus bitters, fennel pollen)
Bradley Zint writes about food for TimesOC. Follow him on Twitter at @bradleyzint
Support our coverage by becoming a digital subscriber.
For more news and features about Orange County, visit TimesOC.com or follow us on Twitter @timesocofficial.
---
Get the Latinx Files newsletter
Stories that capture the multitudes within the American Latinx community.
You may occasionally receive promotional content from the Los Angeles Times.