Russian composer Dmitri Shostakovich died in 1975 without completing his dream of setting Anton Chekhov's short story, "The Black Monk," as an opera.
Thanks to playwright James Glossman and musician Philip Setzer, Shostakovich's work is "finished" with the duo's "Shostakovich and the Black Monk: A Russian Fantasy," which will have its West Coast premiere at the Segerstrom Center for the Performing Arts in Costa Mesa on May 14.
With his compositions, Shostakovich drew the ire of Joseph Stalin, who decreed all Soviet music should be patriotic and celebratory of communist ideals. Shostakovich went against the leader's decree and watched helplessly as many of his friends and family "disappeared" under the Soviet leader's purges.
"It's clear that toward the end of Shostakovich's life, he takes the project off the back burner and really tries to finish it," said Setzer, who not only arranged the music for "Black Monk" but will also play violin in the Emerson Quartet for the performance. "Shostakovich was, I would say, obsessed with this story, and the interesting part of it is why."
The arc of the play has Shostakovich (Mackenzie Astin) working to write his opera based on the Chekhov story about a scholar haunted by visions of a ghostly black monk. The more the hero of the Chekov story, Kavrin (Alex Grossman) is "cured" of his madness, the less creative he becomes.
It's a bit of a meta experience, with audiences watching the play-within-a-play come alive before them. Multimedia projections also bring to life some of the elements as the composer translates Chekhov's short story into music.
"I think there was a lot of music that was in his head, and he simply just physically couldn't write out a whole opera," said Setzer, adding that elements of Shostakovich's 14th and 15th string quartets appear in the orchestral score for "Black Monk."
"He thought that not just his career was finished but probably his life as well because so many of his friends had been sent away or shot for doing less."
Sean Astin ("The Lord of the Rings," "The Goonies," "Rudy") co-stars in the show as Stalin and Pesotsky.
Astin, who had traveled with the show to the East Coast as well as overseas, lobbied director Glossman to cast his brother, Mackenzie, as a fill-in; the director had already come to the same notion, having known Mackenzie from the John Astin Theater, named for the brothers' father, at Johns Hopkins University in Baltimore.
"Everyone is going to be surrounding him because it's his first time and [they] want him to feel comfortable," Sean said.
His younger brother stepped in less than two weeks before curtain.
"Because it's a staged reading, there's a net that you're usually working without, which is nice for someone who is doing this for the first time," Mackenzie said.
Although the brothers have been in films together before, this will be the first time they have shared a stage professionally. Theater is in their blood, thanks to their parents' work on the stage and in front of the camera.
Sean said that the multimedia projections allow the story of "Black Monk" to unfold along with Shostakovich's arc as he fashions his opera.
"Once you understand the play-within-a-play thing, it's kind of magical to see how Shostakovich is purging his own personal demons while trying to accomplish something of beauty that he always wished he could," he said.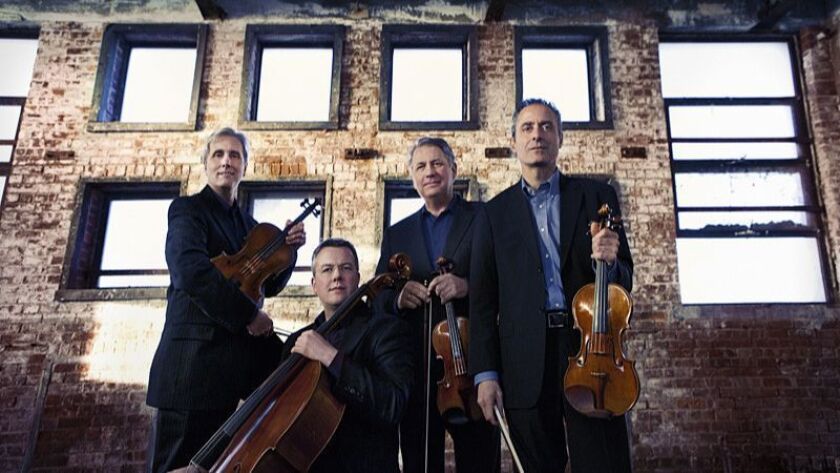 The Emerson Quartet, which Setzer formed over 40 years ago, will perform the score for "Black Monk." Setzer's wife, Linda Setzer, also appears in the play portraying Irina Shostakovich, Dmitri's wife.
"Irina makes this long speech about her husband over the slow movement of the 14th Quartet," Setzer said of his wife's biggest scene in the show. "In a sense, it's an aria. It's just that she's not singing it; she speaks it. But it easily could have been an aria if [Shostakovich] had finished the opera … we're trying to finish the story for him without stepping over the line of actually saying we're going to write this opera he didn't. We're too respectful of his genius to try and do that."
Mackenzie Astin hopes people will leave Segerstrom with a better appreciation of how dangerous it can be for artists to create works critical of a repressive regime.
IF YOU GO
What: "Shostakovich and the Black Monk: A Russian Fantasy"
When: May 14, 8 p.m.
Where: Samueli Theater, Segerstrom Center for the Arts, 600 Town Center Drive, Costa Mesa
Cost: Tickets start at $49
Information: (714) 556-2787; scfta.org
Support our coverage by becoming a digital subscriber.
Eric Althoff is a contributor to TimesOC.
For more news and features about Orange County, visit TimesOC.com or follow us on Twitter @timesocofficial.
---