California Assembly votes to block e-cigarette sales to minors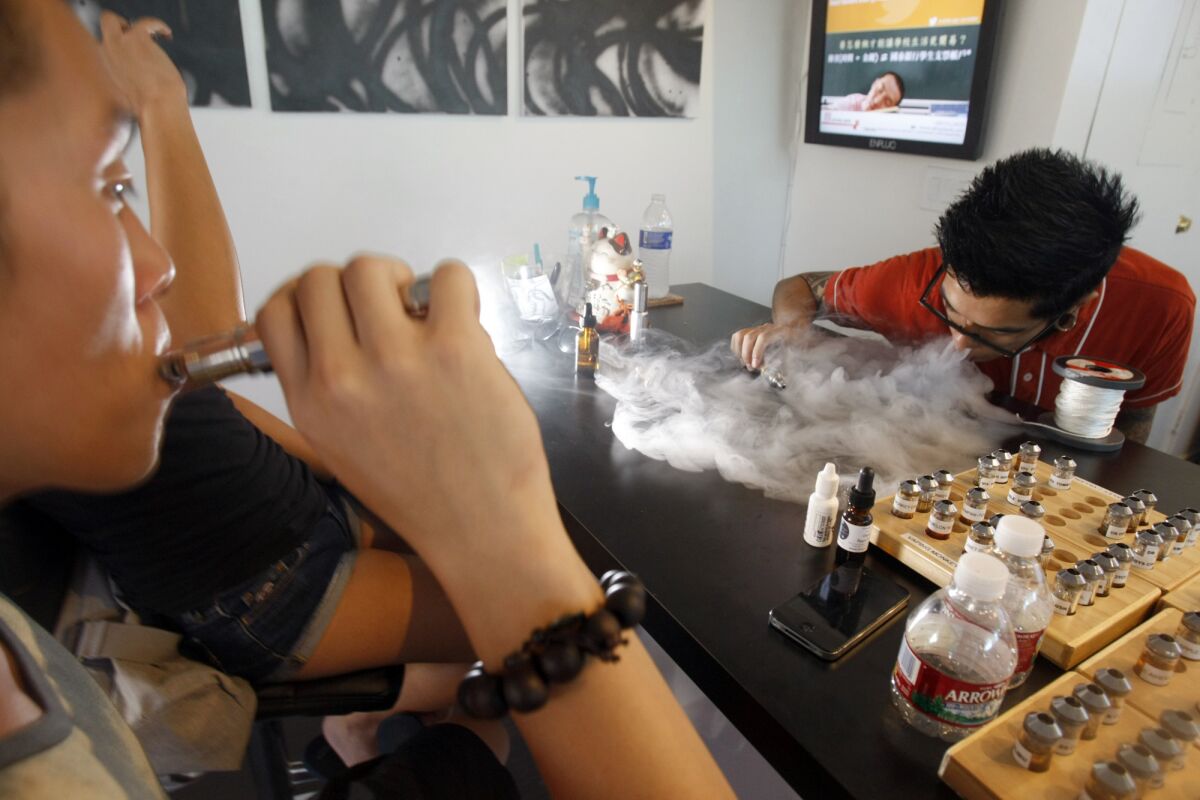 Reporting from Sacramento —
The state Assembly on Monday acted to plug a loophole in the law prohibiting the sale of electronic cigarettes to minors by extending the ban to include devices that don't include nicotine cartridges.
The 75-0 Assembly vote comes just weeks after the federal government warned that the use of e-cigarettes by high school students tripled from 2013 to 2014 and that the so-called vaping devices are now the most popular delivery system for tobacco products used by high school and middle school students.
State law currently only prohibits minors from purchasing vaping devices with nicotine cartridges, but some teens have been able to purchase e-cigarettes separately and use them with cartridges containing other chemicals, including marijuana, or fit them with a nicotine product later.
Assemblywoman Cristina Garcia (D-Bell Gardens) said makers of e-cigarettes are marketing them to younger audiences using flavored compounds with names like Gummy Bears, Fruit Loops, "Kool-Aid" and "Skittles."
"These e-cigarettes and vape pens often target a younger audience with sweet-flavored compounds that carry the names of popular kids' treats," Garcia said on the Assembly floor. "Although they don't have nicotine, these compounds have been shown to contain other harmful chemical compounds masked by the candy-flavored vapor."
While fewer minors are smoking traditional cigarettes, the use of e-cigarettes by high school students increased from 1.5% in 2011 to 13.4% in 2014, according to a study released last month by the federal Centers for Disease Control and Prevention. The bill next goes to the state Senate for consideration.
"We need to act now, because more and more youth are putting themselves at risk of heart disease, stroke or even an early death," Garcia said. "These devices are hooking a new generation on nicotine and are a gateway to smoking traditional cigarettes."
The Assembly also voted Monday to approve a bill that would phase out the use of the term "Redskins" as a team or mascot name for public schools in California. Assemblyman Luis Alejo (D-Watsonville) said his AB 30 will rid the state of a "derogatory racial slur." There are four schools in California that have Redskins as their mascot.
---
The stories shaping California
Get up to speed with our Essential California newsletter, sent six days a week.
You may occasionally receive promotional content from the Los Angeles Times.