State not doing enough to keep guns from mentally ill, audit says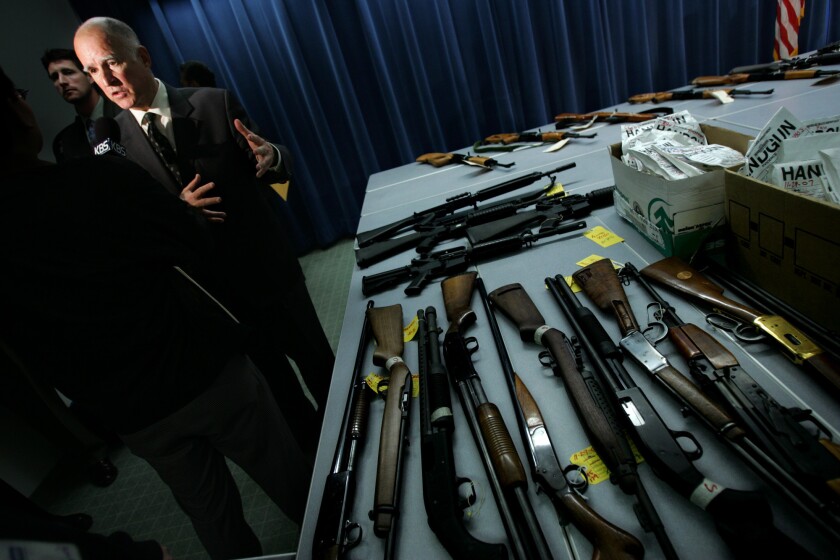 SACRAMENTO -- Thousands of mentally ill Californians are not being reported to the state Department of Justice so that they can be considered for a list of those prohibited from possessing firearms, a state audit said Tuesday.
More than 20,000 people have been identified as possessing guns even though they are prohibited from doing so because of criminal records, restraining orders or severe mental illness, and the state is working to clear the backlog by sending agents out to confiscate weapons.
But, the audit said, insufficient effort from the Department of Justice and poor reporting from the state's Superior Courts, which issue orders determining mental illness, have limited the identification of thousands of more people with mental illness.
"This report concludes that the Department of Justice has not sufficiently reached out to Superior Courts or mental health facilities to remind them of firearm prohibition reporting requirements in state law," State Auditor Elaine Howle wrote to Gov. Jerry Brown.
Auditors surveyed 34 courts that did not appear to be submitting firearm prohibition reports to the Department of Justice's mental health unit from 2010 through 2012, and learned that most of them were unaware of the reporting requirements. Those courts said they had not reported about 2,300 mental health determinations to the department over the three-year period.
The audit also looked at courts in Los Angeles, San Bernardino and Santa Clara counties and found they filed reports but they were incomplete.
"For example, we found that the Mental Health Courthouse at the Los Angeles Superior Court was unaware of several court determinations it was required to report. Among these were those that determined that individuals were mentally incompetent to stand trial or that an individual is a danger to others," the audit said.
The Justice Department also sometimes made bad decisions about which of the referred mentally ill should be included on the list of persons prohibited from possessing guns, auditors said.
The audit's findings are "very troubling," according to Assemblyman Allan R. Mansoor (R-Costa Mesa), who requested the review. He said legislation will be introduced to make the system work.
"After reviewing the report's findings, it's clear that the Attorney General's office must do a better job in coordinating the reporting and processing of this information," Mansoor said.
Earlier this year, Brown approved $24 million to expedite the confiscation of weapons from people who are on the list, but a large backlog remains, Howle noted.
"However, because Justice uses the information it receives from courts and mental health facilities to identify persons who are prohibited from possessing a firearm, Justice must improve its outreach to these entities and strengthen its management of the information it does receive to ensure it does all it can to protect the public," Howle wrote to the governor.
Department of Justice officials agreed with most of the auditor's recommendations for improving reporting and said steps are already being taken.
The state "cannot compel courts to submit mental health determinations," but will offer training to court personnel and request periodic reports from courts believed to be underreporting the mentally ill, according to Stephen J. Lindley, chief of the Bureau of Firearms from the Department of Justice.
ALSO:
Documents set off speculation about identity of secret donors
No more Lowenthal-vs.-Lowenthal in Long Beach mayor's race
Gov. Brown allows release of woman imprisoned at 16 for killing pimp
---
The stories shaping California
Get up to speed with our Essential California newsletter, sent six days a week.
You may occasionally receive promotional content from the Los Angeles Times.