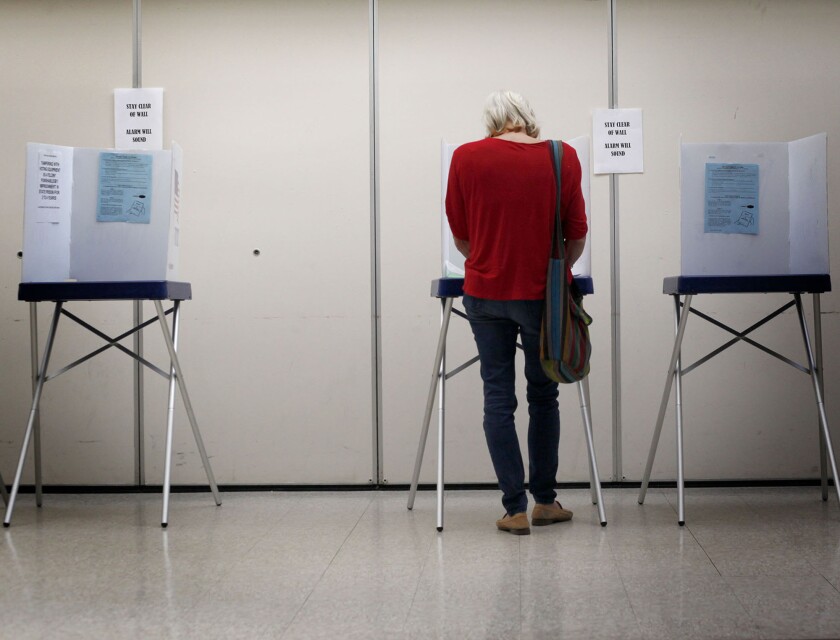 Reporting from Sacramento —
Both candidates vying to be California's next secretary of state say the controversial recount in the controller's race demonstrates the need to change election laws.
Sen. Alex Padilla, the Democratic candidate from Pacoima, called the process "embarrassing." Pete Peterson, a Republican who leads a public policy institute at Pepperdine University, said recount laws are "a mess."
The recount was called by Assemblyman John A. Pérez after he finished 481 votes behind Betty Yee, a Board of Equalization member, in the June 3 primary. The two Democrats are vying for the chance to face off with Ashley Swearengin, the Republican mayor of Fresno, in the November general election.
In California, any candidate or registered voter can call for a recount, but he or she has to pay for it. In addition, whoever asks for a recount can choose the counties where ballots should receive additional scrutiny.
The process began Friday morning in Kern and Imperial counties.
Peterson said the laws "lend themselves to a more general distrust of the election system."
He and Padilla want automatic, statewide recounts in close elections and have the state pick up the bill.
"The state has done a pretty poor job of funding democracy in California," Peterson said. "It is the state's responsibility to make sure it's conducting free and fair elections."
Padilla said legislation to change the recount process could be introduced as early as next month, when the state Legislature reconvenes to finish its work for the year.
"That's going to be one of the silver linings of this election cycle," he said. "It could lead to improvements to the counting and the recounting process going forward."
The current secretary of state, Democrat Debra Bowen, has not spoken publicly about the recount process. She is leaving office because of term limits.
Follow @chrismegerian for more updates from Sacramento.
---