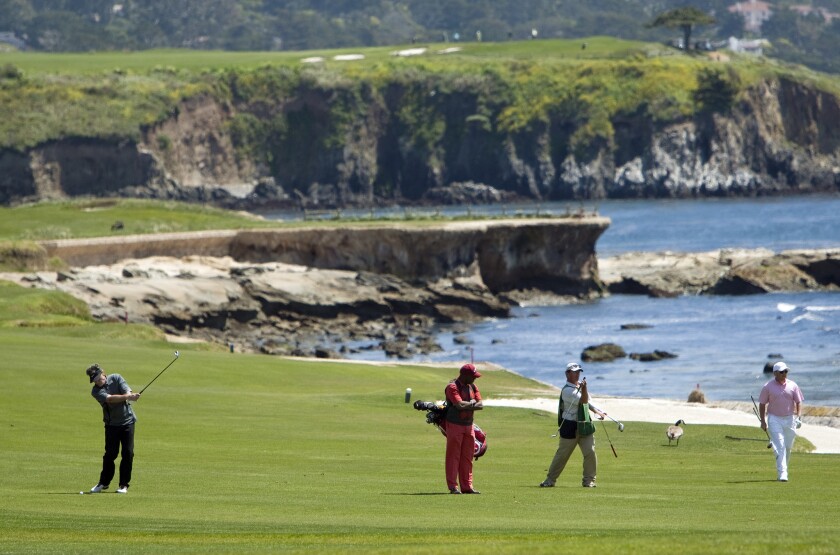 The state's powerful prison guard union has agreed to pay $5,500 in fines for failing to properly disclose nearly $25,000 in gifts it provided to state lawmakers during a three-year period.
The gifts include lodging, meals, wine and spa bags for state legislators at the annual Governor's Cup Foundation golf tournament in Pebble Beach.
The enforcement staff of the state Fair Political Practices Commission is recommending the fines, a fraction of the maximum penalties, against the California Correctional Peace Officers Assn., which said the failure to report $24,603 in gifts was inadvertent.
"The public harm inherent in these violations is that the public is deprived of important information regarding the amounts and nature of reportable lobbying activity and activity expenses that may influence public officials," said a staff report detailing the agreement on the four counts of violations.
The union made the gifts in 2009, 2010 and 2011 and did not report them until between one and three years later when union officials discovered the mistake and notified the FPPC.
The union, the FPPC report said, "spends hundreds of thousands of dollars every year to lobby state officials on behalf of its members so information about the payments and gifts …it makes to state legislators is highly relevant to the public in determining whether those payments and gifts may influence public officials."
The union also did not notify the elected officials of the gift amounts.
In arguing for fines lower than the possible maximum of $20,000, the enforcement staff noted that the gifts provided "were lawful and valued at or below the applicable gift limits." The commission will consider the staff recommendation on Nov. 20.
The enforcement staff report does not allege any wrongdoing by or recommend any penalty for elected officials who received the gifts, including state Senators Ronald S. Calderon (D-Montebello), Alex Padilla (D-Pacoima), Anthony Cannella (R-Ceres), and then-Sen. Michael Rubio (D-Bakersfield), as well as then-Assembly members Felipe Fuentes (D-Los Angeles), Steve Knight (R-Palmdale), Mary Hayashi (D-Hayward), Henry Perea (D-Fresno) and Fiona Ma (D-San Francisco).
The gifts to Calderon were typical of what the guards union provided to lawmakers but failed to report. Over two days, Calderon received accommodations at Pebble Beach worth $1,460, receptions worth $210 and $131, a breakfast worth $43, a sherpa blanket valued at $75, wine worth $60 and lunch worth $54 and $56.
In a case not related to the prison guard gifts, Calderon has since been indicted on federal charges of accepting payments for official favors.
---