A plan to build homes at the 91-to-110 freeway interchange is back on the table, but it has some people worried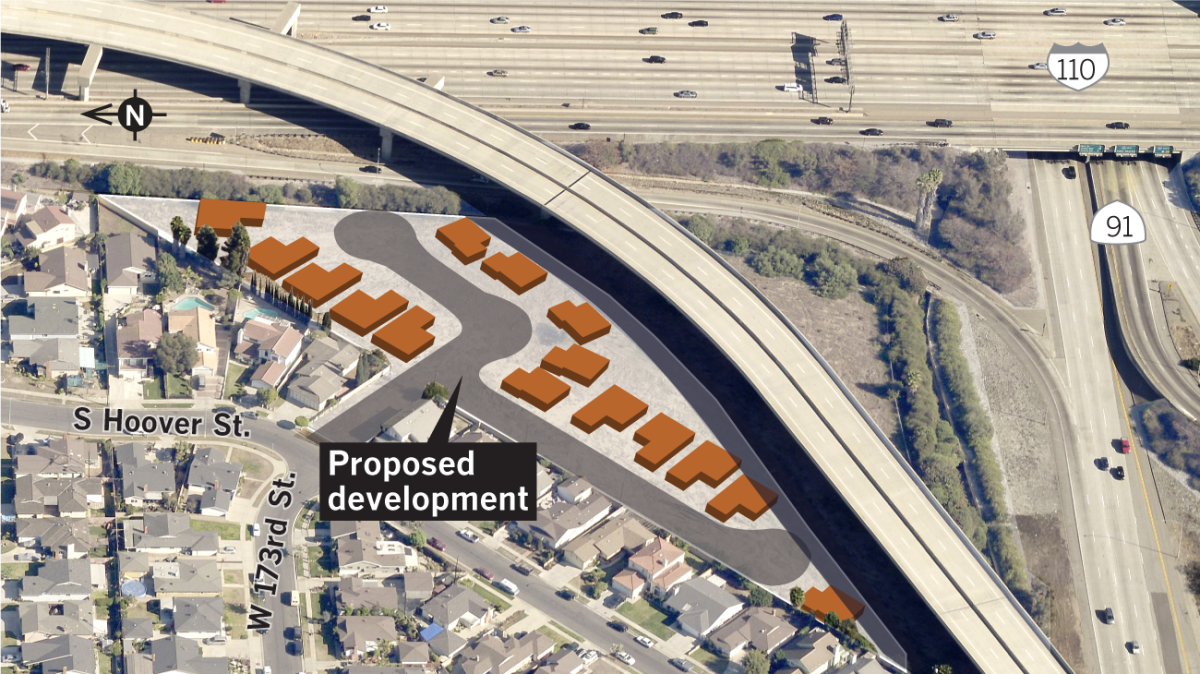 Businessman Ali Awad went to Los Angeles City Hall five years ago with a simple plan: Build 24 new homes on a vacant lot, next to the interchange of the 91 and 110 freeways.
The Planning Commission shot down that idea, worrying that nearby car and truck emissions would pose a health risk to future residents. At the time, a top advisor to Councilman Joe Buscaino said the property was "clearly not a good place" for homes.
Now, Awad is back with a more modest proposal: 15 single-family houses on the same site, located in L.A.'s Harbor Gateway neighborhood. This time around, Buscaino is entertaining the idea.
Buscaino spokesman Branimir Kvartuc said L.A. is facing a housing crisis and needs more homes to address rising prices. He argued that L.A. has already approved other residential projects near the 110 Freeway, including the Da Vinci apartments, which hugs the 110-101 interchange.
"Let's say air quality is an issue. Let's say that," Kvartuc said. "How different is it than every single house in Harbor Gateway? That's why he's neutral at the moment. There's good arguments on both sides."
Kvartuc said Buscaino, who serves on the board of the South Coast Air Quality Management District, asked the developer to include features to reduce the effect of nearby vehicle emissions. Beyond that, Buscaino has not taken a position, he said.
California air quality officials have warned for more than a decade against building new homes within 500 feet of freeways, noting that residents in those areas suffer from higher rates of asthma, heart attacks, lung cancer and pre-term births. Yet a recent Times analysis found Los Angeles has experienced a spate of home building in those locations, with thousands of units going up.
Awad's project lies about 100 feet west of the 110 and 150 feet north of the 91, according to a report prepared by the Department of City Planning. Some homes in the Awad subdivision could come within 60 feet of a swooping 110 freeway ramp, according to a map of the project submitted last year.
Foes of the development say it would generate additional traffic, making streets more dangerous. They also contend that Awad has been relying on a secret weapon to get his project through: state Assemblyman Mike Gipson, who represents their neighborhood in a district stretching from South Los Angeles to Wilmington.
Gipson spoke in favor of the development during a neighborhood meeting on the project in October. Four people who attended that meeting told The Times that during questions from the audience, Gipson said he had been working as a consultant, or paid advocate, on the project, which is located at 173rd and Hoover streets.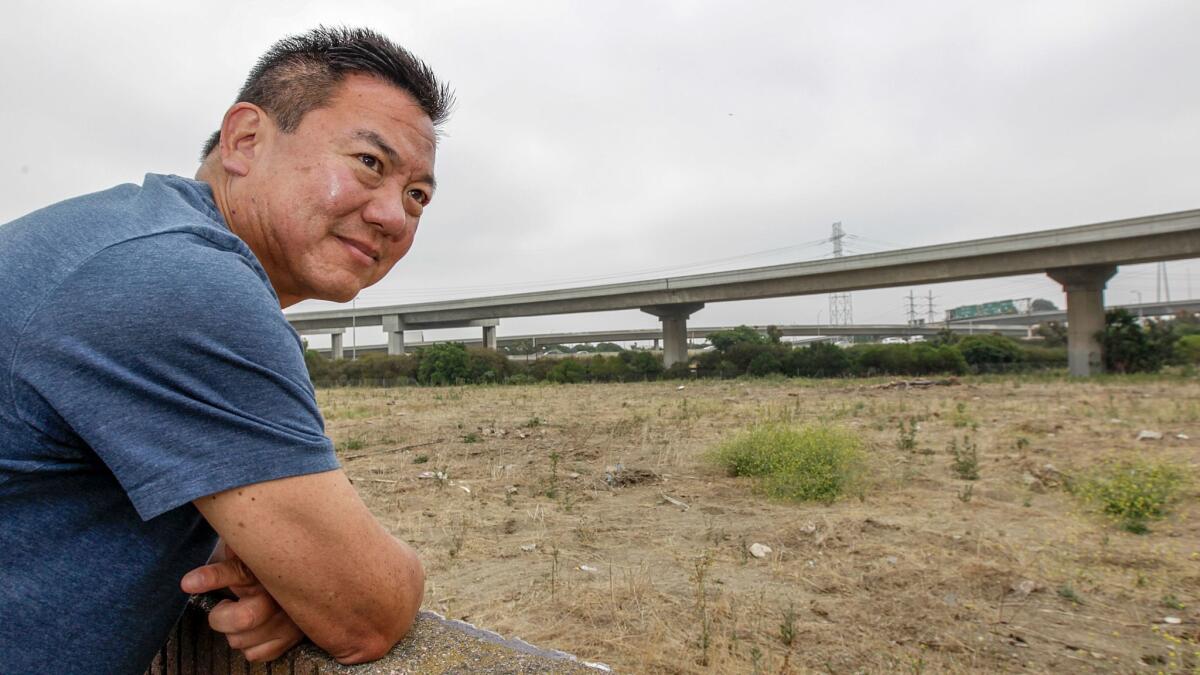 Ronald Robinson, who lives in Harbor Gateway and opposes the development, said he and his neighbors became angry over Gipson's remarks. "It was — 'You're my representative. Shouldn't you be representing me, and not the developer?'" Robinson said.
Harbor Gateway resident Frank Madarasz said he too heard Gipson speak at the Oct. 1 meeting, conducted by the Harbor Gateway North Neighborhood Council's Planning and Land Use Committee. Madarasz said Gipson was confronted about whether he worked on the 15-home project — and responded by telling the audience it was legal for him to have outside income.
"He said, 'I can have a second job,'" Madarasz said.
Gipson declined interview requests from The Times. In an email, Gipson chief of staff Mark Lomeli said Gipson has not been paid by either the developer or the developer's consultant. Although Gipson attended three meetings on the Harbor Gateway project last year, he has no financial stake in it, Lomeli said.
"Mr. Gipson solely participated as a private citizen," he added.
Lomeli also said that Gipson's public statements in October were an acknowledgment that he might someday have outside work. "Again, Mr. Gipson is not involved in this project, but anticipates receiving his real estate license in the future," he said in the email.
Neither Awad nor his land use representative, Emilio Gutierrez, responded to requests for comment about the proposed development. In paperwork filed with the city, Gutierrez said the developer has addressed neighborhood concerns about air quality.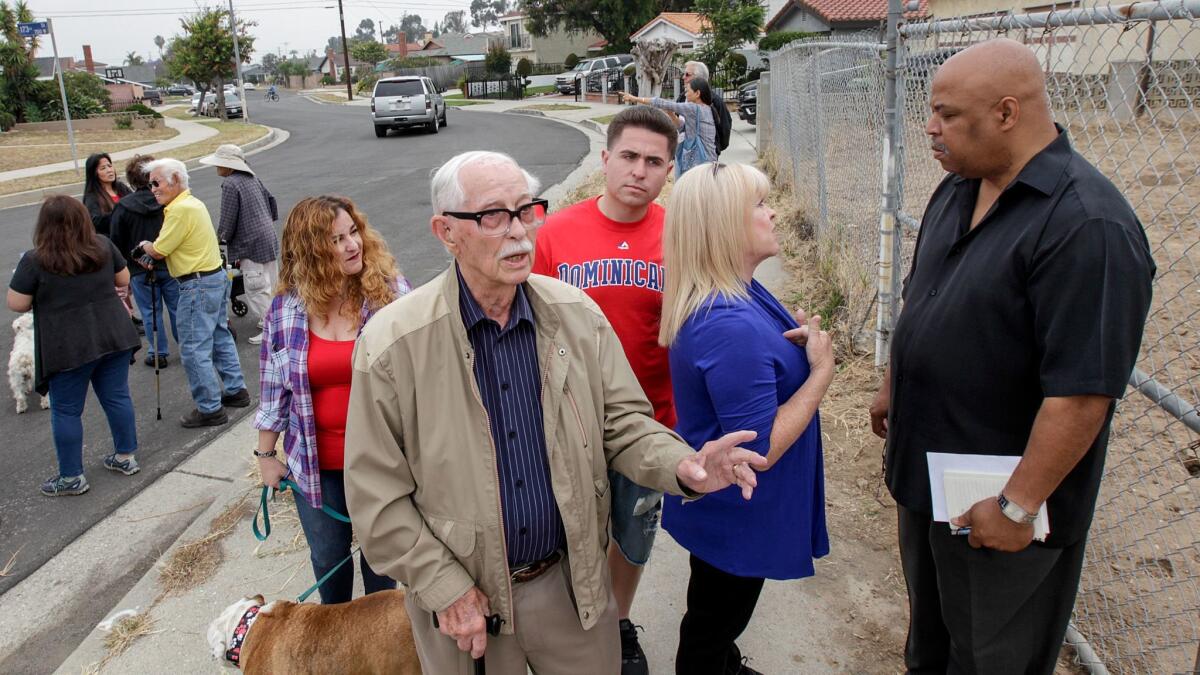 Large trees and other landscaping will create a buffer between homes and the interchange, according to the project's environmental documents. Each house will have an air conditioning system with high-performing air filters. In addition, the developer will "minimize" the number of operable windows that face the freeway, the report says.
Once those and other features are in place, "air quality at the new project will be better than the one available to most residents in the vicinity," the developer said in the project's paperwork.
Rosalie Preston, who serves on the Harbor Gateway North Neighborhood Council, has her doubts. Future homeowners, she said, will still want to enjoy their yards, putting themselves at risk.
"You're still going to be exposed to a lot of the freeway pollution," she said.
Efforts to develop the project began nearly a decade ago, when the California Department of Transportation sold the property to the developer, according to a city report.
Records state that Awad, working with the firm Mohamad Pournamdari Inc., applied for a zone change to convert the freeway-adjacent land from one that allows public facilities — a land use designation left over from Caltrans — to one that permits residential development.
The planning commission considered Awad's application in 2012. During the meeting, the city planner assigned to the project voiced concerns that a motorist on the elevated freeway ramp could have a medical emergency, veer off the ramp and land on one of the proposed homes.
Alison Becker, a Buscaino aide at the time, testified that the development site was "clearly" a buffer zone between the neighborhood and the freeway interchange. She told commissioners they had no obligation to approve the request.
"It's OK to say no, because the science is behind us," she said. "It's all right to say that residential is not OK in this particular case."
The commission denied the application without prejudice, allowing Awad to try again. Awad's scaled-back project went before the Harbor Area Planning Commission in January. That panel, made up of appointees of Mayor Eric Garcetti, also voted to reject the project, citing public safety and other issues.
During that meeting, commission President Esther Hatch said she had visited the site and was disturbed by the project's location. "When I stood there I thought, 'Oh my God, it's right under that freeway. The noise!'" Hatch said.
Gutierrez, the developer's representative, said the new zoning would conform to the nearby neighborhood, which consists of single-family homes. And he contested Hatch's description, saying the project would be at least 50 feet from any portion of the freeway.
Awad appealed the commission's decision. A council committee is scheduled to take up the project on Tuesday.
ALSO
In creating a haven for artists, Ghost Ship operators built a deathtrap, prosecutors allege
Voters head to the polls to pick L.A.'s next congressman in under-the-radar special election
At 18, this L.A. high school poet often makes audiences go silent
Sign up for Essential California for news, features and recommendations from the L.A. Times and beyond in your inbox six days a week.
You may occasionally receive promotional content from the Los Angeles Times.