Gavin Newsom is the first to enter 2018 race for governor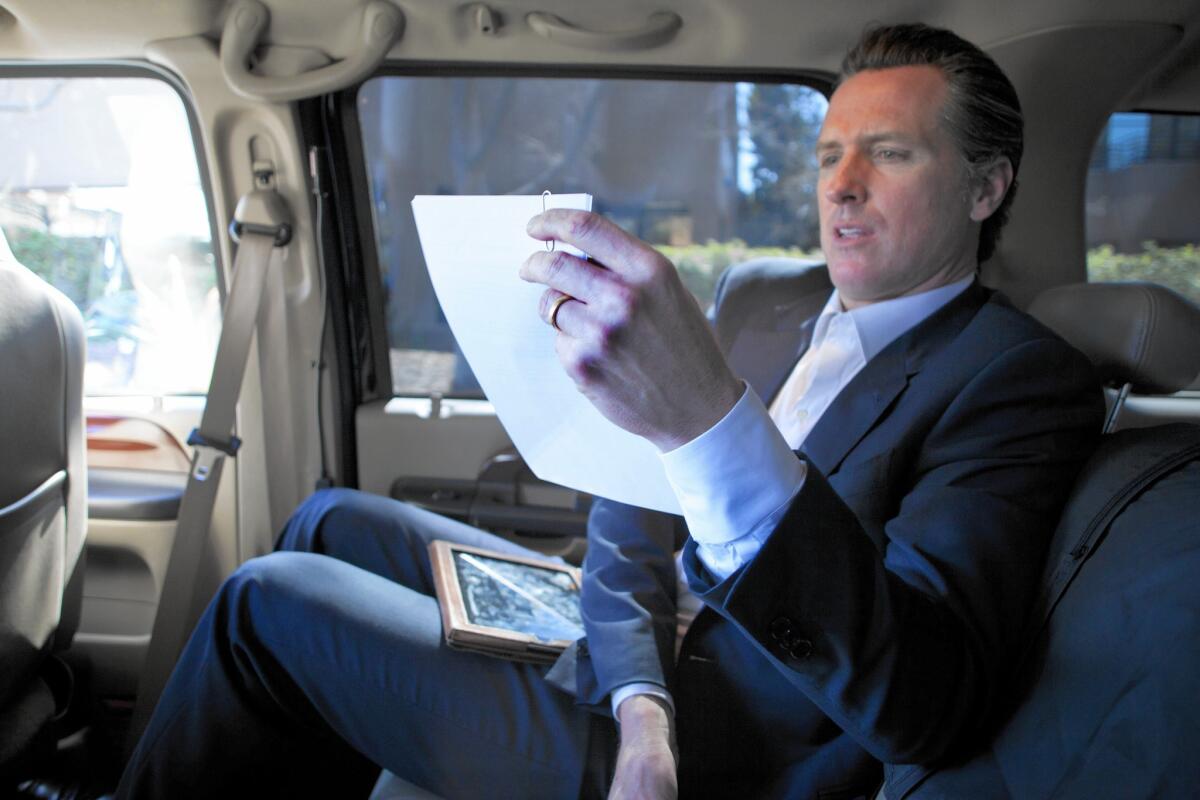 In an unusually early announcement of political intentions, Lt. Gov. Gavin Newsom launched a fundraising committee Wednesday to run for governor in 2018.
The move, for a race that is well over three years away, will allow Newsom to raise as much as $56,400 per donor. It also sends a potent message to other Democrats eyeing the race.
"I cannot recall a candidate ever declaring this early — it's three months after the last election," said Larry Gerston, a political science professor emeritus at San Jose State University. "I believe what he's hoping for … is to get out there early, get out there forcefully, and in the process, dissuade others from coming in."
Such a move could be born of necessity. A generation of Democrats has been awaiting shots at the state's top posts for years, and these openings are finally happening.
Sens. Barbara Boxer and Dianne Feinstein have held their seats for more than two decades. Boxer has announced she will not seek reelection in 2016, and it is unclear whether Feinstein will seek another term in 2018. Gov. Jerry Brown, now in a record fourth term, is ineligible to seek reelection in 2018.
Newsom's announcement comes as former Los Angeles Mayor Antonio Villaraigosa weighs whether to challenge Atty. Gen. Kamala D. Harris in the 2016 U.S. Senate race or possibly run for governor in 2018. He is expected to announce a decision soon.
No other candidate has opened a gubernatorial campaign committee, according to the secretary of state's office.
Other potential Democratic candidates for governor include billionaire environmental activist Tom Steyer, who could easily finance a campaign, Los Angeles Mayor Eric Garcetti and state Treasurer John Chiang.
Among Republicans, speculation is swirling around San Diego Mayor Kevin Faulconer, Fresno Mayor Ashley Swearengin, who lost a bid for state controller in 2014, and unsuccessful 2014 gubernatorial candidate Neel Kashkari.
Newsom said he did not launch early to scare other candidates out of the race, but he noted the potential of a self-funded candidate and the unlimited spending ability of super PACs.
"I concluded from my vantage point that this is best approached now as opposed to later," he said in an interview with The Times. "It's not because I want to be dismissive of other people and their processing. But you can only control your own decision-making."
Newsom, 47, said he will emphasize three issues: income inequality, workforce development and climate change. He said he is deeply concerned that although technology has enabled productivity and profits to increase, wages have stagnated, and he believes California is harmed by this gap more than any other state.
"I have zero interest in becoming the next governor to become governor," Newsom said. "I want to try to do something meaningful and purposeful and help people do extraordinary things in their lives."
Republicans criticized Newsom, saying he has been an ineffective lieutenant governor.
"In surprised he's interested in running for governor. That's a job where people actually notice if you don't show up for work for months at a time," said former state GOP chairman Ron Nehring, who lost to Newsom in 2014. "Governor requires a different skill set than Gavin Newsom has demonstrated. It requires being able to work with other leaders, something he has not been able to do with either Jerry Brown or Senate Democrats."
The low-profile lieutenant governor's post has little power, and Newsom has made clear his boredom with it.
He said he tried to make the most out of the job, pointing to his efforts crafting economic growth plans and a higher-education framework, hosting economic development summits across the state, and his role on higher-education and state-lands panels.
"I think I've been the butt of my own jokes," Newsom said. "The position — it is what it is. It's not the mayor of a county like San Francisco."
Newsom gained national attention when he was mayor of San Francisco for having the city issue marriage licenses to same-sex couples in 2004. He also launched the country's first universal healthcare initiative. But he also suffered scandal — an affair with his campaign manager and close friend's wife.
Newsom ran unsuccessfully for governor in the 2010 race. He struggled to raise money and bowed out once it became clear Brown would clinch the nomination.
Twitter: @LATseema
Sign up for Essential California for news, features and recommendations from the L.A. Times and beyond in your inbox six days a week.
You may occasionally receive promotional content from the Los Angeles Times.