California Senate candidates take aim at rival Isadore Hall's spending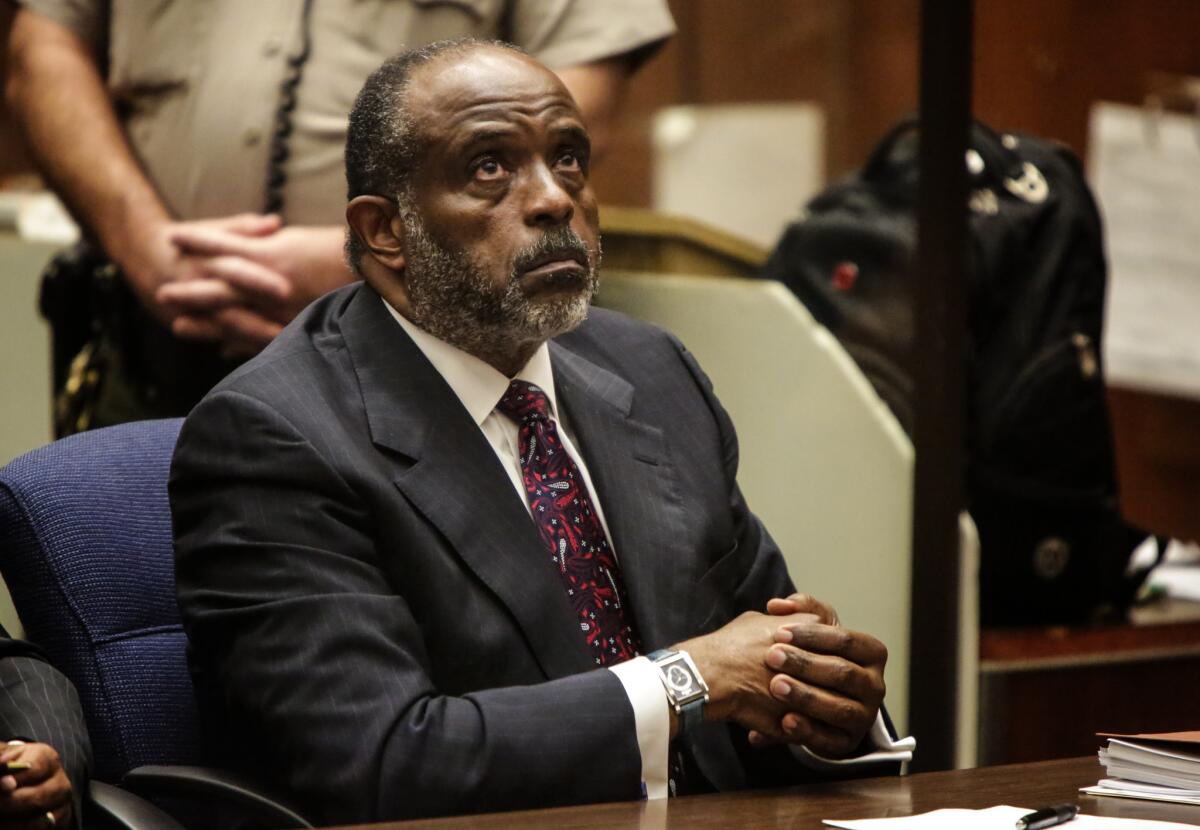 Reporting From Sacramento —
Assemblyman Isadore Hall III, the front-runner to fill a vacated state Senate seat, is facing criticism from competitors for his use of campaign funds to pay for expensive dinners, limousine rentals, luxury suites at concerts, and trips to resorts in Maui, Ojai and Pebble Beach.
The expenses were for campaign fundraisers, political strategy meetings and dinners with legislative staff and potential donors, said Hall, a Democrat from Compton, who called them a necessary and legal part of his effort to win election to the state Senate.
Hall said he has to raise and spend money to introduce himself to those he hasn't represented in the past. The Senate district includes about 40% of his Assembly district, taking in communities such as Carson, Gardena, Lawndale, Inglewood, Watts and Willowbrook.
"I don't take any race for granted," Hall said. "I plan to win by working hard and connecting with voters, crisscrossing across this town and meeting new folks."
Although all state legislators spend money on fundraisers, Hall's rivals in the Dec. 9 special election say his spending is excessive.
"We are a working-class community, and we don't live that type of life of luxury, taking trips all over," said Hector Serrano, a Democrat in the race.
Republican James Spencer said Hall and his allies "are part of the elite," and asked, "How can you tell us you are in touch with the people when you do that?"
Hall's fundraising and spending habits have attracted the attention of the state's ethics watchdog agency three times, resulting in two warning letters and an advice letter.
Four candidates are vying to fill the 35th Senate District seat vacated by Democratic Sen. Roderick Wright, who resigned after he was convicted of lying about living in the district.
An ally of Wright's, Hall spent months between Wright's conviction in January and his resignation in September lining up key endorsements.
Assemblyman Steven Bradford, briefly a candidate, dropped out after Hall rolled out a flood of early endorsements, including the backing of the California Democratic Party.
The remaining candidates are relative newcomers to state politics, and none has reported raising more than $10,000. By comparison, a Hall Senate committee — set up for the 2016 election when term limits would have forced Wright out — has spent $384,000 this year on campaign consultants, fundraising and other expenses.
Another committee, for this year's special election, has raised more than $140,000. Hall has also given $150,000 to the state party in recent weeks to help candidates in more competitive races.
Hall's opponents in the race are Democrat Louis L. Dominguez, 67, a retired teacher from San Pedro; Spencer, 60, an Inglewood businessman; and Serrano, 26, a County USC Hospital patient-resource worker from Wilmington.
Hall, 42, has served in the Assembly since 2008 and is chairman of the Governmental Organization Committee, which oversees issues including alcohol, horse racing, gambling and tobacco laws.
Last year, Hall reported accepting more than $2,000 worth of meals as gifts from special interests and others, including a $221 dinner provided by the state prison guards union, a $207 meal by the Cigar Assn. of America and a $141 supper by the Commerce Casino.
He also accepted concert tickets from Majestic Realty after authoring legislation in 2011 that expedited environmental approval of a proposed pro football stadium the firm wants to build in the City of Industry.
Hall has used campaign funds to attend the Kentucky Derby, including once to conduct "legislative research" as chair of the committee overseeing horse racing, and other times for campaign fundraising.
He paid $14,000 this year to Staples Center in Los Angeles for fundraising expenses that included a private luxury suite for a Lady Gaga concert July 22. Campaign money was even used on a meeting by a campaign aide at a strip club in Las Vegas.
Hall's Senate campaign committees have spent at least $70,000 on food, drink and other expenses for fundraisers, campaign strategy meetings and legislative staff planning sessions during the last two years, including $635 for a meeting at Spago Maui.
Hall's Senate committees have spent $7,812 on cigars and membership at cigar lounges during the period and $42,000 on airfare and hotels. Expenses include $11,000 to stay at the Fairmont Hotel in Kihei, Hawaii, while Hall attended a conference.
Hall said his campaign spending is legal and open for the public to see — part of an effort "making sure that I talk to every voter in the district."
A warning letter sent by the Fair Political Practices Commission in February noted that lobbyist Kevin Sloat had provided expensive wine, cigars and flowers at three fundraisers hosted in his home for Hall. The spending violated the ban on lobbyists making contributions to campaigns.
Hall received a warning letter rather than a fine, an FPPC official wrote, because investigators found no evidence Hall knew that a violation had occurred.
In June 2012, Hall received an advice letter from the FPPC telling him that he had received concert tickets from Majestic Realty that exceeded the gift limit, but Hall later paid back the difference.
Although he defends most of his campaign spending, he distanced himself from one expense.
Hall's 2012 Assembly campaign committee spent $152 for a meeting of four people, including a campaign advisor, at the Crazy Horse Las Vegas, a nightclub featuring topless dancers.
Hall "absolutely did not authorize that expenditure, and he was not present that evening," said Dave Jacobson, a Hall spokesman. "That expenditure was made by an employee who displayed poor judgment and is no longer involved in Assemblyman Hall's organization."
Twitter: @mcgreevy99
Sign up for Essential California for news, features and recommendations from the L.A. Times and beyond in your inbox six days a week.
You may occasionally receive promotional content from the Los Angeles Times.