Trial for Rep. Duncan Hunter and wife set for September 2019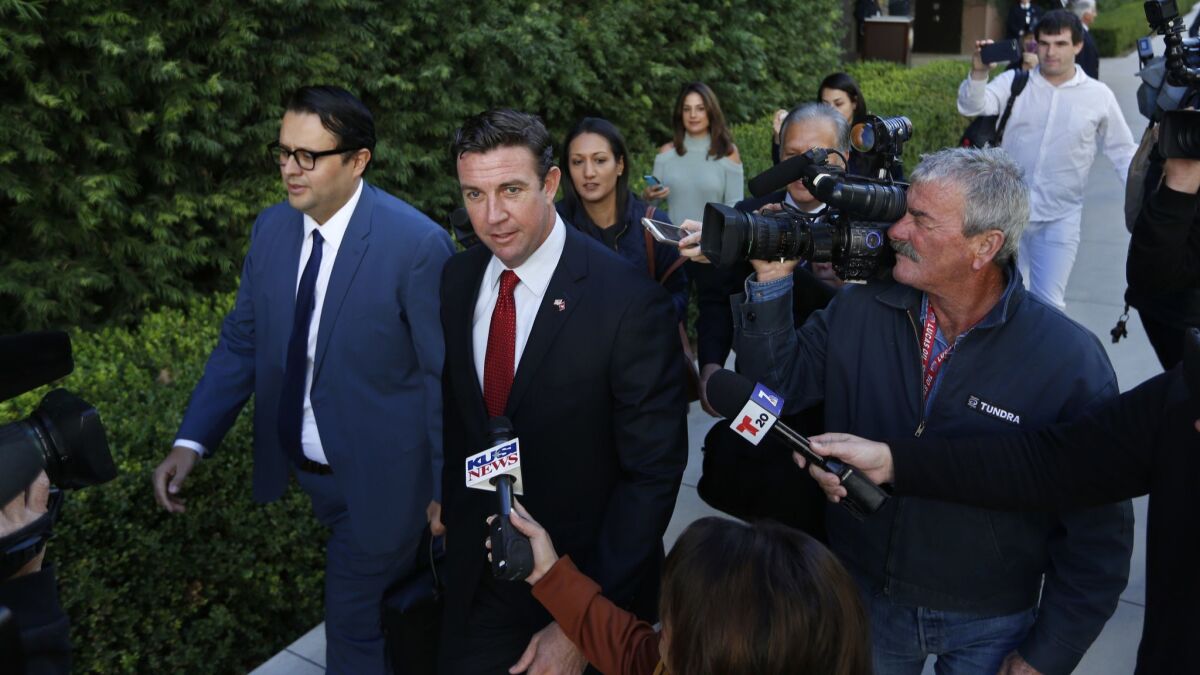 Trial for Rep. Duncan Hunter, R-Alpine, and his wife and former campaign manager, Margaret, was set during a hearing on Monday for Sept. 10.
Duncan and Margaret Hunter appeared in federal court in downtown San Diego for a planning hearing stemming for their Aug. 21 indictment. The two face 60 counts of crimes including conspiracy wire fraud and making false reports to the Federal Election Commission.
The couple has pleaded not guilty to all charges, and Rep. Hunter says the prosecution is a political witch hunt.
The couple's next appearance in court, also scheduled during Monday's hearing, was set for July 29.
The parties in the case agreed to set dates far in advance because of the complexity of the case and hang-ups caused by technical difficulties in the discovery process.
Prosecutors allege Margaret and Duncan Hunter used Hunter's campaign coffers like a personal bank account, frequently dipping into it to subsidize a lifestyle they could not afford. The couple allegedly spent $250,000 of campaign money on family trips to Italy and Hawaii, tequila shots, oral surgery, tuition for their children's private school and scores of other personal expenses.
Hunter, 41, has denied that he was responsible for the charges in question and suggested his wife, 43, was to blame.
Personal use of campaign money is against the law to prevent undue influence by donors such as defense contractors who do business with the federal government.
Margaret and Duncan Hunter arrived separately for their hearing Monday. They did not sit together or interact. On his way out of the courthouse, a handful of protesters followed Hunter to his car, some of them chanting, "Shame."
Hunter, who was elected in November to a sixth term in Congress, stepped down from his committee assignments after he was indicted this summer.
William Johnson of San Diego was among the small crowd of protesters who came out for the hearing Monday. There were about 10 of them, a small group compared to the dozens of demonstrators who showed up to protest outside Hunter's previous court hearings.
"Since the election is over, there's not as much enthusiasm around this and also it's hard to get here," Johnson said.
Johnson said he hoped Hunter would resign and that there would be a special election to replace him.
morgan.cook@sduniontribune.com
---
The stories shaping California
Get up to speed with our Essential California newsletter, sent six days a week.
You may occasionally receive promotional content from the Los Angeles Times.