Drought-depleted Folsom Lake is rising, but it's still far from its level-best
Reporting from Folsom, Calif. —
Hopping from one rock to another, Sue Ann Arens led her two boxers one recent afternoon up and down the uneven slopes of Folsom Lake, which years of drought have stripped bare. Their daily walks along Sacramento's backyard reservoir had become a hike through the lake bed.
------------
FOR THE RECORD
Jan. 30, 9:44 a.m.: An earlier version of this article erroneously referred to Sueann Arens. Her first name is Sue Ann.
------------
Well-worn trails threaded through clusters of brush in areas usually covered by water.
By the next afternoon, Arens had to change course. A morning storm had submerged part of her trail. In the distance, water rippled over an island that had surfaced last year when the lake hit bottom.
"Every day, something else is covered," Arens said, marveling at how much the lake has grown with each storm. "It's so exciting. I want it to keep raining."
Every day, something else is covered. It's so exciting. I want it to keep raining.
Sue Ann Arens, about rising Folsom Lake
Folsom — which dwindled to 14% of capacity last year and became a global image of the California drought — has more than tripled in size since December, thanks to a series of storms that has brought above-average snow and rainfall to Northern California.
The lake had dropped so low that boaters could see the foundations of Red Bank, a community that went under in 1955 when Folsom Lake was created.
For months, 10 pump barges have floated ominously in the disappearing lake. Officials said they were a last resort if the water dropped below the pipes that channel it to almost half a million people.
Then the winter rains arrived, strengthened by El Niño conditions. Local headlines flashed the welcome news: "Folsom Lake rises nearly 30 feet in 30 days."
But at 43% full, the lake still has a long way to go. And Folsom is but one piece of a massive system still short of the point where water officials can declare California drought-free.
Total water storage in the Central Valley Project, for example, is about 900,000 acre-feet below what it was a year ago — the size of all of Folsom.
"That's huge. The [shortfall] just in the last year is almost the entire capacity of Folsom reservoir," said Shane Hunt of the U.S. Bureau of Reclamation, which oversees Folsom Lake and the Central Valley Project, a major source of water for California farmers. "So even though we're seeing decent precipitation and decent snow, which is great, it's still going to be a very tough year for us."
Recovering Folsom from historic lows is crucial to California's water supply, which relies on Folsom for stability. Folsom is unique in that it's the reservoir closest to the Sacramento-San Joaquin River Delta, the keystone to California's complex water network.
"If we need water in the delta quick, we push it out of Folsom first," said Hunt, blinking back raindrops as he walked across Folsom Dam during a recent storm. "Shasta is five days from the delta, Folsom is about two."
Folsom allows flexibility, Hunt said. When Shasta Lake needed to reserve more of its cold water last year for endangered salmon, officials tapped Folsom to help supply what Shasta could not.
The lake, nestled upstream from where the American and Sacramento rivers meet, is also a lifeline to residents who can see their water supply rise and fall each day.
For cities like Folsom and Roseville, the lake has been a visual reminder of a drought that, for years, felt more abstract to communities hundreds of miles away in Southern California. Folsom city officials ordered Stage 3 watering restrictions in December 2013 — a month before Gov. Jerry Brown issued the first drought emergency declaration.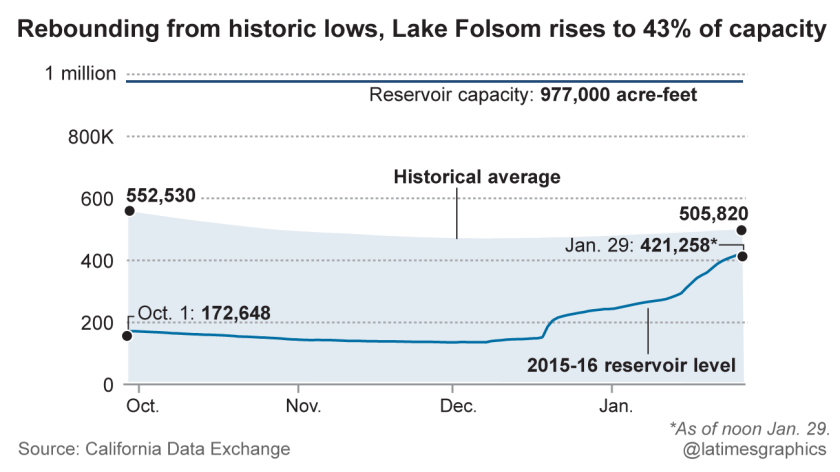 "We know day in and day out what the inflow and outflow of the lake is, and we just thought we're going to get out ahead of this," Folsom City Manager Evert Palmer said. "What we've really been trying to do is change behaviors over the long term, understanding that this is an opportunity to do that."
Around town, artfully arranged rocks and drought-tolerant plants have replaced ornamental grass along street medians and parks. Conservation compliance from Folsom's roughly 75,000 residents has not been an issue — there were warnings, but the city has had to issue only two fines so far.
The morning the city announced its rebate programs for turf removal, low-flow shower heads and other water-saving devices, almost 1,000 calls and emails flooded City Hall. People had seen the lake and wanted to help conserve.
But hitting the state's mandatory 32% conservation target has not been easy, Palmer said, especially in the winter months when outdoor watering goes down. The average resident so far has managed to cut usage from 195.1 gallons a day to 137.5.
The bleak appearance of the lake has also fueled misperceptions, Palmer said: "It makes people really start worrying about their future and the water and what their neighbors are using. A certain amount of that is good; too much of that is not good."
In reality, the city of Folsom every year uses only about 2% of the water that passes through the lake. Shutting off all the water in town would make a minor difference in the lake level.
No one city or reservoir could conserve its way out of California's drought, officials said. And precipitation in one part of the state can only go so far.
"We're all in this together. If things aren't happening in the central and southern regions, that impacts the north," said David Rizzardo, chief of snow surveys and water supply forecasting for the California Department of Water Resources.
Northern California has seen most of the precipitation so far, but climate experts predict that El Niño-influenced storms will hit Southern California later this winter and perhaps as late as May.
It's easy, especially for those getting drenched in Northern California, to think the recent rains could end the drought, officials said. The numbers seem impressive: 144% of the average in Eureka since Oct. 1, more than double the average in Redding since the new year, and 17 days of rain in Sacramento in January alone.
But this has produced relatively minor gains in California's largest reservoirs — Shasta Lake, Lake Oroville, Trinity Lake and New Melones Lake — which remain at 49%, 40%, 27% and 16% of capacity, respectively.
Four years of severe drought left huge holes in every reservoir, Rizzardo said. "The first goal isn't to stop the drought, but to stop digging the hole."
The Sierra Nevada snowpack also needs to reach 150% of the average by April 1 for the state to come close to declaring an end to the drought, Rizzardo estimated. Recent storms have brought the statewide average for this time of year to 111%.
"We've got to pick up the pace," Rizzardo said. "It's a much better start, either way, than last year. But last year wasn't much of a benchmark for anything, other than how low can you go."
Back at Folsom Lake, reclamation officials said that seeing the reservoir barely 40% full after weeks of rain is a sobering reminder of how severe the drought has been. In a normal year, enough water comes through to fill the lake three times.
See more of our top stories on Facebook >>
The basin was so dry that during the first four or five storms, the water just soaked into the ground, Hunt said. It wasn't until mid-December that the lake actually started rising when it rained.
"We try not to be completely gloom and doom about it — it's great, it's finally raining, but we don't want people to get the false hope that the drought's over," Hunt said. "There's always another drought coming down the pipeline, whether it's two years from now, or this one continues into next year."
Regulars at the lake remain hopeful. Hours after the third storm of the week, Arens and her boxers Ziggy and Dempsey were back for their daily walk.
Arens stared into the distance — to the middle of the lake, past the lifeguard tower sitting on grass, past the rocks and footprints sunk into the fields that should be covered with water.
She sighed. The island she saw earlier that week, now underwater, had completely disappeared.
Folsom is starting to look like a lake again.
Twitter: @RosannaXia
ALSO
O.C jail escapee surrenders with plea to a friend: Call police
Are we getting closer to understanding where the moon actually came from?
Waiting for rain? Here's what's keeping the brunt of El Niño away
---
Must-read stories from the L.A. Times
Get all the day's most vital news with our Today's Headlines newsletter, sent every weekday morning.
You may occasionally receive promotional content from the Los Angeles Times.