Has El Niño abandoned L.A.?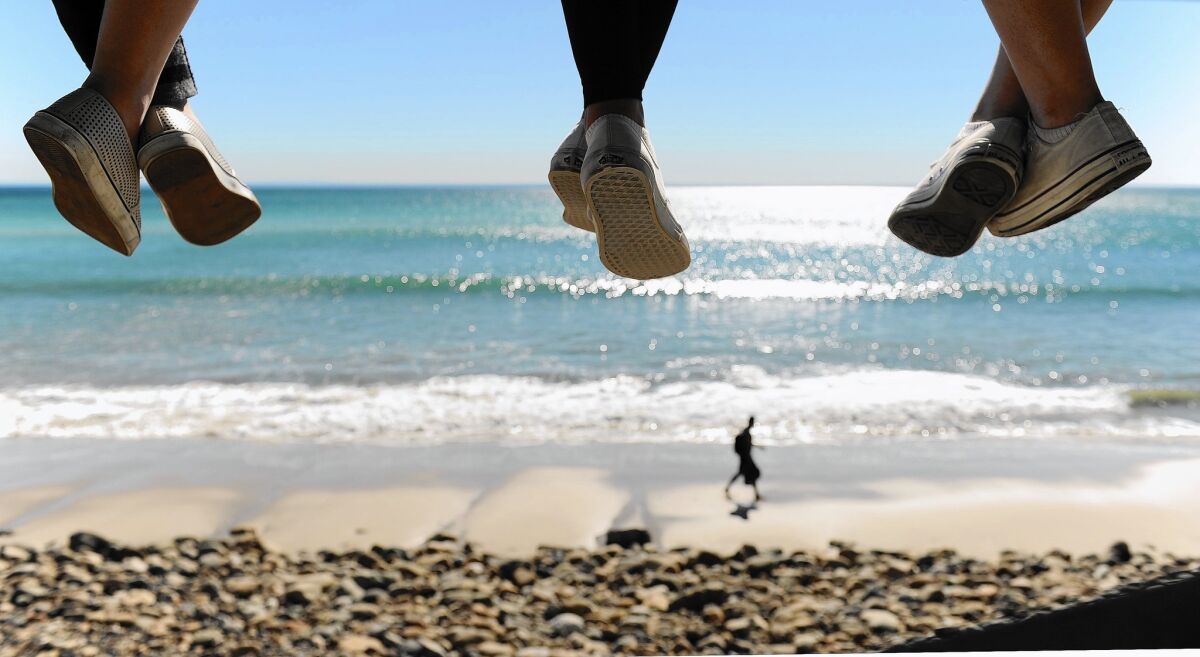 By this point in winter, Southern California was supposed to be dealing with rains and flooding, not brush fires and beach weather.
Yet temperatures have soared this week, breaking records in downtown Los Angeles and other locations across California, with even hotter conditions expected Tuesday. Forecasters warn of more hot winds as well as temperatures that could exceed 90 degrees downtown.
For all the talk of monster rains from El Niño, all but three days in the last month have been dry in the Los Angeles area.
Has El Niño abandoned L.A.?
Water and Power is The Times' guide to the drought. Sign up to get the free newsletter >>
It's too early to be certain. But some scientists say El Niño is operating differently than they expected — at least for Southern California.
In the fall, the consensus was that El Niño would give Southern California the best chance for above-average rains and much less of a chance in Northern California. But the opposite has turned out to be true.
Southern California is still well below average rainfall, with downtown L.A. reporting 52% of normal since Oct. 1. But deluge after deluge to the north has built back the snowpack — it's 105% of normal in the Sierra Nevada — and begun to refill drought-depleted reservoirs.
For Southern California, the strong El Niño "hasn't been a great predictor so far this winter," said Stanford University climate scientist Daniel Swain, and "hasn't been influencing the atmosphere in exactly the same way that we have seen."
A massive ridge of high pressure is keeping much of California dry and warm this week. In Southern California, that brought dry winds and temperatures that approached 90 degrees.
At Mt. Baldy, the heat prompted officials to close main trails after unusually icy conditions resulted in two deaths and numerous helicopter rescues.
"The warm weather is melting the snow and it freezes at night," said Sherry Rollman, a spokeswoman for Angeles National Forest.
The conditions led to 12 people being airlifted off the mountain over the weekend.
A 47-year-old man died Saturday when he slipped and fell off the side of Icehouse Saddle near Mt. Baldy. Dong Xing Liu, who was known as Tony Liu, was the second person to die in the area last week. On Tuesday, Daniel Nguyen, 23, slipped and fell 1,500 feet after struggling to help a friend on the Devil's Backbone trail. The San Bernardino County Sheriff's Department said it took nearly three hours in ice, snow and wind to retrieve his body.
USC students Pat Corcoran and Alexandra Plzak enjoy the warm weather on campus Tuesday as temperatures reached a record 87 degrees in downtown Los Angeles.
(Francine Orr / Los Angeles Times)
Los Angeles City firefighter Harold Kim cools down after battling a house fire in 90-degree heat Tuesday.
(Wally Skalij / Los Angeles Times)
Blakey Olsen of Laguna Beach practices yoga in front of the Broad Contemporary Art Museum as temperatures set a record at 87 degrees in downtown L.A. on Tuesday.
(Allen J. Schaben / Los Angeles Times)
A man carries a surfboard at sunset at El Porto beach on Monday in Manhattan Beach.
(Patrick T. Fallon / For The Times)
Basilios Papaioannou of West Hollywood builds a drip castle in the sand at Venice Beach.
(Katie Falkenberg / Los Angeles Times)
People play football and climb on the rock jetty at Venice Beach.
(Katie Falkenberg / Los Angeles Times)
Boys play in the ocean at Venice Beach.
(Katie Falkenberg / Los Angeles Times)
Ariel Rhone uses an umbrella for shade near the Venice boardwalk on Monday.
(Katie Falkenberg / Los Angeles Times)
Venetia Taylor of New York enjoys the afternoon reading a book at the Ace Hotel rooftop pool on Broadway Street in Los Angeles
(Barbara Davidson / Los Angeles Times)
Dan Charcoal, who is vacationing in Southern California from Maui, golfs on Zuma Beach during a hot winter day Monday.
(Wally Skalij / Los Angeles Times)
Dilip Ray performs jumping jacks during his daily workout at Warner Park in Woodland Hills. Warm temperatures and high winds are expected today.
(Mel Melcon / Los Angeles Times)
Holly Di Renzo gives her daughter Bella, 4, left, and son Dante, 3, a push, as they ride on the swings at Lost Canyon Park in Simi Valley.
(Mel Melcon / Los Angeles Times)
Feet dangle from a lifeguard tower along PCH in Malibu during a hot winter day Monday.
(Wally Skalij / Los Angeles Times)
On a warm, windy afternoon a woman heads to her car after shopping at the 99 Cents store in Simi Valley.
(Mel Melcon / Los Angeles Times)
Cedric Laheurte places an Oscars "floaty" in the swimming pool as warm weather is in store for the annual Oscars nominee luncheon today at the Beverly Hilton Hotel.
(Al Seib / Los Angeles Times)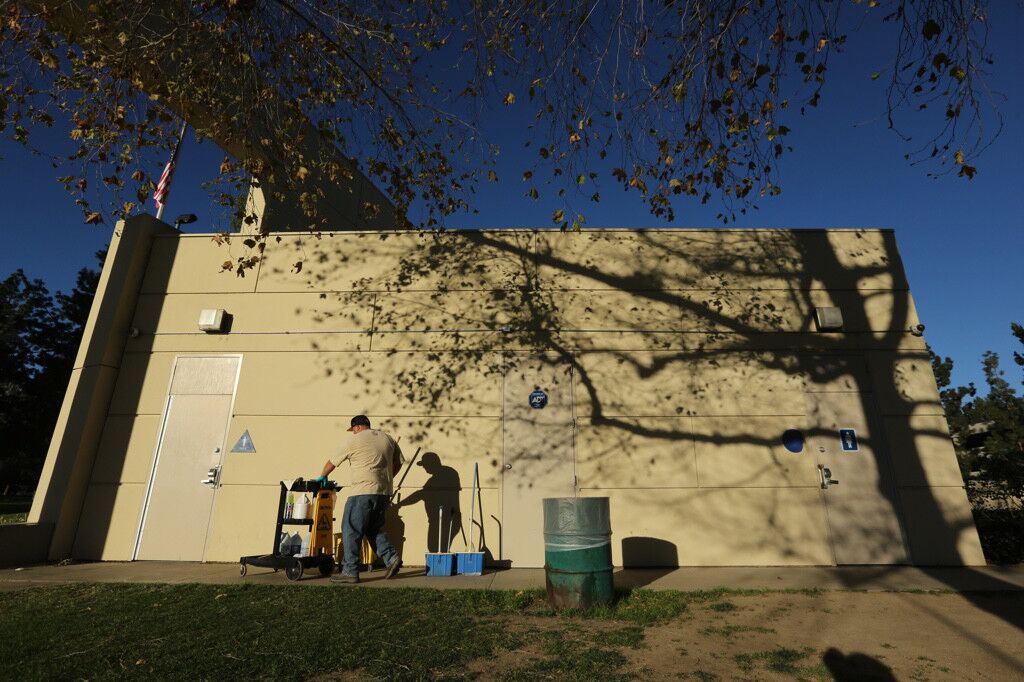 Strong winds and high temperatures have fire crews on alert. Above, David Castro works at Warner Park in Woodland Hills on Monday.
(Mel Melcon / Los Angeles Times)
Signs along the trails advise hikers to use equipment such as crampons and ice axes. It was not immediately clear what type of gear Liu, Nguyen and the rescued hikers were using, but officials said at least a handful were not wearing crampons — spiked metal plates affixed to boots to make it easier to walk on ice — and didn't have ice axes.
Mt. Baldy Fire Department Capt. Gordon Greene said a few people rescued Saturday afternoon were wearing shoe chains, which are less effective than crampons.
A series of big El Niño-influenced storms the first week of January left Mt. Baldy and other winter resorts with snow. But the promised "conveyor belt" of storms has not materialized since then.
El Niño is the warming of ocean waters about 1,000 to 2,000 miles south of California, along the equator.
That water heats up, fueling thunderstorms that push warm air into the atmosphere, which travels north. Eventually, it falls back down to the ocean in the subtropics, at roughly the same latitude Hawaii sits, Swain said.
FULL COVERAGE: El Niño in California >>
It's that movement in the atmosphere — a circulation pattern called the "Hadley cell" — that supercharges a subtropical jet stream from Japan eastward into Southern California and into the southern United States.
But something changed this year. With the zone of warm water in the ocean particularly large and persistent, the movement of warm air above it traveled farther north than expected. That means the parade of storms zipping across the Pacific Ocean established a path over Northern California and even the Pacific Northwest — and bypassed Southern California, Swain said.
That may be the reason why all but one storm have missed L.A. over the last month. "It may be because El Niño is so strong," Swain said.
The difference in the path of the jet stream is "very slight in the global context," Swain said in an interview. "But if you're in Los Angeles, that difference means a lot."
Across L.A. on Monday, the heat wave brought longing for the promised rain that hasn't materialized.
Gloria Lopez, a Boyle Heights resident, held her 5-year-old daughter tightly by the hand as they walked along 1st Street. While Lopez, 48, was wearing sandals, her daughter was a little less prepared in a long-sleeved shirt.
"I don't know what's happening with this climate," Lopez said. "They said El Niño was coming, but nothing has happened. I don't know what's going to happen."
"El calor no se quiere ir," she said. "The heat doesn't want to go away."
Setrak Malatian, a Pasadena resident, was annoyed by the sun.
"Wintertime should be winter, not wintertime should be summer," he said.
Some remained optimistic about the possibility of rain down the line.
"When we get nice weather, then I'm happy for it," said Toni Fields, who was dressed in cutoff jeans, a tank top and sandals. "I just thank God we have nice weather, because I'm pretty sure it's still going to rain and that we're still going to get the mudslides."
Join the conversation on Facebook >>
Bill Patzert, a climatologist at NASA's Jet Propulsion Laboratory in La Cañada Flintridge, said one hypothesis is that El Niño needs to weaken before the storm track can reemerge over Southern California. In 1998, it was a weakening El Niño in January that preceded storms that pounded L.A. in February. Last month, El Niño was still extremely large and potent — about two and a half times the size of the continental United States.
In other words: "This is not too big to fail, but with regard to Southern California, it's too big to succeed," Patzert said.
"I'm still saying: Be patient. In terms of getting Southern California their El Niño fix, this thing has to shrink somewhat.... So if that idea is correct, then we're looking good for March and April."
For the period from Feb. 20 to March 4, the National Weather Service's Climate Prediction Center forecasted a better-than-even chance of above-average rains for Southern California, given the strong El Niño condition in the ocean.
"Even though we haven't seen El Niño pan out" in sending storms to Southern California, said specialist Stuart Seto of the National Weather Service office in Oxnard, "that still doesn't mean we can't see good rains in the latter part of February and in March."
ron.lin@latimes.com | Twitter: @ronlin
brittny.mejia@latimes.com | Twitter: @brittny_mejia
sarah.parvini@latimes.com | Twitter: @sarahparvini
ALSO
YOLA returns home to flowers and praise after Super Bowl performance with Beyonce and Coldplay
Big turnout is expected at a showdown over the Coastal Commission chief's future
L.A. homeless plans near approval, but where will the money come from?
---