Senate Democrats balk at $1-billion aid plan for Central America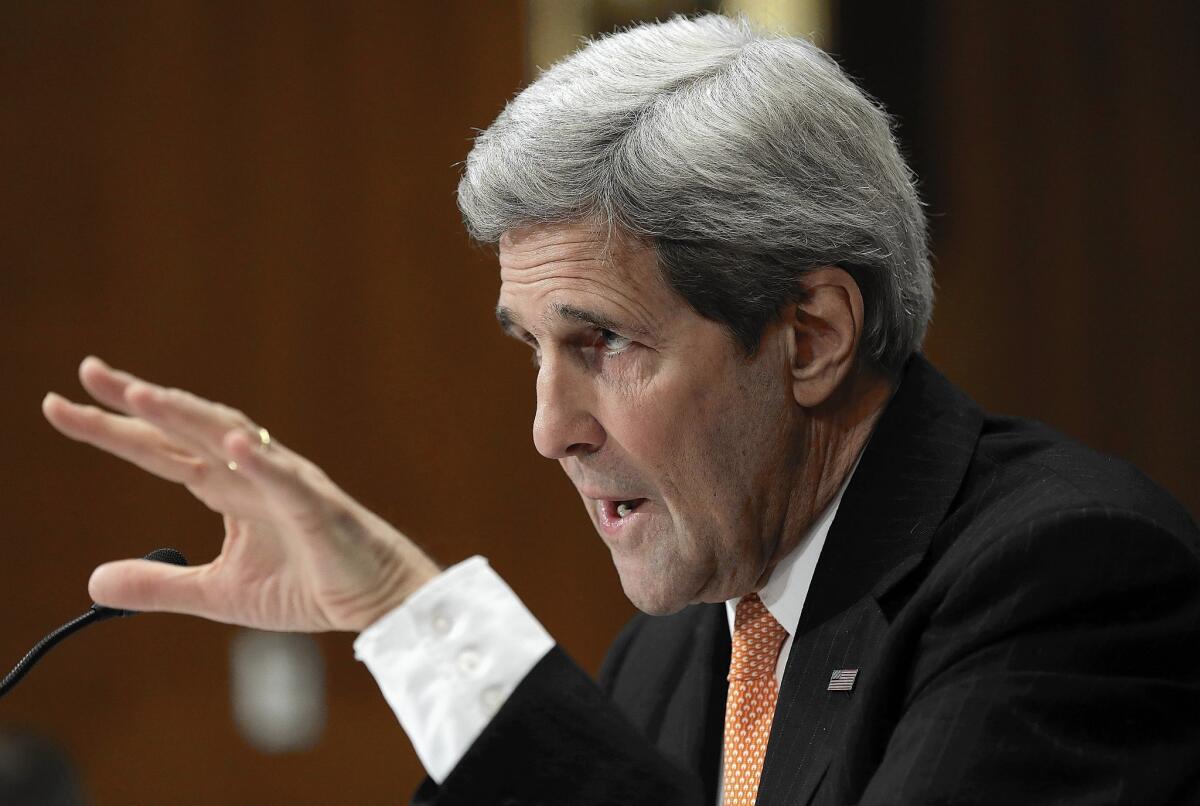 Reporting from Washington —
Senate Democrats on Tuesday unexpectedly challenged the Obama administration's plan to pour $1 billion into Central America to try to slow the flow of unaccompanied minors and others who enter the United States illegally.
In two hearings on the State Department budget, Democrats as well as Republicans warned that previous administrations have spent billions in the region without substantially reducing its violence or easing its poverty.
"We've spent billions of dollars there over two decades," Sen. Patrick J. Leahy (D-Vt.), ranking member of the Senate Appropriations foreign operations subcommittee, told Secretary of State John F. Kerry. "And we've seen conditions get worse in Honduras, Guatemala, El Salvador."
The plan, which would triple U.S. aid to the region, was devised in response to an unprecedented influx last summer of tens of thousands of children and teens who arrived without parents on the Southwest border. Most immediately surrendered to Border Patrol officers.
When they announced the plan, administration officials said the money could help improve law enforcement, reduce corruption, strengthen government services and bolster weak economies in the region.
Vice President Joe Biden wrote in an op-ed published in the New York Times last month that the aid program could usher in "the next great success story of the Western Hemisphere."
But some lawmakers responded Tuesday that any U.S. aid program would need to overcome entrenched corruption in the region and noted the refusal of many wealthy families to spend their own money for the national good.
Private businesses in Central America "should be doing more," Leahy said. "They live behind walls. They don't pay taxes. If they don't live in Miami, they keep their money there."
"We can't just continue to layer aid programs," Sen. Benjamin L. Cardin (D-Md.) told Kerry in a subsequent Senate Foreign Relations Committee hearing. "We've had many programs in Central America and the results have been less than consequential."
Leahy and Cardin are not traditional opponents of U.S. foreign aid. But they long have shown an interest in the problems of Central America.
Kerry acknowledged that U.S. aid has not always delivered results in the region. But he said the underlying problems are so severe that young people threatened by violence, poverty and corrupt governments will continue to head north and seek U.S. asylum.
He said U.S. officials pressed Central American leaders in the summer for help in stemming the migration crisis. But the leaders said they needed more U.S. aid to complement their efforts, Kerry said.
On a separate topic, Kerry rejected criticism of the administration's role in international negotiations with Iran on its nuclear program. But he refused to provide details of the talks.
The efforts of the U.S. and five other world powers to negotiate curbs on Iran's nuclear program has drawn mounting criticism from Israeli Prime Minister Benjamin Netanyahu and congressional skeptics, who fear the administration is preparing to accept terms that would enable Iran to someday gain enough enriched uranium to build a nuclear bomb.
Netanyahu is expected to lay out his concerns when he addresses a joint session of Congress on March 3.
But Kerry insisted that it was premature to criticize the talks given that no deal has been struck and that details circulating in public are inaccurate.
"Anybody running around right now, jumping in to say, 'Well, we don't like the deal,' or this or that, doesn't know what the deal is. There is no deal yet," Kerry said. "And I caution people to wait and see what these negotiations produce."
On Monday, several news organizations reported that the two sides were weighing a deal that would enforce strict limits on Iran's nuclear activities for 10 years, but then gradually ease restrictions over the following five years.
Pressed by Sen. Robert Menendez (D-N.J.) to address those reports, Kerry said, "The answer is the proverbial 'Don't believe what you read.' And I'm not going to go into the details of where we are and what we're doing."
Kerry also emphasized that important issues remain unresolved in the talks, and it's unclear whether a deal can be reached.
The U.S., Britain, France, Germany, Russia and China are negotiating with Iran for an agreement on an outline of a deal by the end of March. If they get that far, they would have until the end of June to flesh out the technical details.
Kerry met with his Iranian counterpart, Mohammad Javad Zarif, in Geneva on Sunday and Monday. They are scheduled to meet again next week and are expected to meet repeatedly over the next month.
Sign up for Essential California for news, features and recommendations from the L.A. Times and beyond in your inbox six days a week.
You may occasionally receive promotional content from the Los Angeles Times.