Nikolas Cruz indicted in Florida high school shooting — 17 counts of murder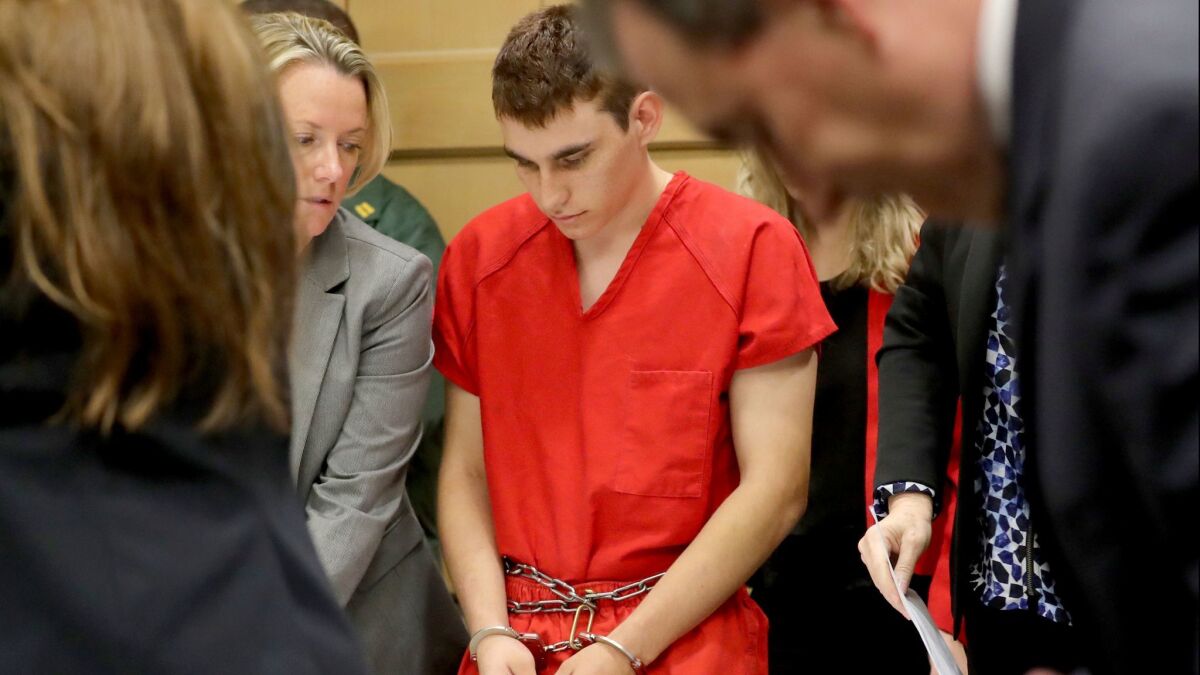 Reporting from FORT LAUDERDALE, Fla —
Nikolas Cruz has been indicted on 17 counts of first-degree murder and 17 counts of attempted first-degree murder in the mass shooting at Marjory Stoneman Douglas High School, prosecutors announced Wednesday.
The indictment followed testimony earlier in the day from Broward County Medical Examiner Dr. Craig Mallak and the Parkland family who gave a home to Nikolas Cruz.
Cruz, 19, has admitted arming himself with an AR-15 rifle on Valentine's Day and gunning down 17 people and injuring 16 others at Marjory Stoneman Douglas High School in Parkland.
Grand jury proceedings are held behind closed doors and state authorities have taken the unprecedented step of escorting witnesses through a secure rear entrance.
Mallak, whose staff conducted autopsies on the victims, left through the front door. He did not comment to waiting reporters.
James and Kimberly Snead, who let their son's friend, Cruz, live with them for about three months before the shooting, also testified to the Broward County grand jury. Their attorney, Jim Lewis, went into the grand jury room with them.
Lewis and James Snead both wore silver pins bearing the number "17" — to commemorate the number of victims — on their lapels.
The Sneads did not comment, but Lewis told waiting reporters that they told the jurors "every single detail they can remember" about Cruz.
"The grand jurors asked some very insightful questions, and they answered them to the best of their ability," Lewis said.
"They [the Sneads] still don't know why this happened … [they] didn't see this coming," Lewis said.
On Tuesday, the jurors heard from more than half a dozen witnesses out of a scheduled 15. First up was the Uber driver who drove Cruz with a black duffel bag and backpack to the school campus that afternoon. Crime-scene analysts and the lead detective also testified.
Must-read stories from the L.A. Times
Get the day's top news with our Today's Headlines newsletter, sent every weekday morning.
You may occasionally receive promotional content from the Los Angeles Times.