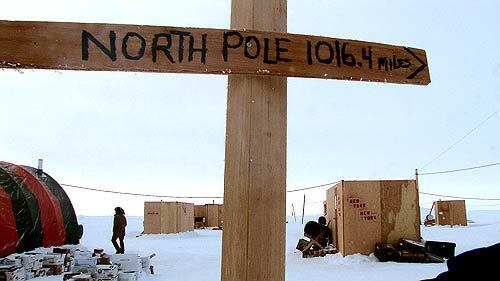 12 Images
Drifting Slab of Ice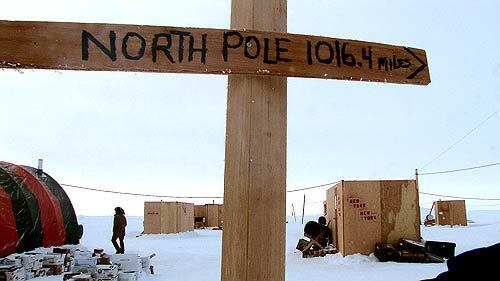 A sign stands on a mile-wide Arctic ice floe that serves as a temporary camp for Navy personnel conducting submarine research. The Navy, every few years, builds a temporary ice camp like this one to run submarine war games. When the games end a month or so later, the Navy removes the equipment and burns the camp.
(Myung Chun / LAT)
The sail of the U.S. submarine Alexandria surfaces three stories above the ice March 20. The 6,900-ton nuclear sub was engaged in an exercise with the 5,200-ton British submarine Tireless. Though largely unseen, Alexandria and Tireless were the twin players around which the camp revolved.
(Myung Chun / LAT)
Following a navigation exercise, crew members at the camp walk off the bow of the Alexandria after using a chain saw to cut a path to the hatch.
(Myung Chun / LAT)
Navy Lt. Cmdr. Gerard DeMers, the safety officer at the camp, waits for the Alexandria to surface. The minus 20-degree cold froze the steam from his breath onto his eyelashes and gear.
(Myung Chun / LAT)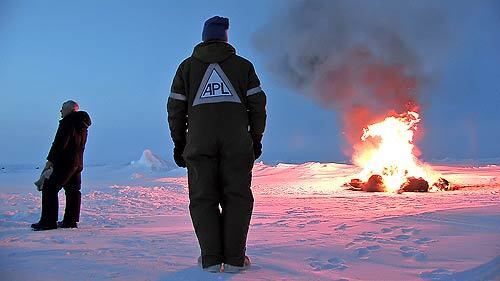 With no way to easy way to remove trash from the camp, a pile of it is burned nearby.
(Myung Chun / LAT)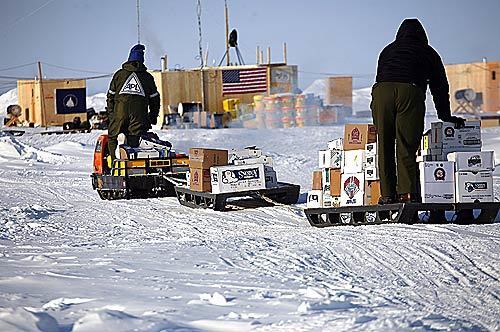 A shipment of food flown in from Prudhoe Bay, Alaska ¬– about 180 miles away – is taken to camp. Most of the perishables at the camp were kept outside, a benefit of having the entire outdoors as your freezer.
(Myung Chun / LAT)
Naval Postgraduate School students John Bleidorn, left, and Tim McGeehan, called the "kids" by old-timers, were researching how icy formations called keels affect currents.
(Myung Chun / LAT)
Bleidorn and McGee created a 40-foot-deep hole using a tripod that lowered a gadget into the ice and melted it. The two spent their days prodding, exploring and dropping devices into the hole, and studying sonar images on computer screens.
(Myung Chun / LAT)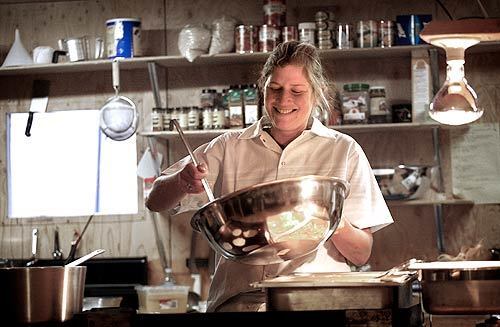 Cook Victoria Simms scoops lemon-pancake batter for the crew. Simms and the other cook were the only two women at the camp. There was a lot of locker room humor, and they laughed and went along with it.
(Myung Chun / LAT)
The mess hall, decorated for St. Patrick's Day, is where meals were served and camp meetings were held. After the explosion on a submarine, it was turned into an infirmary ¬– the tables and chairs replaced by cots and medical equipment.
(Myung Chun / LAT)
In an effort to reduce waste, cups were marked with crew members' names and then reused.
(Myung Chun / LAT)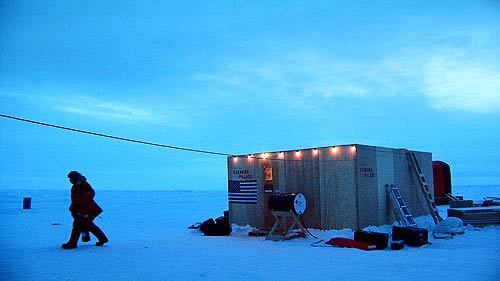 Dusk falls over the camp on the Beaufort Sea. The Arctic is famous for mirages and inexplicable visions, giving everything a surreal quality, especially at night. Author Robert McGhee wrote, "The Arctic is not so much a region but a dream."
(Myung Chun / LAT)