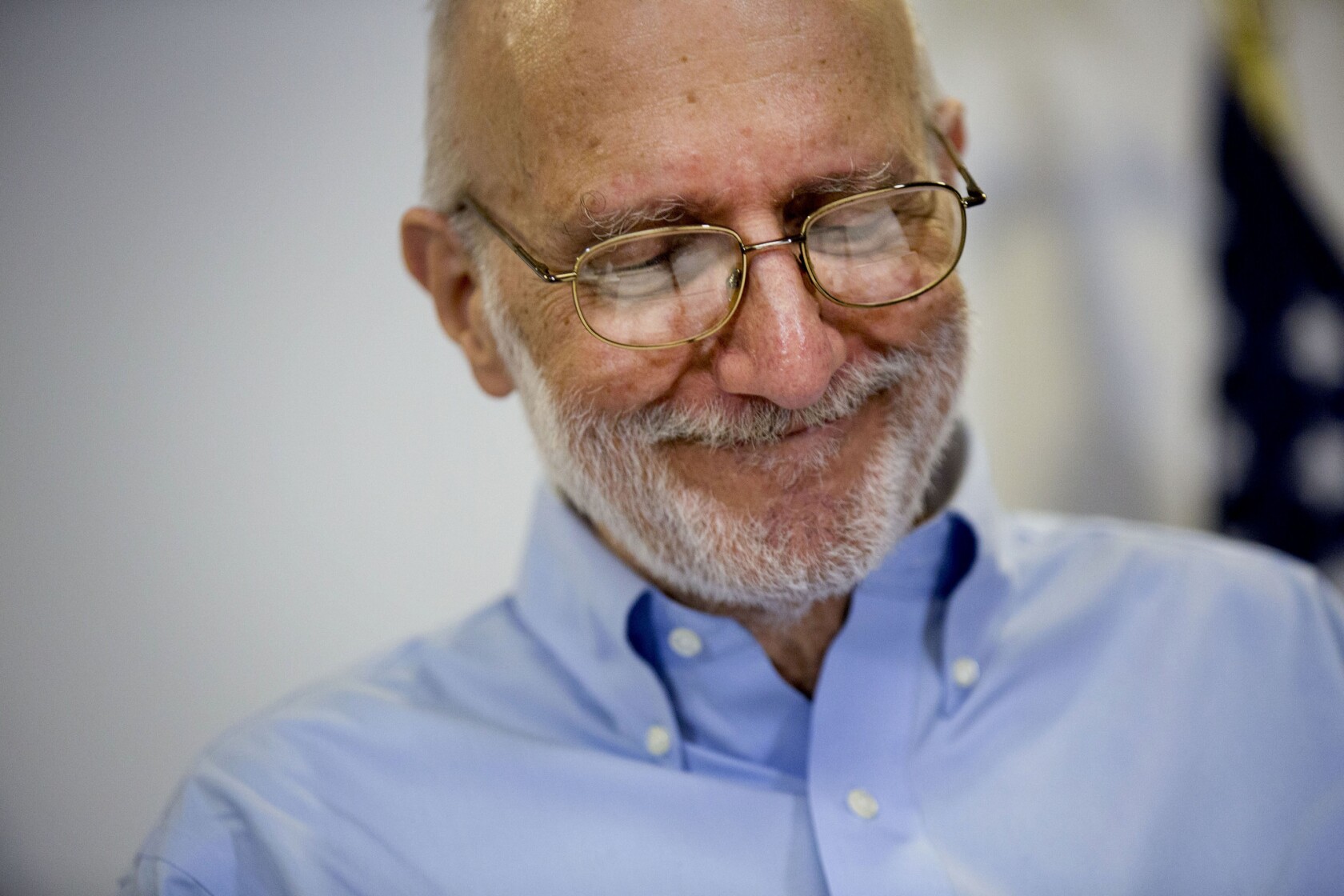 American aid worker Alan Gross, a former Cuban prisoner released on humanitarian grounds, pauses while speaking at a news conference in Washington, D.C.
(Andrew Harrer / Bloomberg)
Alan Gross smiles as he walks in with his wife Judy before speaking to members of the media at his lawyer's office in Washington. Gross was released from Cuba after 5 years in a Cuban prison.
(Pablo Martinez Monsivais / Associated Press)
An image from video on the state TV channel Cubavision shows President Raul Castro welcoming the three Cuban agents, from left, Gerardo Hernandez, Antonio Guerrero and Ramon Labanino, after their release by the U.S. and arrival in Havana.
(Cubavision )
Secretary of State John F. Kerry, left, Alan Gross, foreground center, and others at Andrews Air Force Base in Maryland watch President Obama's address. Gross, a government contractor released by Cuba, arrived home Wednesday.
(Jill Zuckman )
A group gathered outside the Cuban Embassy in Santiago, Chile, celebrates the announcement of U.S.-Cuba plans to normalize relations.
(Mario Ruiz / European Pressphoto Agency)
Lazaro Iglesias, left, who opposes the change in Cuba policy, debates outside a Little Havana restaurant in Miami with Peter Bell, who supports the rapprochement plan.
(Joe Raedle / Getty Images)
Alan Gross waves goodbye after making a statement to the news media at the law offices of Gilbert LLC after arriving back in the United States.
(Chip Somodevilla / Getty Images)
Screenshot from the Cuban TV showing President Raul Castro addressing the country in Havana. Castro said that Cuba had agreed to reestablish diplomatic ties with Cold War enemy the United States after a prisoner swap paved the way to a historic breakthrough.
(AFP/Getty Images)
Manuel Lopez watches a Spanish television network's coverage of Cuba President Raul Castro's speech inside Lopez' cigar shop in Union City, N.J.
(Julio Cortez / Associated Press)
Construction workers speculate what Cuba's President Raul Castro will announce in an upcoming live, nationally broadcast speech in Havana, Cuba.
(Ramon Espinosa / Associated Press)
A file photo of Alan and Judy Gross of Potomac, Md. Media reports on Wednesday state that the U.S. and Cuba have struck a prisoner swap agreement securing the release of U.S. citizen Alan Gross, who had been imprisoned in Cuba for alleged crimes against state security.
(Gross Family / EPA)
Supporters rally on behalf of imprisoned U.S. citizen Alan Gross, calling for President Barack Obama to help free Gross, who was arrested there in 2009.
(Paul J. Richards / AFP / Getty Images)
Cuban President Raul Castro watches the parade during the celebrations marking World Labor Day at Revolution Square in Havana. Raul Castro officially took over as president in 2008.
(Sven Creutzman / EPA)
President Barack Obama, left, shakes hands with Cuban President Raul Castro during the official memorial service for former South African President Nelson Mandela at FNB Stadium in Johannesburg, South Africa.
(Chip Somodevilla / Getty Images)
Ernesto Guevara March, the youngest son of revolutionary leader Ernesto Che Guevara, joins a group of Harley Davidson fanatics in a peregrination from Havana to the mausoleum of his father in the Cuban eastern town of Santa Clara on the 40th anniversary of the revolutionary's death.
(ADALBERTO ROQUE / AFP/Getty Images)
Old vehicles during the presentation of the book 'Havana, Cars and Architecture' by photographer Norman Foster with texts by Spanish journalist Mauricio Vicent, in Havana, Cuba.
(Ernesto Mastrascusa / EPA)
With President Fidel Castro looking on, Gen. Raul Castro speaks at a military ceremony in Havana, Cuba.
(JOSE GOITIA / Canadian Press)
Cuban President Fidel Castro, left, and his brother Raul, Minister of the Revolutionary Armed Forces, chat in Havana during the last meeting of the Cuban Parliament.
(Adalberto Roque / AFP / Getty Images)
Cubans make their way through an avenue in Havana. After Cuban leader Fidel Castro announced Tuesday his intention to retire, many Cubans look to his brother Raul to succeed him, hoping he will let more people open businesses, own homes and even travel abroad.
(Javier Galeano / Associated Press)
Elian Gonzalez is held in a closet by Donato Dalrymple, right, one of the fishermen who rescued the boy from the ocean, as government officials search the home of Lazaro Gonzalez for the young boy in Miami.
(Alan Diaz)
During the morning of the raid, the people of Miami's Little Havana neighborhood filled the street in front of Lazaro Gonzalez's home.
(Alan Diaz)
Elian Gonzalez holds a Cuban flag during the Union of Young Communists congress in Havana. Gonzalez, the Cuban boy at the center of an international custody battle 10 years ago in April 2000, attended Cuba's Young Communist Union wearing an olive-green military school uniform.
(Ismael Francisco / Associated Press)
Former U.S. President Jimmy Carter, center, lifts 1-year-old Jose Angel Guilbeaux as a group of schoolchildren and Cuban officials look on in Las Guasimas, Cuba, a day after he told them that their country does not meet international standards of democracy.
(Gregory Bull / Associated Press)
Former U.S. President Jimmy Carter, left, shakes hands with Cuban President Fidel Castro as former First Lady Rosalynn Carter, right, looks on upon the Carters' arrival in Havana. Carter was the first U.S. president to visit Cuba since the 1959 revolution that put Castro in power.
(Cristobel Herrera / Associated Press)
The shadow of self-employed Juan Carlos Lazo is cast on the cement next to his motorized bicycle which he uses to sell donuts along the Malecon in Havana, Cuba.
(Franklin Reyes / Associated Press)
Cuban intelligence agent Fernando Gonzalez, known as one of the "Cuban Five," poses for a portrait in front of a poster showing the three Cuban intelligence agents imprisoned in the U.S, from left, Gerardo Hernandez, Ramon Labanino, and Antonio Guerrero after a press conference in Havana. The three Cubans were released by the U.S. on Wednesday, Dec. 17, 2014 in exchange for U.S. citizen Alan Gross from Cuba.
(Franklin Reyes / Associated Press)
Rafter Joel Moreno, left, rescued near Miami, kisses his father, Luis Felipe Moreno, who left Cuba in the 1980 Mariel boat lift. The two had been separated since then. Moreno, 39, says the men traveled in a homemade raft powered by a boat motor and could see lights off the coast of Florida within six hours of leaving Cojimar, Cuba.
(Alan Diaz / Associated Press)
In a cloud of smoke, a gloating Fidel Castro and his cigar meet the press after increasing the ransom for 1,173 prisoners captured by Cuban forces in the April Bay of Pigs invasion.
(Alan Oxley / Getty Images)
Cuban revolutionary Fidel Castro, left, lights his cigar while Argentine revolutionary Che Guevara (1928-1967) looks on in the early days of their guerrilla campaign in the Sierra Maestra Mountains of Cuba, mid-1950s. Castro wears a military uniform while Guevara wears fatigues and a beret.
(Hulton Archive / Getty Images)
Photograph taken in 1958 during the guerrilla war headed by Fidel Castro (top, second from right) against Cuban dictator Fulgencio Batista. At bottom, Raul Castro is seen next to Argentinian-born Ernesto "Che" Guevara (second from left) and other members of the guerrillas.
(AFP / Getty Images)
Cuban leader Fidel Castro, lower right, sits inside a tank near Playa Giron, Cuba, during the Bay of Pigs invasion, in this photo provided by Cuban government newspaper Granma.
(Raul Corrales / Associated Press)
Cuban leader Fidel Castro speaks with members of the Revolutionary Armed Forces from his base of operations at the Australia sugar refinery in Jaguey, Cuba, near Playa Giron during the Bay of Pigs invasion in this April 1961 photo.
(Raul Corrales / Associated Press)
Citing a half-century of failed policy, President Obama on Wednesday announced that he intends to normalize relations with Cuba, mending a rupture that dates to the chilliest days of the Cold War. While the move to restore diplomatic ties should not be taken as support for the Castro regime's continuing human rights violations or its antidemocratic policies, it is undoubtedly the right step. Indeed, it is long overdue.
Now Congress should follow suit and scrap the counterproductive economic embargo, which, rather than bringing down the Castro regime, has made the U.S. the outlier in an international community that has accepted Cuba.
We also welcome the release of Alan Gross, the U.S Agency for International Development contractor sentenced in 2009 to 15 years in prison for bringing telecommunications equipment into Cuba. A separate agreement to exchange three Cuban intelligence agents imprisoned in this country for an unidentified U.S. agent who has been held in Cuba for nearly two decades is also welcome, even as it harks back to the Cold War days of espionage and spy exchanges.
Normalizing relations — including opening embassies in one another's capitals — should begin to move the two nations beyond their long-standing friction points. Cuba is not a model nation, but it also isn't the same country that once fomented leftist insurgencies in Latin America, a practice then-President Fidel Castro renounced in 1992. Today, Cuba remains on the U.S. list of state sponsors of terrorism (leaving it ineligible for U.S. foreign aid), primarily because of its friendship with such listed nations as Iran. Yet to place Cuba among the current rogue nations of the world is to misclassify it, and the president is right to ask Secretary of State John F. Kerry to review that designation.
Obama's reversal of policies that began in the final days of the Eisenhower administration is a pragmatic reflection of reality: Those policies have not worked. Rather than driving the Castro brothers from power, the efforts have squeezed the Cuban people. Lingering fears of communism and a powerful political bloc of expatriates in Florida — whose influence has begun to wane and whose attitudes toward the regime have begun to moderate — had locked the U.S. into these outdated stances.
What's more, the Cuban government has instituted a number of significant economic reforms in recent years, including allowing citizens to own property and to work in private-sector jobs. Surely that argues in favor of warmer relations, even though the regime continues to imprison dissidents unfairly.
As Obama noted in his announcement, the U.S. maintains diplomatic relations with other communist regimes, including Vietnam. During the tensest periods of the Cold War, when nuclear annihilation hung in the balance, the U.S. continued diplomatic relations with the Soviet Union. And it normalized relations with China in 1978.
But Cuba remained an island unto itself. Obama is doing the right thing in making history, rather than letting himself be held captive to it.
Follow the Opinion section on Twitter @latimesopinion
---