Warnings of a weaker, poorer Britain emerging ahead of breakup with European Union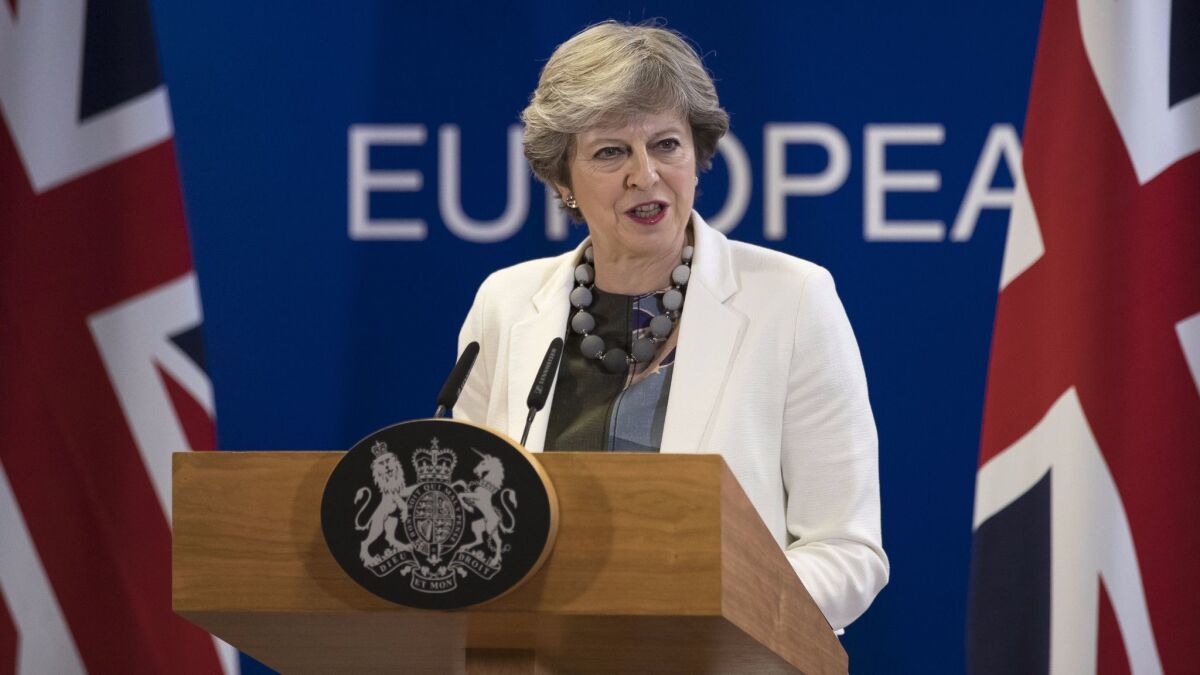 Reporting from Paris —
One of the pillars of so-called Brexit belief is that leaving the European Union will put the "Great" back into Britain.
With toots of the patriotic song "Rule, Britannia!" and nostalgia for the empire days of a century ago, when the Union Jack flag flew over about a quarter of the world's land, the country would cast off the shackles of foreign meddlers and restore full sovereign powers.
So goes the mantra of those eager for Britain to exit the 28-nation EU after decades of unity and live by its own rules. Foreign Secretary Boris Johnson talks of Britain as a "great ship" sailing into sunny waters.
But as negotiations move slowly toward a March 2019 breakup date, it is becoming increasingly clear to some observers that Britain risks becoming weaker, poorer and, most damaging of all, increasingly irrelevant.
Britain faces a firm reality of economics and politics set forth by the 27 countries it wants to leave behind, though not entirely. For many from the remaining EU countries, emphasizing other issues — such as support for Spain's move to keep the region of Catalonia from seceding — rightly places Brexit behind what is now more important for those sticking with the bloc.
Brexit, for "self-obsessed Britons … might be a sacred cause," but not for the rest of Europe, said Guntram Wolff, director of the Brussels-based Bruegel think tank.
"Brexit is boring," he said. "Europe has other priorities."
That stands to be a problem for Britain, which is expected to pay the EU tens of billions of dollars to leave — how much remains undetermined — and is struggling to set up trade deals and nail down other details for business and worker relations. Uncertainty about what might happen has made many people jittery.
International Monetary Fund and Organization for Economic Cooperation and Development studies suggest the balance of risks to the British economy is likely to be negative and long-lasting.
The Bank of England recently warned Brexit would probably hamper productivity and put a brake on economic growth, estimating up to 75,000 job losses in the financial services industry alone and a drop in business investment of up to 20%.
A report in the Lancet medical magazine last month suggests Brexit could have a "potentially catastrophic" effect on the country's National Health Service.
"The workforce of the NHS is heavily reliant on EU staff," the report says. "Financing of health care for U.K. citizens in the EU and vice versa is threatened, as is access to some capital funds, while Brexit threatens overall economic performance. Access to pharmaceuticals, technology, blood and organs is jeopardized."
Meanwhile, European Commission President Jean-Claude Juncker, in his state-of-the-union address in September, painted a bright future for the EU, speaking of measures such as greater political and monetary union. He mentioned Britain's "tragic" and "regrettable" departure as a footnote.
"We are going to make progress. We will keep moving. We will move on, because Brexit isn't everything. It's not the future of Europe. It's not the be-all and end-all," Juncker said.
Key issues before EU members include economic stability and the plight of migrants.
German Chancellor Angela Merkel and French President Emmanuel Macron held informal talks with British Prime Minister Theresa May at an EU summit in October, but the leaders of the two countries seen as the engine that drives the bloc are prioritizing their own domestic problems.
Macron, elected in May, wants to push through a widely contested program of reforms to boost the previously stagnant French economy; Merkel, who saw a drop in support for her conservative party in September's election, is tied up in complicated negotiations with other political parties to form a coalition government.
Brexit talks are supposed to address a number of issues besides money and the rights of British citizens in the EU and EU citizens in Britain. Among them is how to minimize the effects of the split on the fragile peace between Northern Ireland, which is part of the U.K., and Ireland, a separate country and member of the EU.
But Denis MacShane, former Europe minister under British Prime Minister Tony Blair, said patience is running out with Britain across Europe, where he said the attitude is "if you want to go, get on with it." The June 2016 referendum on whether Britain should exit the EU resulted in 52% for leave supporters and 48% for remain backers.
"Britain had a special, privileged position in Europe and our partners were sad to see us go. Now the attitude is one of indifference," MacShane said in an interview.
"Brexit may be of the utmost centrality for a narrow self-obsessed English political class but the rest of Europe sees a petulant whining baby that will neither do the business nor get off the potty," MacShane said. "In the EU, Brexit is seen as a British problem. Of course, it's a lose-lose situation for both parties, but the greater loss is for the British economy."
The EU's Brexit negotiator Michael Barnier has described Britain as nostalgic, unrealistic and undermined by a lack of trust. Some British proposals have shown a "sort of nostalgia in the form of specific requests which would amount to continuing to enjoy the benefits of the single market and EU membership without actually being part of it," he has said.
There's no agreement on the amount Britain owes the EU as an exit fee — Britain has hinted at about $24 billion while EU officials estimated more like $70 billion or more.
Sovereignist hard-liners say Britain should go it alone without a deal: a scenario known as a "hard" or "no deal" Brexit. They suggest the nation could pal up with historic trading partners such as the United States and Commonwealth countries including Canada, India and Australia.
Many of those who cited immigration from EU countries, EU bureaucracy and lack of accountability as well as a deep-rooted desire to reestablish the nation's borders and sovereignty as reasons for Brexit remain convinced Britain will be better off on its own.
That could include giving up the EU's single market arrangement and its four freedoms: free movement of goods, people, services and capital.
May, who originally supported remaining in the EU, and her troubled administration — two Cabinet ministers resigned in recent days amid separate accusations of improper conduct — have thrown their weight behind Brexit.
David Davis, the British minister negotiating the breakup, told Parliament this year that the decades-old EU no longer represented a bright future and was a crumbling relic. He recently reiterated that view, saying Britain would be "more international, not less" outside the EU.
"It requires us to face the world, not looking away or glancing back, but with confidence and determination about the future we will build," he said at the Conservative Party's annual conference.
Think tank director Wolff and others said Britain, despite some struggles, probably will remain a successful country, though a poorer one destined to follow at least some rules set by EU countries.
"Britain's not going to become a Third World country," Wolff said. "Five or 10 years down the line it won't be as influential as the European Union or big countries, but it could still be a power that matters."
Willsher is a special correspondent.
---
Must-read stories from the L.A. Times
Get the day's top news with our Today's Headlines newsletter, sent every weekday morning.
You may occasionally receive promotional content from the Los Angeles Times.