Did covert spy gear cause U.S. and Canadian diplomats in Cuba to lose their hearing?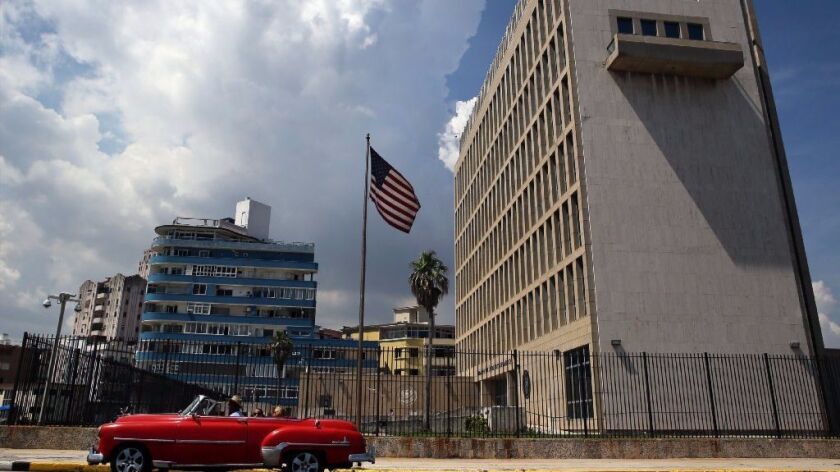 Reporting from Washington —
It is a mysterious episode seemingly ripped from the pages of a Cold War spy novel.
In recent months, several U.S. and Canadian diplomats posted in Havana have reported experiencing unusual medical symptoms, including impaired hearing, sometimes so severe that they had to return home.
News of the ailments surfaced this week when the State Department announced that it had expelled two Cuban diplomats from Washington because of an "incident" in Havana that harmed U.S. personnel there.
That came despite vastly improved relations between Washington and Havana since restoration of diplomatic relations under President Obama.
On Thursday, the Canadian government added its voice.
Canadian officials "are aware of unusual symptoms affecting Canadian and U.S. diplomatic personnel and their families in Havana," the Canadian global affairs ministry said in a statement.
It said Canada was working with U.S. and Cuban authorities to "ascertain the cause."
U.S. State Department spokeswoman Heather Nauert would not provide details except to say the episode had caused medical but non-life-threatening problems for an unspecified number of U.S. Embassy personnel based in Havana.
The Associated Press, one of the few Western news outlets with offices in the Cuban capital, reported from Havana that the injuries may have been caused by covert sonic equipment that Cuban intelligence officers had secretly installed in the embassies or residences of staff.
The AP said at least one of the American diplomatic personnel suffered permanent hearing loss.
The Cuban government denied involvement in the incidents.
"Cuba has never permitted, nor will permit, that Cuban territory be used for any action against accredited diplomatic officials or their families, with no exception," the Cuban Foreign Ministry said in a statement Wednesday night.
Nauert said Thursday that Cuban authorities were cooperating in the investigation, which also involves the FBI.
Some reports have suggested that a third country might be responsible, although Cuba would still be held accountable because of its duty to protect diplomatic personnel under the Vienna Conventions.
Spying on foreign embassy staffs would not be unusual in Havana, or many other capitals for that matter. Using surveillance devices to harm diplomats would be new, however, although the cause is still not confirmed.
"We don't have any definitive answers about the source or the cause," which is under investigation, Nauert said.
She said two Cuban diplomats were expelled from Washington in retaliation in late May.
The incidents date to late last year, she said.
The U.S. diplomatic mission in Havana was only elevated to embassy status in 2015, when Obama and Cuban President Raul Castro reestablished full relations after half a century of Cold War hostilities. Before then it was a low-level facility with a skeleton crew.
President Trump announced in June that he was curtailing some of the Obama-era opening with Cuba. However, he has yet to order any concrete steps.
For more on international affairs, follow @TracyKWilkinson on Twitter
---
The Latinx experience chronicled
Get the Latinx Files newsletter for stories that capture the multitudes within our communities.
You may occasionally receive promotional content from the Los Angeles Times.