The return of the far right in Germany: What does the rise of the AfD party mean?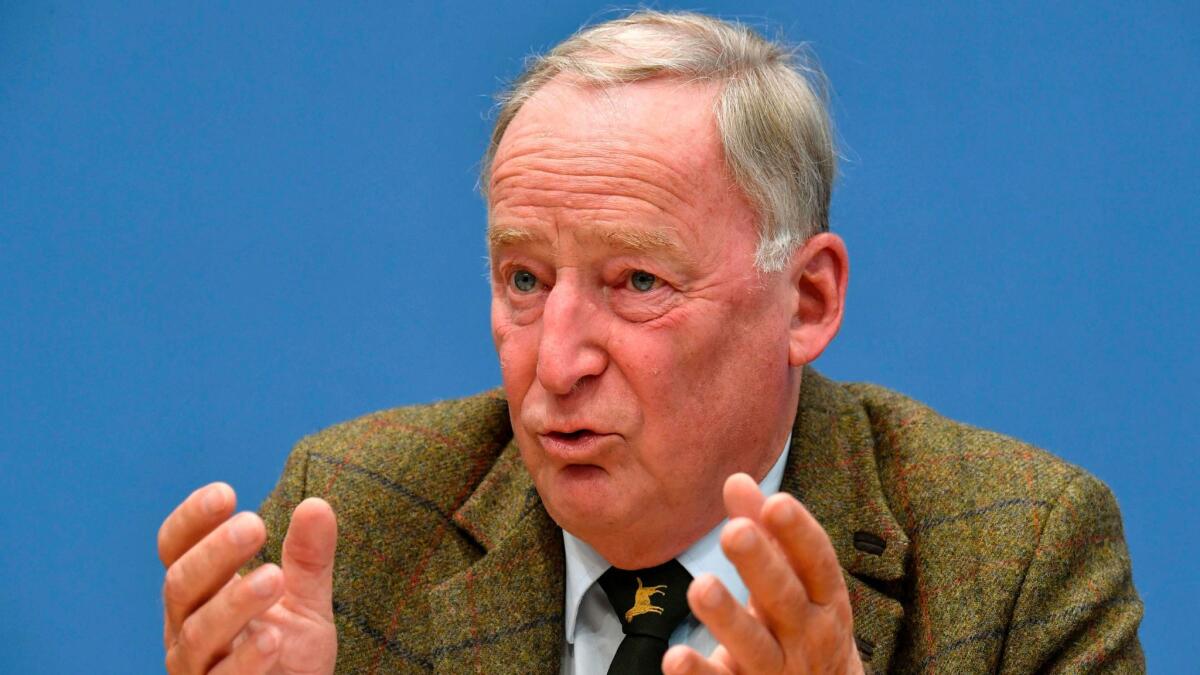 For all its orderly, prosperous modernity, Germany remains shadowed by memories of World War II and the horrors of Nazism. Now, for the first time in the country's postwar history, a far-right party — with a roster that includes some candidates who embraced anti-Semitism and espoused neo-Nazi views — will enter the lower house of Parliament, or Bundestag.
Alternative for Germany, known by its initials AfD, won 12.6% of the vote in Sunday's election, coming in third place after the conservative Christian Democrats and the center-left Social Democrats.
As AfD backers celebrated the party's performance at the polls, where it garnered nearly 6 million votes, protesters gathered outside its Berlin headquarters and chanted anti-Nazi slogans.
Here are some facts about the party and what its crossing of the parliamentary threshold means for Germany and the rest of Europe.
What are the Alternative for Germany party's beliefs?
Some of the party's nationalist-populist campaign tenets might sound familiar to American voters. AfD's message is staunchly anti-immigration, fueled by periodic eruptions of anti-Muslim sentiment. It opposes closer ties to the European Union, disdains globalism and rails against Germany's political establishment. It is a self-described champion of law and order, particularly in the context of terrorism and security. It despises foreign bailouts and preaches the message that Germany is being taken advantage of economically by its neighbors. It scorns the customary language of social inclusiveness and revels in rhetoric that could be politely described as politically incorrect.
Hailing the vote result, one of the party's leaders, Alexander Gauland, vowed to "take back our country and our people."
How did this party get started?
The party was founded in 2013, cobbled together under the umbrella of vehement opposition to the European Union and its common currency, the euro, together with sharp condemnations of German taxpayer funding of bailouts for what was seen as a feckless Greece. But it was the AfD's anti-immigrant stance that put it on the map. Buoyed by public angst accompanying the influx of about 1 million refugees from the Middle East and elsewhere in 2015 and 2016, the party's support at one point was polling in the neighborhood of 15%, but it did not achieve that in the vote.
Is this part of a nationalist wave?
When Britain voted in June 2016 to exit the European Union, and Donald Trump won the presidency in November, many wondered whether those votes prefigured a Europe-wide populist wave. But Dutch flamethrower Geert Wilders' performance fell short of expectations in the Netherlands' March parliamentary vote, and far-right standard-bearer Marine Le Pen was soundly defeated in France's presidential election in May.
Even so, populists remain a force to be reckoned with, ever poised to capitalize on woes such as terrorist attacks and economic problems. Le Pen was among the first to offer the AfD her congratulations.
What does it mean for the rest of Europe?
Some of the ground that AfD gained in this election came at the expense of German Chancellor Angela Merkel's center-right Christian Democratic Union party, leaving her in a weakened position as she forms a coalition government.
France's president, Emmanuel Macron, is embarking on a major push for greater European integration and badly wants Merkel's support in reforming and shoring up the European Union. The chancellor's prospective new coalition alliances may dictate a friendlier approach to some elements of plans for greater European unity. But she has less maneuvering room than she did previously, when her mandate was stronger.
Alternative for Germany's now-proven vote-getting ability will probably make the chancellor extremely cautious when it comes to any agreements that will leave German taxpayers feeling they are footing the bill for the perceived irresponsibility of neighbors such as Greece or Italy. A likely coalition partner, the pro-business Free Democrats, is dead set against a key element of Macron's integration blueprint: a common budget for the 19-nation Eurozone.
How powerful will Alternative for Germany be domestically?
By the numbers alone — AfD is forecast to be allotted 94 seats out of 709 in Parliament — the party should wield considerable clout. But it won't be the leader of the opposition — that role will probably fall to one of Merkel's erstwhile partners — and no mainstream party is expected to ally with it. Longstanding infighting within the AfD burst into view the day after the vote, with one of its senior members, Frauke Petry, storming out of a news conference and announcing she would not be part of the party's parliamentary caucus.
AfD's greatest influence, analysts say, may lie in continuing to move political discourse to the right, forcing others to adopt a milder version of some of its stances. Its rise, for example, is widely viewed as having forced Merkel to take steps to stem immigration, including a deal with Turkey, strongly denounced by human rights groups, to choke off refugee flows.
The party has also shown signs of a penchant for harrying Merkel that has echoes of Trump's seeming obsession with Hillary Clinton. Although it didn't go to the lengths of leading "Lock her up!" chants at campaign rallies, one of the party's leaders, Alice Weidel, has threatened to look into "breaches of the law" by the chancellor.
How did attitudes about World War II affect the vote?
For decades, formalized atonement for Nazi atrocities has been a cornerstone of German public policy, a tenet challenged by some in the ranks of the AfD. That was symbolized on election night, when jubilant supporters of the party sang the national anthem, whose use is frowned upon in any sort of triumphalist political setting.
Before the vote, Gauland shattered a taboo when he said Germany should be proud of its military's "achievements" in World War II. And an AfD leader in Thuringia state, Bjoern Hoecke, has urged a "U-turn" in how Germany's Nazi past is remembered.
Many of its new lawmakers-to-be are unknown to the public, and analysts say they will probably include many extremist sympathizers.
Said Thomas Kleine-Brockhoff, vice president of the German Marshall Fund: "Not even their own party knows exactly who they are."
ALSO
'Canta y no llores' — 'Sing and don't cry.' Mexico rebounds from earthquake aftermath with a renewed sense of national pride
North Korea says Trump declared war via tweet. The White House says it didn't
China welcomes the Kings and hockey as it tries to stir interest before 2022 Olympics
Sign up for Essential California for the L.A. Times biggest news, features and recommendations in your inbox six days a week.
You may occasionally receive promotional content from the Los Angeles Times.