China welcomes the Kings and hockey as it tries to stir interest before 2022 Olympics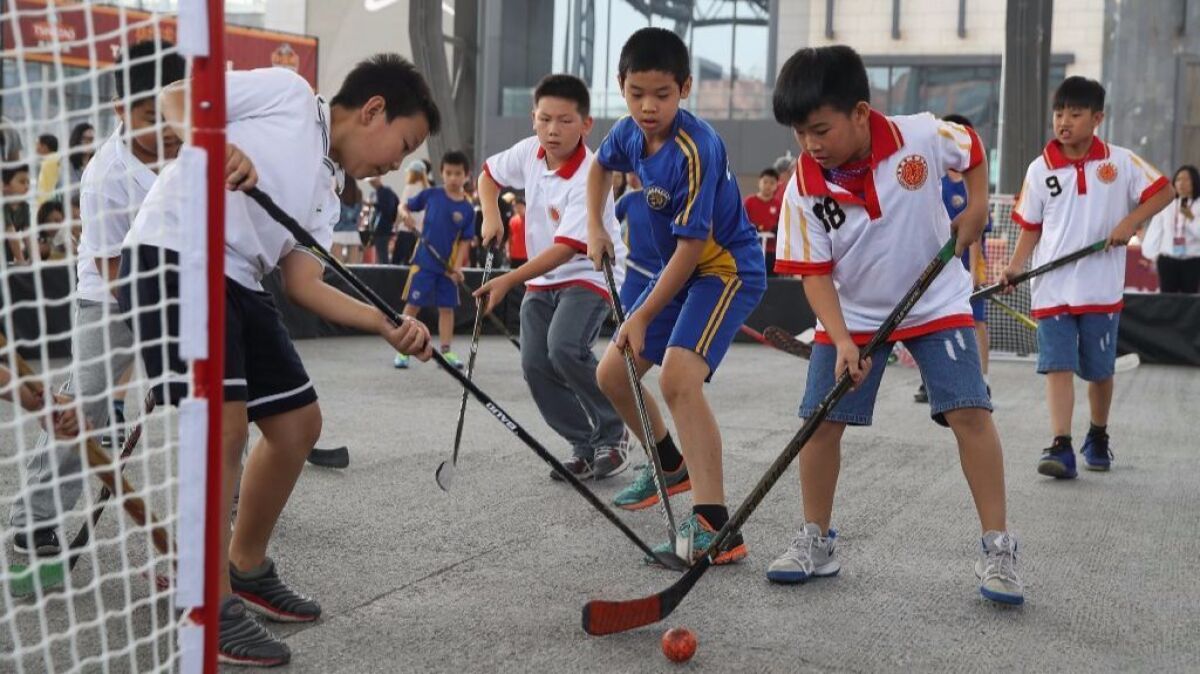 Reporting from Beijing —
Only a few miles from Tiananmen Square, the Kings and Vancouver Canucks were finishing overtime, tied 3-3, as the crowd of nearly 13,000 waved towels, munched popcorn and cheered expectantly for the most intense play in hockey — a shootout.
"Which team do I support? I support everybody," said Lu Hai, who brought his family to watch the game. "I support whoever plays well."
On this Saturday afternoon, it was the Kings, who won both an exhibition game, 4-3, and hopefully some fans for the sport.
The NHL is hoping to grow its presence in the world's most populous country, especially as Beijing promotes winter sports in advance of hosting the 2022 Winter Olympics. Chinese President Xi Jinping has announced a plan to "boost the overall level of winter sports," encouraging 300 million Chinese to participate over the next five years. The NHL's entry into China comes at an auspicious moment, but the league faces challenges in growing the game. China does not have a strong winter sports tradition, and many Chinese have never seen a hockey game.
Chinese athletes won only nine medals in the 2014 Winter Olympics. For comparison, in the 2016 Summer Olympics, Chinese athletes won 70.
"We're very clear-eyed that the NHL won't become popular overnight," said Zhao Yan, chairman of Bloomage International Investment Group, which partnered with the NHL to host the first-ever NHL "China Games," held in Shanghai and Beijing. "We are going to be patient in cultivating this market."
China's state-run television network, CCTV, broadcasts four NHL games a week on its dedicated sports channel. NHL teams have held youth clinics in the country in recent years.
The NHL's commitment was also evident on Saturday at a "Fan Fest" outside the arena. Children played chaotically in a "Kids Rink," a flat stretch of concrete ringed by amused parents. Knee-high cushions had been erected, emblazoned with the NHL logo at tactful intervals. Game booths stretched like satellites around the central rink, inviting China's youth to "be a goalie" or "try the hardest shot." Each booth boasted an information panel, protective netting, and a Fan Fest volunteer in a red polo shirt —members of Beijing Sports University's undergraduate hockey team.
"My teacher invited us to attend," said Wang Xiaodong, 21, one of the volunteers — a defenseman on the Beijing Sports University hockey team — as he lounged by the zone's perimeter. "Unfortunately I won't have time to see the game myself. It's a pity."
Inside the stadium the crowd was a mixture of locals and expatriates, newcomers and aficionados. Fans seized the occasion to flash their hockey bona fides: one waved a Finnish flag; others wore Team Canada jerseys. The Vancouver Canucks, the designated home team, enjoyed a clear edge in supporters.
Bai Xuezhu, a former visiting scholar at University of British Columbia in her 40s, brought her 10-year-old son, Ke Haoran, to Saturday's game. They had first watched the Canucks play in Vancouver. Now Ke was an avowed fan. He watched the game intently from beneath a blue Canucks hat. He also plays in one of Beijing's youth hockey leagues, one of 3,000 city youth who have taken up the sport.
"After returning from Vancouver I signed him up for hockey," said Bai, "It's good for his breathing. When he was younger he sometimes had health issues, but they've disappeared since he started playing hockey."
Despite the NHL's fears, the fans at Saturday's game appeared remarkably well informed. The crowd cooed at appropriate moments, and gasped when a breakaway pass escaped a player's reach. Many had seen hockey on television or online. In January the NHL signed an agreement with Tencent Holdings Ltd., a major Chinese internet company, to broadcast the NHL championships digitally.
Nevertheless the NHL took steps to avoid a low turnout. According to multiple attendees, event organizers handed out at least 500 free tickets to university students. The students traveled in packs, snapping photos and hunting for Yao Ming, the Chinese NBA superstar, who attended the game.
"The overall philosophy was to maximize incentives and opportunities for more people to get into the buildings, attend the games and be exposed to hockey," said Bill Daly, the NHL's deputy commissioner.
Kelly Cheeseman, the chief operating officer at AEG Sports, the Kings' owner, said boosting the game's profile was a "core value" of the organization. The Kings have an advantage, too. "Our brand is already strong [in China]," said Cheeseman, "because it says L.A."
The Lakers are already popular, largely because of Kobe Bryant's star power. Bryant endorsed the Kings in a video that played twice on the game's video board.
Following the Kings' victory and a brief MVP ceremony, the players handed their game sticks to fans. Tang Zixun, 12, left as the new owner of an NHL hockey stick.
"The game was great," Tang said, "and I'll keep this as a memento." Tang started playing hockey as an 8-year-old, shortly before Beijing won its bid for the 2022 Olympics. Now he practices three times a week.
"[Our goal] was to significantly raise the level of awareness of and enthusiasm around our sport," Daly said. "I think we did that."
DeButts is a special correspondent. Times staff writer Jonathan Kaiman contributed to this report.
---
Get the latest on L.A.'s teams in the daily Sports Report newsletter.
You may occasionally receive promotional content from the Los Angeles Times.