Iran seeks quick relief from U.N. sanctions in nuclear talks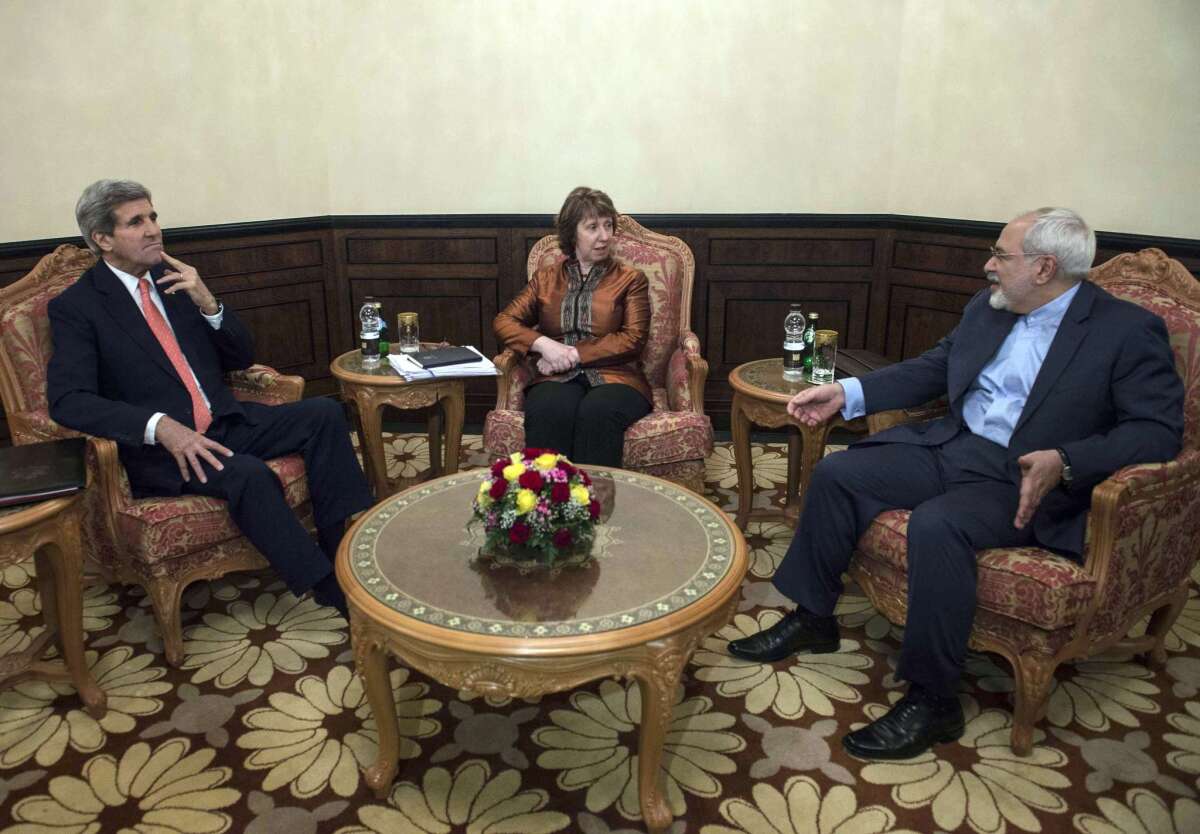 Reporting from Washington —
The latest obstacle to the U.S. and five other nations finalizing a nuclear deal with Iran by this month's deadline is an unexpected new demand from Tehran for quick relief from United Nations sanctions.
For most of the last nine months of negotiations, Iran and the diplomatic bloc of six world powers have focused on first easing unilateral economic sanctions imposed by the U.S. and European nations. Under the talks, if Iran accepts restrictions intended to prevent it from developing a nuclear weapon, the U.S. and other countries would begin lifting sanctions designed to cripple Iran's oil and financial industries.
The bloc, consisting of the five permanent U.N. Security Council members and Germany, prefers to wait until later to remove the U.N. penalties, which were imposed between 2006 and 2010. But in recent weeks, Iran's negotiators have shifted ground and pressed for quicker relief from the U.N. measures.
Iran wants the sanctions lifted in part to strip away the international legitimacy of the unilateral U.S. and European penalties, analysts say. That would help remove a wound to Iran's national pride and make it easier for Tehran to tell key oil-importing nations — such as China, India and Turkey — that they can ignore the threat of penalties and resume oil purchases.
Many countries consider such nation-to-nation penalties illegal unless they are backed by Security Council sanctions.
For Iran, sanctions relief is now "the key question," Iranian negotiator Abbas Araqchi told reporters after talks in Oman last week.
Iran and the six powers — Britain, China, France, Germany, Russia and the United States — are trying to complete a deal by the Nov. 24 deadline, though it is possible that all sides will agree to an extension.
The five Security Council resolutions sanctioning Iran don't hit it as hard as the U.S. and European Union penalties, which have largely isolated Iran from the international financial system and cut off half its oil sales. But the U.N. sanctions are intrusive, authorizing U.N. member states to inspect Iranian cargo and banning sales of arms and so-called dual-use equipment that could be used to build nuclear arms or weapons of mass destruction.
The U.N. sanctions are a signal to the world that "Iran's nuclear programis illicit," said Mark Dubowitz, a sanctions specialist who has advised U.S. lawmakers on sanctions legislation.
Elimination of the U.N. sanctions would also be an important political victory for the Iranian government, allowing it to portray the nuclear deal as a major victory in its effort to restore the country's standing.
The six powers are expected to resist Iran's demand because lifting the U.N. penalties first would reduce their leverage in demanding that Tehran live up to U.N. conditions. For example, without those sanctions, the bloc would probably find it difficult to force Iran to give the U.N.'s nuclear watchdog agency all the information it has requested on the country's past research on nuclear weapons. So far Iran has been resisting the U.N.'s efforts to retrieve that information.
Also, if Tehran fails to live up to its obligations, it would be much more difficult to reimpose the U.N. sanctions, which would need to be approved again by the Security Council.
Finding a way to satisfy Iran without abandoning Western goals "would take tremendous creativity," said Robert Einhorn, a former member of the Obama administration's inner circle on nuclear issues who is with theBrookings Institution.
The sanctions relief issue has remained one of the most important unresolved questions, along with the core question of how much capacity Iran will have to enrich uranium, which at high grades can be used as atomic bomb fuel. Iran, however, says it enriches uranium strictly for nonmilitary nuclear endeavors.
The disagreement over the U.N. sanctions could be "a greater obstacle to fully concluding a deal on schedule than perhaps originally perceived," Ellie Geranmayeh, an Iran specialist at the London-based European Council on Foreign Relations, wrote last week in an article posted online.
Some people close to the talks say there has been some narrowing of differences on the question of how much enrichment capacity Iran could retain.
A website tied to Iranian conservatives said last week that there had been "important but unannounced progress" on the dispute over uranium enrichment, though the sides are now farther apart on the sanctions-relief issue.
Even so, some diplomats say privately that they believe there is now a higher likelihood that the two sides won't complete a full agreement on time and will instead present a "framework" document that lays out a set of agreed-to principles to justify a request for more time to negotiate.
Twitter: @richtpau
Must-read stories from the L.A. Times
Get the day's top news with our Today's Headlines newsletter, sent every weekday morning.
You may occasionally receive promotional content from the Los Angeles Times.