Kushner heads to Israel for latest attempt at peace deal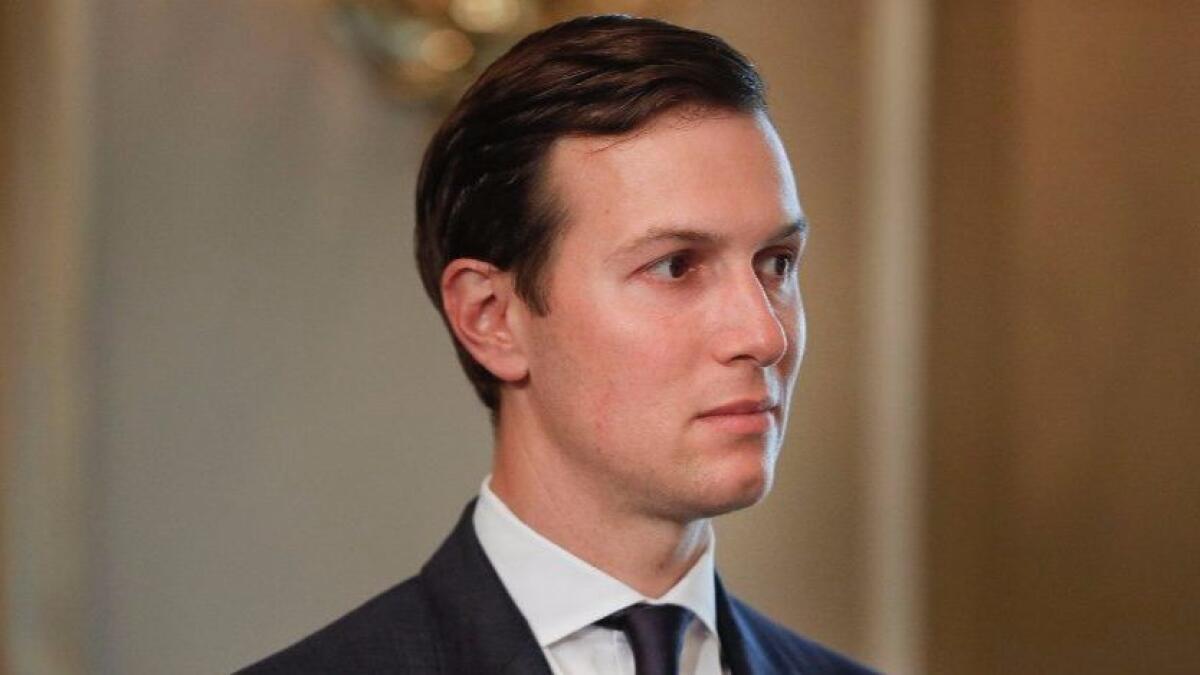 Reporting from WASHINGTON —
President Trump's son-in-law and advisor Jared Kushner arrives in Israel on Wednesday in the latest U.S. effort to revive long-stalled Middle East peace talks, but at a time when progress may be more elusive than ever.
Israeli Prime Minister Benjamin Netanyahu, Trump's closest ally in the region, faces at least two criminal investigations by Israeli law enforcement, which are examining possible corruption charges, and that could limit his room for negotiations.
Palestinian Authority President Mahmoud Abbas also faces severe political challenges likely to make compromises difficult.
And while Trump remains popular in Israel, his praise last week for "very fine people" among the neo-Nazis who clashed with protesters in Charlottesville, Va., outraged many Jews in Israel.
Trump has spoken of forging the "ultimate deal" to end a conflict that has persisted for more than half a century. In a statement, the White House said "achieving an enduring Israeli-Palestinian peace agreement will be difficult but [Trump] remains optimistic that peace is possible."
Trump has assigned the job to Kushner, special envoy Jason Greenblatt and U.S. Ambassador to Israel David Friedman. All have ties to the controversial settler movement that builds Jewish towns in West Bank territory claimed by the Palestinians.
Kushner, Greenblatt and Dina Powell, an Egyptian-born deputy national security advisor for strategy, have spent the last two days in the region meeting leaders from the United Arab Emirates, Jordan, Qatar and Saudi Arabia, according to the White House.
They will meet Israeli and Palestinian leaders separately Thursday. A Middle East expert with close ties to the White House described the visit as a "temperature taking," and said the parties don't expect to make an announcement out of the visit.
It is Kushner's third trip to the region. He accompanied Trump to Jerusalem during the president's first foreign trip in May, and then returned briefly in June.
According to the White House, the discussions will "focus on the path to substantive Israeli-Palestinian peace talks," combating extremism, strengthening relations with U.S. partners, easing humanitarian concerns in the Gaza Strip, and reviewing economic steps that help create conditions for a peace deal.
The State Department, which would normally lead the search for a diplomatic solution, has taken a back seat to the Kushner missions.
"We provide backup assistance to them and attend meetings with them," said Heather Nauert, the State Department spokeswoman. "And then upon their return we do a debrief and have conversations about what they learned and where things stand."
Analysts say the prospects for progress are dim given intransigence by the Israeli and Palestinian leaders and Trump's multiple problems at home.
Trump, Netanyahu and Abbas "are facing extraordinarily complicated circumstances," veteran Mideast peace envoy Aaron David Miller said, "and are fundamentally constrained" from making the concessions a peace accord would entail.
"Perhaps earlier than expected, it has become clear in recent days that whatever faint hopes there were of a breakthrough, or even renewed talks, are beyond reach for now," former U.S. Ambassador to Israel Daniel Shapiro wrote in Foreign Policy magazine.
Trump administration officials said they saw a possible opening for diplomacy after a crisis erupted involving Palestinian access to Muslim holy sites in Jerusalem last month.
Kushner's diplomacy was credited after Israel's security Cabinet agreed to remove metal detectors and security cameras from the Temple Mount, known to Muslims as the Noble Sanctuary, that were installed after two Israeli policemen were killed by Israeli Arabs.
Generally, participants have sought to tamp down expectations.
A spokesman for Abbas, Nabil abu Rudaineh, said the Palestinians wanted a clear commitment from the Trump administration to a two-state solution, which calls for the creation of a Palestinian state that would coexist with Israel in peace.
For more than two decades, that proposal has served as the internationally accepted cornerstone for solving the conflict. The White House batted back suggestions that Trump has not fully supported it.
"Trump has publicly and privately expressed his concerns regarding settlements and the administration has made clear that unrestrained settlement activity does not advance the prospect for peace," said a White House official who spoke on condition of anonymity. "At the same time the administration recognizes that past demands for a settlement freeze have not helped advance peace talks."
That ambiguity has angered the Palestinians.
"It's now or never," said Husam Zomlot, the Palestinian Authority ambassador to Washington. "This is the time and this is the opportunity…. We really expect clarity."
Abbas was quoted by Israeli newspapers last weekend questioning why talks are being held at all given the "chaos in the [Trump] administration."
Netanyahu's tenuous position atop his government will make it difficult to buck his hard-right coalition. He thus is unlikely to make concessions to the Palestinians or crack down on settlement expansion, limiting his ability to maneuver in negotiations.
Now 82, Abbas is in poor health and struggling to stay politically relevant after 12 years in office that failed to make progress toward Palestinian statehood. The Palestinian Authority is broke.
Abbas is at his lowest level of popularity, while the other half of a future Palestine, the Gaza Strip, remains under control of the militant organization Hamas, a rival of Abbas' Fatah movement.
Given these problems, Abbas may be as risk averse as Netanyahu, experts said.
"These are not Anwar Sadat and Yitzhak Rabin, guys who were willing to take the big risks," said Ilan Goldenberg, director of the Middle East Security program at the Center for a New American Security, a think tank in Washington.
He was referring to the leaders of Egypt and Israel who won the Nobel Peace Prize, in 1978 and 1994, respectively, for furthering regional peace. Both were later assassinated for their efforts.
Miller, now at the Wilson Center think tank, said the last time three leaders appeared willing to make peace was 17 years ago this summer, when President Clinton hosted Israeli Prime Minister Ehud Barak and Palestinian Authority leader Yasser Arafat at Camp David.
And still, it failed.
Many in the foreign policy establishment were chagrined at Kushner's comments to a group of congressional interns on July 31. He seemed to dismiss the importance of history in negotiating with the Israelis and Palestinians.
"Everyone finds an issue that, 'You have to understand what they did then,' and 'You have to understand that they did this,'" Kushner said in comments later leaked to the press.
"But how does that help us get peace? Let's not focus on that. We don't want a history lesson. We've read enough books."
Times staff writer Brian Bennett contributed to this report.
For more on international affairs, follow @TracyKWilkinson on Twitter
Twitter:@Noahbierman
ALSO
Trump's Afghanistan strategy is met with mixed reviews, reviving war authorization and funding debate in Congress
Trump, who once backed withdrawal from Afghanistan, tries to sell the nation on deeper involvement
For Jewish Americans, echoes of the Holocaust and anger over Trump's response to Charlottesville
Sign up for Essential California for the L.A. Times biggest news, features and recommendations in your inbox six days a week.
You may occasionally receive promotional content from the Los Angeles Times.