U.S. and Russia have declared another cease-fire in part of Syria, but will it stop the fighting?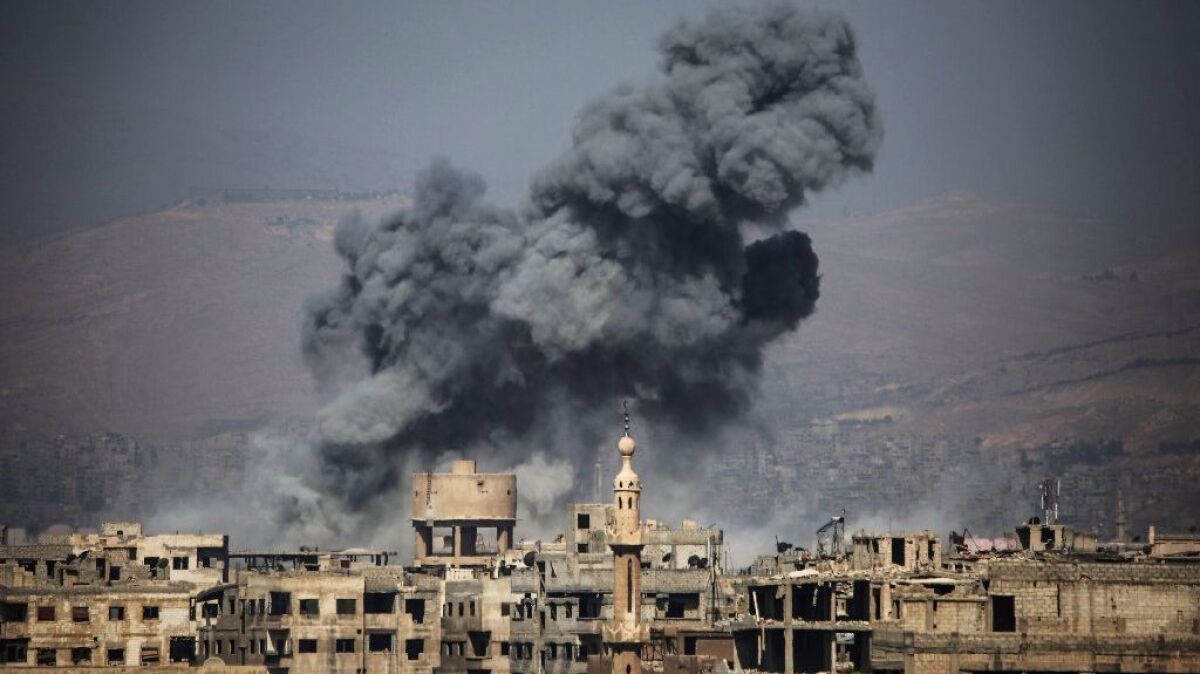 Reporting from Amman, Jordan —
Hoping to project new-found cooperation, the United States and Russia on Friday declared a cease-fire in a corner of Syria, but the announcement already has been met with widespread skepticism on the ground and in diplomatic quarters.
The announcement came at the Group of 20 summit in Hamburg, Germany, as presidents Trump and Vladimir Putin of Russia sat down for their first face-to-face meeting since Trump's election.
For the record:
7:20 a.m. Feb. 6, 2023This article gave the impression that Tel Aviv is the capital of Israel. The capital is Jerusalem, though the United States and most other nations do not recognize it as such and maintain their embassies in Tel Aviv.
Simultaneously, Jordan, the third signatory to the cease-fire, said the agreement to end the fighting in Syria's southwest would "allow stability and free access of humanitarian aid for this key area in Syria." It is slated to begin Sunday, along an agreed-to line of division between Syrian government forces and their allies on one side, and U.S.-backed rebels and other militias on the other side.
U.S. Secretary of State Rex Tillerson said the agreement showed the progress that can be made when Russia and the United States agree to cooperate.
Numerous similar efforts, however, have collapsed. Cease-fires agreed to by the U.S. and Russia in Syria — including including a recent ill-fated attempt to save the historic city of Aleppo — have never lasted long, and the U.S. has often accused Moscow of using the cover of such pauses in battle to seize territory.
"What may be different this time, I think, is the level of commitment on the part of the Russian government," Tillerson told reporters in Hamburg. "In many respects, people are getting tired. They're getting weary of the conflict. And I think we have an opportunity, we hope, to create the conditions in this area, and the south is I think our first show of success. We're hoping we can replicate that elsewhere."
The ability to make such a move, he said, comes from major progress in the fight against Islamic State, which had occupied parts of Syria but is being gradually driven out.
Tillerson said the U.S. and Russia had agreed on what forces would monitor the cease-fire but refused to identify them. His Russian counterpart, Sergei Lavrov, said in a separate briefing that monitors would come from the ranks of the Russian police, something many rebel groups may be loath to accept.
Russia has backed the brutal government of Syrian President Bashar Assad, while the U.S. has sided with anti-Assad rebels, though Washington has focused its efforts on ousting Islamic State, not directly targeting Assad.
Tillerson did reiterate the U.S. government position, which has wavered somewhat under the Trump administration, that Syria must eventually have new political leadership.
"We see no long-term role for the Assad family or the Assad regime," Tillerson said. "How Assad leaves is yet to be determined, but our view is that somewhere in that political process there will be a transition away from the Assad family."
The Obama administration had long insisted Assad had to be removed from power sooner rather than later, but once Russia entered the fray, that goal faded.
Despite Tillerson's optimism, there was weary doubt about how successful this effort would be, even within the Trump administration.
"This is an important step but a first step," a senior State Department official involved in the negotiations said. "This is more complex than [cease-fires] we have tried in the past. … There are a lot of spoilers on the ground."
Southwest Syria has been a battleground between Iranian-backed Hezbollah militias fighting alongside Syrian government units against the rebels and is also home to an Islamic State affiliate known as the Khaled bin Walid Army whose militants are positioned less than a mile from the triangular border area between Syria, Jordan and Israel.
The jihadis have resisted all efforts to dislodge them, despite rebel factions in the south receiving significant support from Western countries, including the U.S.
As fighting raged in parts of the southwest, there has been a flurry of talks in recent weeks on numerous proposed cease-fire deals involving Russia, Iran and Turkey that would eventually encompass most of Syria.
Earlier this week, Syrian pro-government activists reported a Russian proposal for so-called deconfliction zones that would see Russian and Turkish troops policing the northwest province of Idlib, the rebels' last major stronghold in the country. Russian and Iranian troops would enforce the cease-fire in Homs province, while only Russian troops would be stationed in the country's south, in what is presumably a nod to Jordan and Israel.
Amman and Tel Aviv have repeatedly expressed concern regarding Hezbollah and other pro-government factions supported by Iran near their borders.
Yet Israel may not accept a Russian presence in the Golan Heights. On Friday, the Israeli daily Haaretz quoted anonymous Israeli officials who said they "vehemently oppose[d] this idea" and would prefer that American troops take on policing duties in the south.
Tillerson ahead of the Hamburg summit outlined several possible "joint mechanism" plans for working with Russia to lay the groundwork for a cease-fire, including the establishment of no-fly zones and on-the-ground monitoring forces.
But much of the skepticism greeting Friday's announcement came from suspicion over how effective Russia can be in maintaining a cease-fire, given that much of its focus in Syria has seemed to aim at bolstering Assad.
"Russia has never been able to deliver a cease-fire," Robert S. Ford, who left Syria in 2014 as the last U.S. ambassador there, said recently in discussing the range of options that await the battered country.
The State Department official, who briefed reporters on condition of anonymity, said Russia had made overtures in the last month offering to use its influence on the Syrian government.
"Given the stakes," the official said, "it was worth doing this … [but] we are doing this with eyes open."
Wilkinson reported from Washington and Bulos reported from Amman.
For more on international affairs, follow @TracyKWilkinson on Twitter
ALSO
For Iraqi soldiers coordinating coalition strikes on Islamic State, it's a different kind of war
Warning on Syria's chemical weapons is test of Trump's credibility, and of intelligence community he attacks
Coalition investigating whether airstrike killed civilians at Syrian prison
---
Must-read stories from the L.A. Times
Get the day's top news with our Today's Headlines newsletter, sent every weekday morning.
You may occasionally receive promotional content from the Los Angeles Times.