Coalition investigating whether airstrike killed civilians at Syrian prison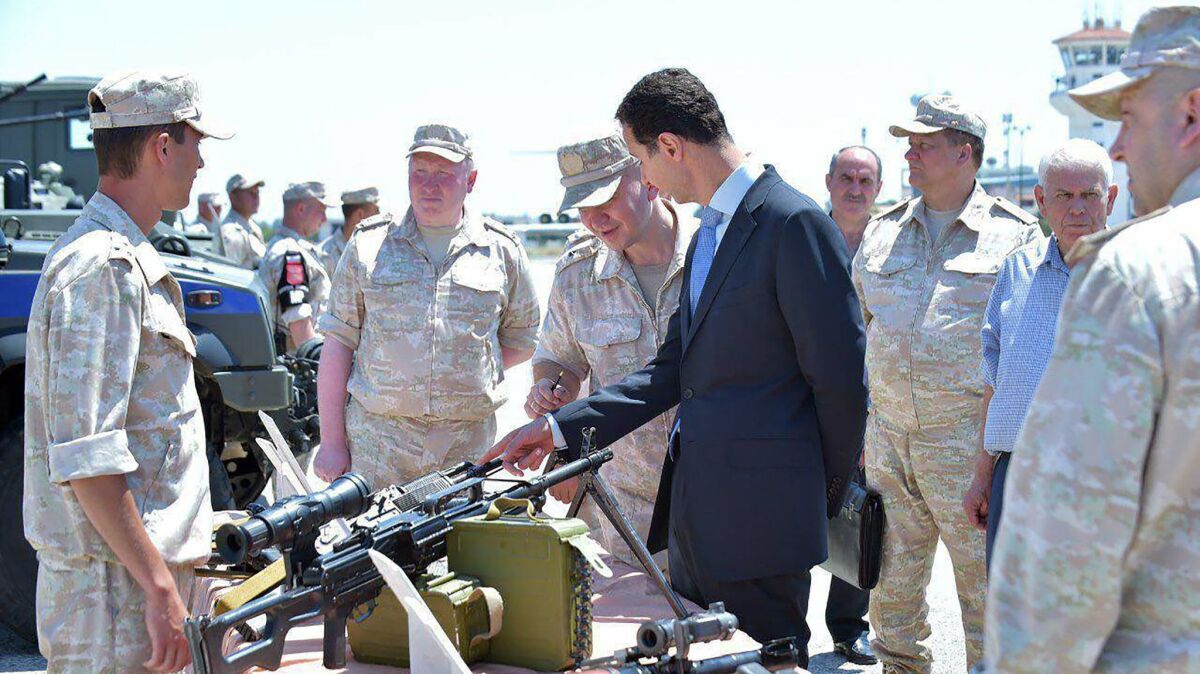 Reporting from Beirut —
Syrian activists say a coalition airstrike Monday on an Islamic State prison in eastern Syria killed dozens of prisoners.
The Syrian Observatory for Human Rights, a British-based group that monitors the country's civil war through local sources, said the dawn strike killed 42 prisoners and 15 militants near Mayadeen in Dair Alzour province.
Deirezzor24 news site, which is run by opposition activists, reported that 60 people had been killed, including civilians, Syrian rebel fighters and two militant guards. The prison, near the village of Tayibiya wa Maaharufa, housed those caught fighting Islamic State, including members of the coalition-backed Free Syrian Army and the Al Qaeda-linked group Hayat Tahrir al-Sham, once known as Nusra Front.
Mayadeen is a Euphrates River valley city about 30 miles southeast of Dair Alzour, an Islamic State stronghold frequently targeted in recent days by coalition aircraft as militant leaders fled there from Raqqah and Mosul.
Recent reports by local monitors in eastern Syria, such as Raqqa is Being Slaughtered Silently, tell of other civilians killed by airstrikes. On Monday, the group reported that five men trapped after Raqqah's infrastructure was destroyed tried to fetch water from the Euphrates only to be killed by airstrikes.
A spokesman for the coalition acknowledged it had conducted strikes "on known ISIS command and control facilities and other ISIS infrastructure" in Mayadeen on Sunday and Monday. He said the group was investigating potential civilian casualties.
"The removal of these facilities disrupts ISIS's ability to facilitate and provoke terrorist attacks against the coalition, our partner forces and in our homelands," the spokesman said in a statement Tuesday. "This mission was meticulously planned and executed to reduce the risk of collateral damage and potential harm to noncombatants."
The statement noted the coalition makes efforts to avoid civilian casualties when targeting strikes.
"The coalition strikes only valid military targets, after considering the principles of military necessity, humanity, proportionality, and distinction. We hold ourselves accountable with an open and transparent process to assess allegations of civilian casualties, and we publish these findings on a regular basis for the world to see," the statement said.
The coalition's civilian casualty assessment team will investigate the allegations, and its findings will be made public in monthly civilian casualty reports, the statement said.
The team recently was expanded from two to nine members, two of them part time, according to Col. Ryan Dillon, Baghdad-based spokesman for the coalition. Team members also were allowed to travel to Iraq and Syria to investigate alleged strikes with civilian casualties, Dillon said.
"The specialized group consists of subject matter experts in law, aviation, intelligence, imagery and civil affairs," Dillon said. "We take all reports of civilian casualties seriously and are committed to an open and transparent assessment process."
The changes came after the coalition faced criticism for a strike that killed scores of civilians in west Mosul's Jadidah neighborhood March 17. Witnesses and rescuers spoken to by The Times insist the strike killed at least 278 civilians.
U.S. investigators found the strike inadvertently ignited explosives and gutted a sprawling apartment block, killing at least 105 civilians, according to a report last month. They recommended the Pentagon intensify the way it investigates whether daily bombing runs over Iraq and Syria are inadvertently killing civilians.
The coalition had been investigating civilian casualties based on reports from its staff, the news media, social media and local and international monitoring groups. Investigators had not been required to visit the scene of strikes, speak with victims or other witnesses.
A separate review by the U.S. military last month found that it failed to report 80 civilian casualties from airstrikes during the last two years. Officials have had difficulty determining how many civilians are being killed in strikes near the front lines in Iraq and Syria, where there are few U.S. troops directing fire and commanders rely instead on drone surveillance and reports from allies.
As of June, the coalition had reported 21,035 airstrikes in Iraq and Syria since the campaign against Islamic State began there in 2014. The coalition reported at least 484 civilian deaths from those strikes.
Independent monitoring groups believe far more civilians have been killed by the strikes. Airwars, a British-based research group that tracks allegations of civilian deaths, estimates that at least 4,118 civilians have likely been killed. Chris Woods, the group's director, said researchers were examining the Mayadeen strike allegation but had no assessment yet.
Times staff writer W.J. Hennigan contributed to this report from Washington.
---
Must-read stories from the L.A. Times
Get the day's top news with our Today's Headlines newsletter, sent every weekday morning.
You may occasionally receive promotional content from the Los Angeles Times.