State Department protests Turkish guards' beating of demonstrators in Washington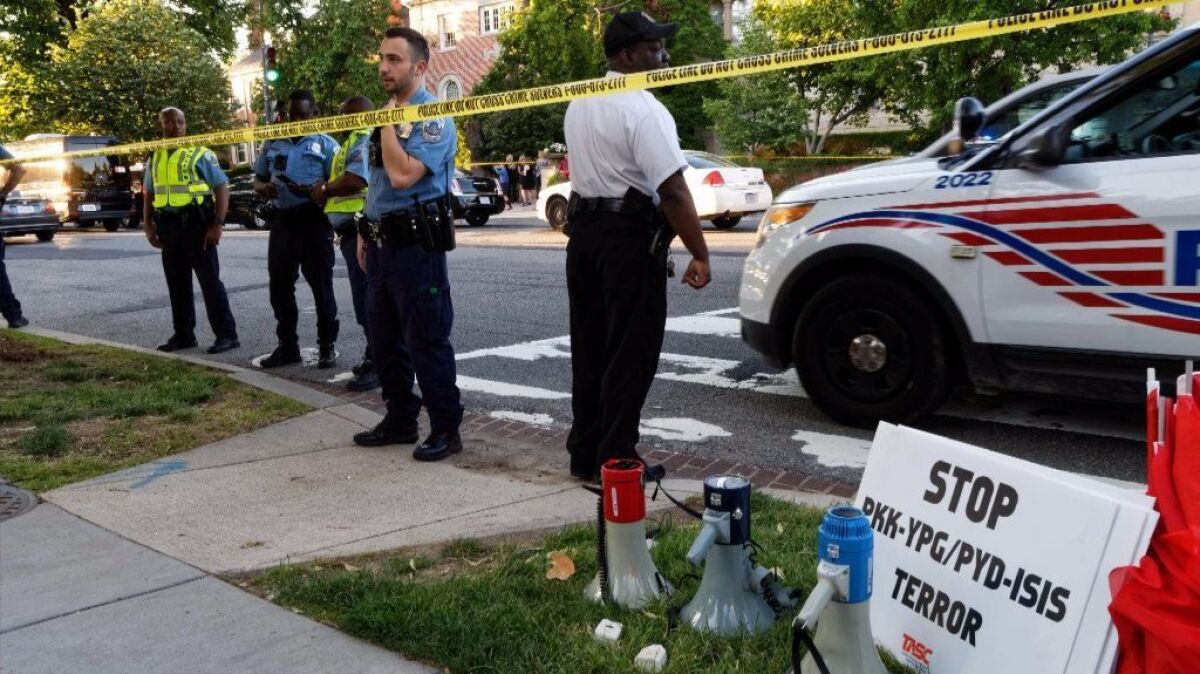 Reporting from Washington —
The State Department issued a strong protest to Turkey on Wednesday, a day after visiting President Recep Tayyip Erdogan's security guards and supporters kicked and beat protesters in a scuffle in downtown Washington.
The brief but bloody altercation — the second time in 14 months that a visit by Turkey's president led to a clash with demonstrators opposed to his authoritarian policies — threatened to escalate into an international incident.
"We are communicating our concern to the Turkish government in the strongest possible terms," the State Department said in a statement. "Violence is never an appropriate response to free speech."
Police said two people were arrested and 11 others, including a police officer, were injured. Police said they are working with the State Department and Secret Service to identify Erdogan guards who they believe instigated the melee.
The Secret Service said it was working "to aggressively pursue accountability for those involved in yesterday's protests."
In a statement, Peter Newsham, police chief for the District of Columbia, complained of a "brutal attack on peaceful protesters."
He said some of the Turkish security guards carried weapons under their suits, making efforts by police to intervene during the clash especially "dicey."
He said police were investigating whether it was legal for the guards to be armed given Washington's strict gun laws.
"This is not something we will tolerate in our city," Newsham said at a news conference. "This is a city where people should be allowed to come and peacefully protest."
Video of the clash showed several men in black suits, and apparently some of Erdogan's civilian supporters, charging about two dozen protesters in a park across from the Turkish ambassador's residence.
In the video, the groups fight back and forth while police try to separate them. Some of the security guards can be seen beating male and female demonstrators, and repeatedly kicking a man with a bullhorn who had been knocked to the ground.
One man was charged with aggravated assault and another with assault on a police officer. It wasn't clear if either was attached to Erdogan's security detail.
Two of Erdogan's guards were detained by the Secret Service and reportedly released. Newsham said diplomatic immunity may be a factor.
The Turkish Embassy in Washington blamed the violence on sympathizers of the Kurdistan Workers Party, or PKK, a separatist group that Ankara and Washington have labeled as terrorists.
The embassy said in a statement that PKK sympathizers "aggressively" provoked peaceful demonstrators who wanted to welcome Erdogan and said it was incumbent on U.S. authorities to prevent such outbursts.
The Atlantic Council, a nonpartisan Washington think tank, was hosting an event for Erdogan at the ambassador's residence when the fighting broke out. Erdogan had met with President Trump earlier at the White House.
The anti-Erdogan demonstrators included Kurdish and Armenian groups, both of which have long-standing grievances with Turkey. In addition, Erdogan's government has arrested tens of thousands of people, including political opponents, since a failed military coup last summer.
"Is there no line that cannot be crossed?" asked Aram Hamparian, head of the Armenian National Committee of America, which helped organize the protest. "A repressive government sends its goons to a foreign country to repress the free speech rights of citizens? You cannot do that here."
In March last year, Erdogan's security detail also roughed up demonstrators and some journalists when he appeared at the Brookings Institution think tank in Washington.
For more on international affairs, follow @TracyKWilkinson on Twitter
---
UPDATES:
4:55 p.m.: This article was updated with comments from the Secret Service and Turkish Embassy
This article was first posted at 4:15 p.m.
Must-read stories from the L.A. Times
Get the day's top news with our Today's Headlines newsletter, sent every weekday morning.
You may occasionally receive promotional content from the Los Angeles Times.