Obamacare patients filled more prescriptions but paid less for drugs, study finds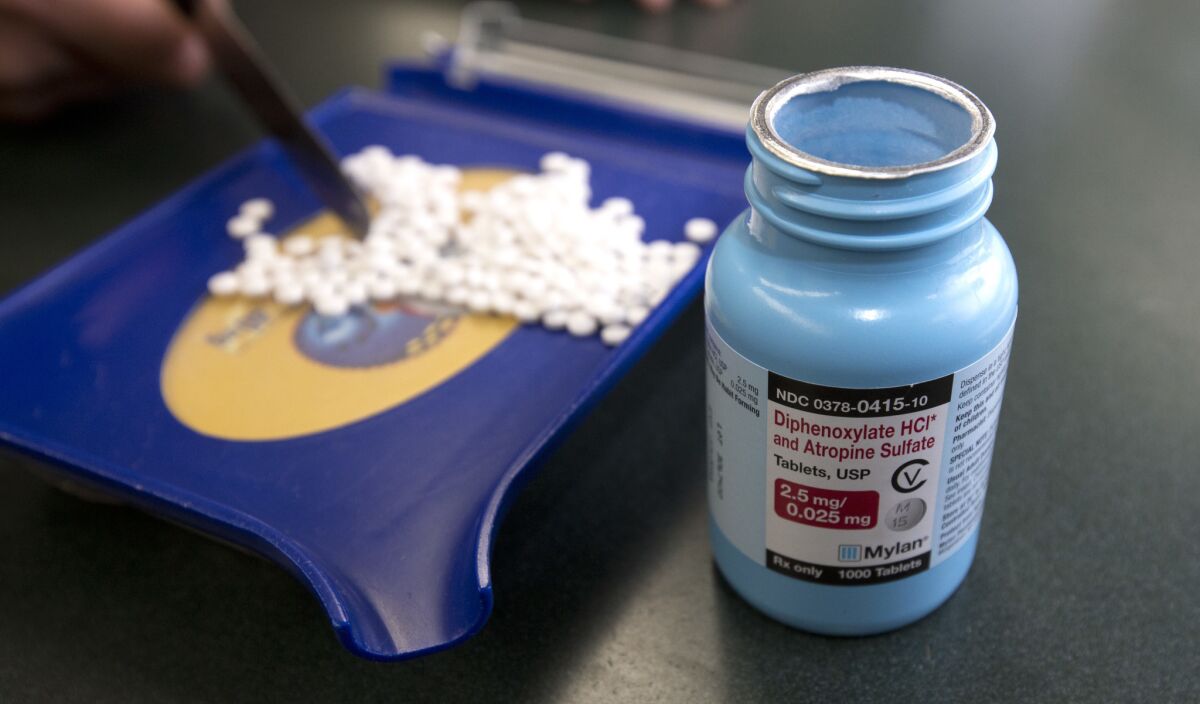 Reporting from Washington —
Patients who gained health coverage through the Affordable Care Act are filling significantly more prescriptions while paying less for their drugs, according to a new study that credits the health law and adds to evidence of its benefits for previously uninsured Americans and those with chronic conditions such as asthma, diabetes and high blood pressure.
The innovative study is based on more than 1 billion pharmacy transactions from 2013 and 2014, which allowed researchers to look at how a sample of nearly 7 million patients were paying for drugs before and after the health law's historic coverage expansion.
"This is strong evidence that the Affordable Care Act has increased treatment rates while reducing out-of-pocket spending, particularly for people with chronic health conditions," said Andrew W. Mulcahy, a health policy researcher at the nonprofit RAND Corp. and the study's lead author.
"Improving the treatment of people with chronic conditions is an important step in improving health outcomes," he said.
Starting in 2014, the law began guaranteeing coverage to Americans for the first time, prohibiting insurers from denying coverage to patients, even if they are sick. The law, commonly called Obamacare, also made hundreds of billions of dollars of federal aid available to states to extend Medicaid coverage to poor adults, a population once largely excluded from the government safety net program.
National surveys indicate the coverage expansion has helped more than 20 million previously uninsured people gain health insurance, driving the nation's uninsured rate to its lowest level in decades.
Now, an increasing number of studies are showing how the new coverage is helping patients get needed care.
Patients who enrolled in Medicaid in 2014 after being uninsured in 2013 filled about 13 more prescriptions a year on average after gaining coverage, a 79% increase, the RAND researchers found.
And patients who got private health insurance after being uninsured in 2013 filled four more prescriptions, a 28% increase.
Even as many Americans filled more prescriptions after gaining coverage, they ended up paying less out of pocket for the drugs, according to the study, which was published in the journal Health Affairs. Those gaining Medicaid coverage, for example, paid on average $205 less in 2014 than in 2013.
The gains were slightly less for those gaining private coverage, with out-of-pocket spending declining nearly $86 on average.
The researchers found the biggest financial benefit was for previously uninsured Americans with chronic illnesses that frequently require patients to take regular prescriptions.
Those who gained Medicaid coverage saw their annual drug bill drop $279 on average between 2013 and 2014.
The findings in the study include some more worrisome trends.
For example, as patients saved money while filling prescriptions, health plans paid more. That likely will translate into higher insurance premiums and higher costs for government programs such as Medicaid.
But Mulcahy noted that the increased use of recommended drugs, particularly for patients with chronic illnesses, likely will pay dividends in the future.
"We think we'll see a lot more evidence coming forward that the improvements in access translate into improvements in health," he said.
Other researchers expect the same.
The RAND paper comes on the heels of another important study published last week showing additional benefits from the 2010 health law.
That study, published in JAMA Internal Medicine, found poor residents in two states that expanded Medicaid through the law — Arkansas and Kentucky — were going to the doctor more often and having less trouble paying for it two years after the expansion began.
Like in the RAND study, researchers found the gains were particularly pronounced for patients with chronic conditions.
By contrast, the JAMA study found almost no gains for poor patients in Texas, one of the 19 states that continue to reject the Medicaid expansion.
Twitter: @noamlevey
ALSO
A doctor bikes across the country to ask Americans about Obamacare. This is how he ended up feeling hopeful
In Louisiana, the rush to sign up for Obamacare highlights a 'long overdue' demand for health insurance
How a healthcare revolution came to one red state while the Obamacare battle raged on
---
Must-read stories from the L.A. Times
Get the day's top news with our Today's Headlines newsletter, sent every weekday morning.
You may occasionally receive promotional content from the Los Angeles Times.