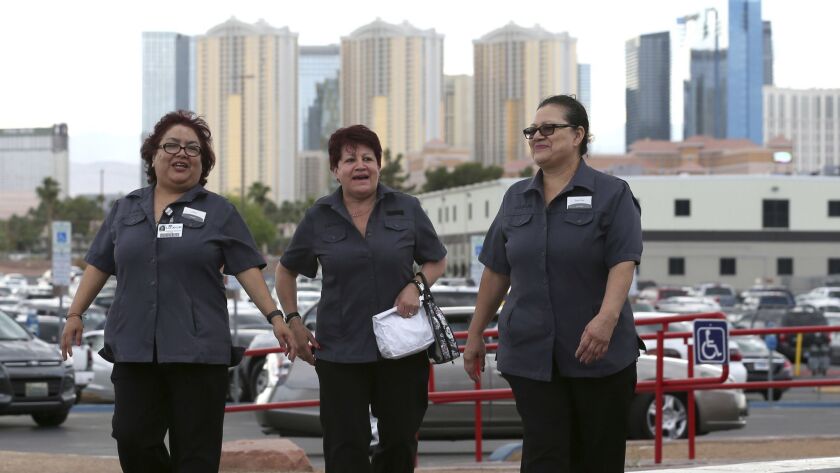 Reporting from LAS VEGAS —
Las Vegas casinos could watch tens of thousands of employees walk off the job for the first time in more than three decades after union members voted to authorize a strike at any time starting June 1, a move that could cripple the city's world-famous resorts.
About 25,000 members of the Culinary Union who work at 34 different casino-resorts across the tourist destination cast ballots in two sessions Tuesday, showing the collective power of the largest labor organization in Nevada. The move hands union negotiators a huge bargaining chip as they work to solidify new five-year contracts.
The union last voted for a strike in 2002 but reached a deal before employees walked out. The last strike, in 1984, spanned 67 days and cost the city and workers tens of millions of dollars.
The latest strike would mean losing workers with roles crucial to making a casino-hotel run: bartenders, housekeepers, cocktail and food servers, porters, bellmen, cooks and other kitchen workers. It would affect properties including Caesars Palace, Planet Hollywood, Bellagio, MGM Grand, Stratosphere, The D and El Cortez.
It also could cause problems for fans heading to the city to watch the Vegas Golden Knights hockey team play in the Stanley Cup Final in early June, a rare feat for a team in its first year.
"I'm here to show the younger generations that this is the way we fight to maintain our jobs, job security, health benefits and to gain a pay raise," said Lewis Thomas, a utility porter at the Tropicana casino-hotel. "This will be a wake-up call to let [the companies] know we are together, we are united, we are not separated."
The contracts of 50,000 unionized workers are set to expire at midnight May 31, and negotiations with individual casino-operating companies have not led to agreements for new terms.
Union officials have said they want to increase wages, protect job security against the increasing use of technology at hotel-casinos, and strengthen language against sexual harassment.
---