The return of the youth vote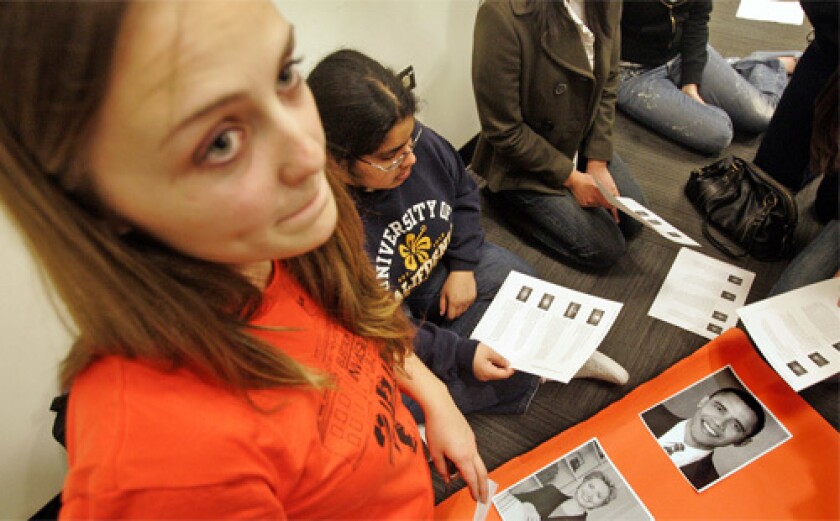 Los Angeles Times Staff Writer
Matt Murphy knows it is hard to be a Republican at any college, much less UCLA.
"I can't walk down the quad without someone trying to talk to me about Obama or give me a flier. . . . They want me to drink the Democratic Kool-Aid," said the 19-year-old freshman who probably will vote for former Massachusetts Gov. Mitt Romney.
In any other election, Murphy's claim could be dismissed as a youthful exaggeration or an interesting, but ultimately insignificant, factoid. After all, did the youth vote help catapult Sen. John Kerry into the White House in 2004?
But this year may be different. Hillary Rodham Clinton and especially Barack Obama have captured the imaginations of young voters who recognize their unique chance to put a woman or African American into the White House and are expected to come to the polls today in record numbers.
The youth vote already has played a key role in earlier primaries. In South Carolina, 18- to 29-year-olds accounted for 14% of voters, up from 9% in 2004. And in Iowa, young voter turnout rose 135% from the previous presidential primary.
Obama won both states.
"Two years ago, I never would've thought this was possible. It's absolutely ridiculous to really be a part of history," said Lauren Olson, an 18-year-old Oakwood School senior who volunteers twice a week for the Obama campaign.
Oreo cookies outnumbered Republicans at a GOP debate-watching party last week at UCLA. University organizers bought two packs of the treats, a grand total of 102 cookies, but just 13 people showed up.
Only 225 students voted for a Republican candidate during a mock campus election in which John McCain and Ron Paul tied for first with 66 votes apiece. On the Democratic side, Obama was the overwhelming choice, with 54% of the 1,387 votes.
Brandon Dietz ate some cookies and listened as the candidates discussed immigration. The fourth-year student had considered voting for Rudolph W. Giuliani.
"Now he's outtie, so it's important I hear both sides," he said.
Dietz acknowledged that he was in the minority.
"No amount of food will get people out for this," he said.
And most students at the party quickly pointed out that they're not that Republican.
"I'm not a Bush fan," said Katya Balan, a third-year global studies major from Danville, Calif. Balan plans to vote for McCain because "the fact that he's criticized the Republican Party means a lot to me. It shows he's not afraid to lead the party back to where it should be," she said.
On other, more politically balanced campuses, Republican students say they sometimes feel isolated amid the Obama frenzy.
"There are times that you feel overwhelmed by all the excitement," said Rachel Ward, a Chapman University senior who volunteered for Gov. Arnold Schwarzenegger's reelection campaign.
And even Ward doesn't have it easy. She is volunteering for Assemblyman Jim Silva (R-Huntington Beach), and when she told a reporter she plans to vote for Romney, her pro-McCain colleagues booed.
"I believe in a limited government . . . and he's a more conservative candidate," Ward said.
Although there weren't any catcalls, a similar difference of opinion raged at the Bruin Democrats meeting after the Republican debate.
Sixty-four students showed up to rehash the day's events, which included two candidates' backing out.
"Tear for John Edwards. Rudy, that was hilarious while it lasted," said Kyle Kleckner as the audience snickered.
Then two students got up to deliver short speeches, exhorting their peers to vote for either Obama or Clinton.
Third-year student Navid Pour Ghasemi praised the New York senator's experience and even her failed attempt to introduce universal healthcare in the mid-1990's.
"I can only applaud her foresight . . . in hindsight," he said as a few students twittered.
Curtis Whatley made an equally impassioned plea for students to vote for Obama. Whatley said he was inspired by the senator from Illinois, and, like many students campaigning for Obama, spoke as if he were a member of Obama's inner circle.
The campaign has empowered students, and "that's going to be a tremendous help when we run in 2008," he said.
Obama inspires similar feelings outside Westwood. Chatsworth High School senior Adrianna Whitehead started volunteering for Obama because of a government-class requirement, but the 17-year-old continued to stop by the candidate's Van Nuys offices to make phone calls after she finished with her mandatory 10 hours.
"Even though I can't vote for this election, I know there's a chance he could get to the November election and maybe I could vote then and make a difference," she said.
It is not surprising that young people identify more with a woman and an African American candidate, said UCLA political science professor Mark Sawyer.
The flip side of the youths' high expectations can be a letdown if their candidate isn't elected, said Ann Crigler, a USC political science professor.
"Raising hopes and having them dashed can be very devastating," she said.
---
Must-read stories from the L.A. Times
Get all the day's most vital news with our Today's Headlines newsletter, sent every weekday morning.
You may occasionally receive promotional content from the Los Angeles Times.