America is lending smartphones to immigrants caught at the border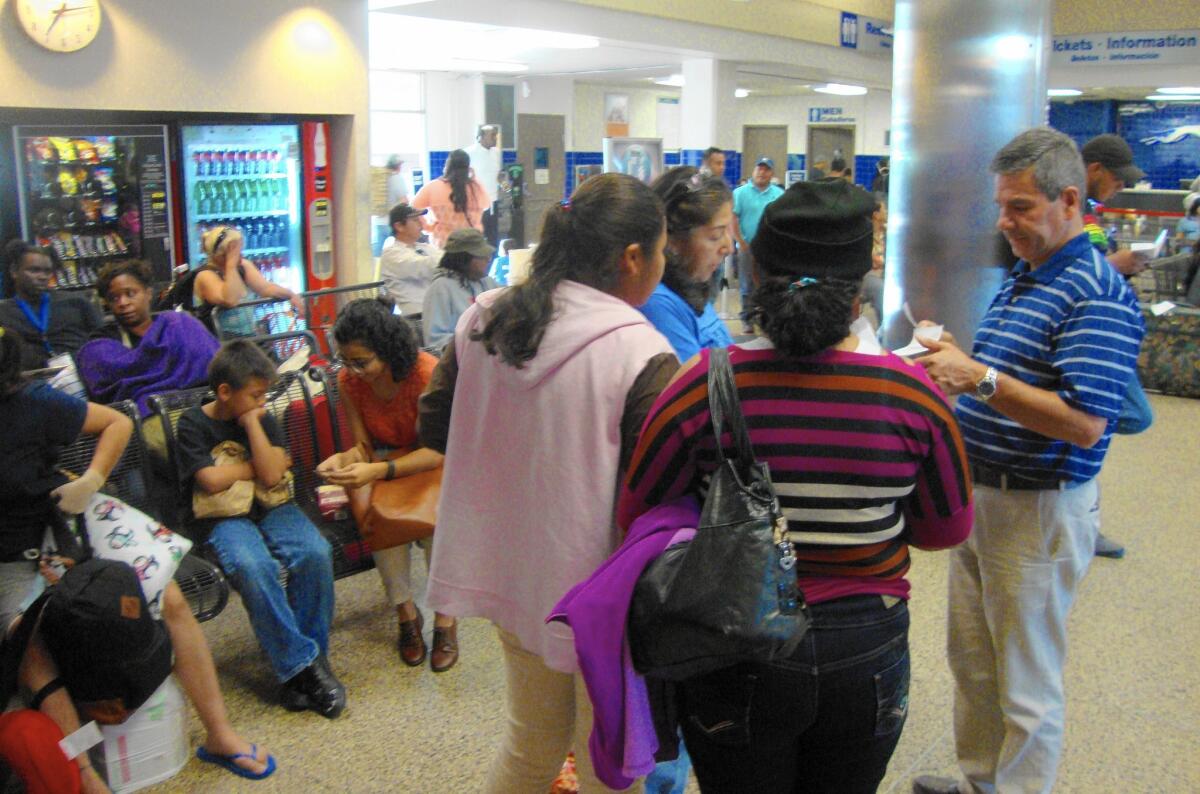 Reporting from HOUSTON —
A federal government contractor is issuing smartphones to immigrant families released from two massive Texas detention centers as a way to ensure that they are able to contact case managers and reach their U.S. destinations.
Officials described the phones as part of a less-restrictive alternative to detention programs designed to make sure that low-risk immigrant families with pending cases show up for court. The phones, they said, are not used to track or monitor immigrants but rather as a safety net.
But immigrant advocates were skeptical of the new phones, and the program.
"It is concerning whether the women are being tracked through their phones and whether their communications with counsel are confidential," said Jonathan Ryan, executive director of Raices, a San Antonio-based immigrant legal advocacy group.
The number of immigrant families crossing the border illegally has skyrocketed this year: 24,616 family members were caught at the southern border from October through January, almost triple the number during the same period a year earlier.
Yaneth Guevara Leyva, who has a pending asylum case, said she received a Galaxy 4 smartphone complete with voice and Internet service after she was released from one of the Texas detention centers two weeks ago. She said she was told that she was being placed in a family case management program along with her children, ages 7 and 2.
"They told me I was selected because I have small children and for my case, because I was a victim of domestic violence," Guevara said. "I was surprised because I thought I would get ankle monitors."
Guevara, 29, worked selling food from her home in northern El Salvador, but fled what she described as abuse at the hands of her husband in October. She left without a cellphone, attempting to reunite with her two older brothers in San Fernando.
After she was released from the detention center, she used the new phone to catch a direct bus with her children to Los Angeles on Jan. 31.
See more of our top stories on Facebook >>
Guevara said she wasn't worried her conversations would be monitored, noting that she never signed forms consenting to that. She said she returned the phone, as she expected she would, at her first appointment with a case manager from GEO Care, the contractor running the program.
"They tell us not to be afraid; they say they're here to help us. I feel good about it," she said.
Advocates have been sharing cellphones for years with immigrant families dropped off by detention center staff at a San Antonio bus station, allowing them to call and send photos to family members they plan to meet.
"One of the first things they always wanted to get was cellphones before undertaking the long journey," Ryan said, but those who buy phones often cannot afford the bills that follow.
The new smartphones are free, yet immigrant advocates worry they may be used to secretly monitor the users.
"Considering the number of entities monitoring cellphones in general, it's hard to believe they're not being tracked at all," Ryan said.
He said advocates were especially suspicious because GEO Care is part of GEO Group, the Boca Raton, Fla.-based prison company that issues ankle monitors to immigrant families and runs eight immigrant detention centers, including the Texas family detention center where Guevara was held.
The same day GEO Care's $11-million contract was announced in September, the U.S. Commission on Civil Rights issued a scathing report detailing alleged abuses at immigrant detention centers, including denying medical care, staff retaliation and rights violations.
Pablo Paez, a spokesman for GEO Group, referred questions to U.S. Immigration and Customs Enforcement.
GEO Care has handed out 25 phones to immigrant families since last month, half of the 50 they plan to dispense, officials said.
Participants must be considered low risk, meaning they would not otherwise be held in detention as their cases progress or issued ankle monitors, officials said. Priority for the program is given to families with special needs, including pregnant or nursing mothers, those who speak indigenous languages, have very young children, have medical or mental health issues, or have been exposed to trauma.
Advocates argued that the program should be run by the Lutheran Immigration and Refugee Service or the U.S. Conference of Catholic Bishops, agencies that ICE had relied on for case management and that had worked for years to earn the trust of immigrant families.
Richard Rocha, an ICE spokesman, said that the agency "recognizes the expertise and experience of community-based immigration assistance organizations which have a long history of assisting recently arriving populations" and that it plans to develop the family case management program by "growing already existing ICE partnerships with these local community providers."
ICE officials said GEO Care's proposal to run the program "was the most comprehensive and cost-effective."
Advocates are not the only ones concerned about the program, and the smartphones.
"If the point of this were to make sure ICE could track people, that would actually make more sense," said Mark Krikorian, executive director of the conservative Center for Immigration Studies. "It really is a continuation of this policy of the federal government taking over from the smugglers once the illegals get across the border and ensuring the illegal immigrants get what they paid the smugglers for and reach their destination."
Krikorian fears the program could backfire, counteracting a U.S. public awareness campaign in Central America trying to stop migrants from making the trek north by feeding rumors that, he said, "they're not deported — and they get a phone for free."
"If anything," he said, "it seems like this might increase immigration."
molly.hennessy-fiske@latimes.com
Twitter: @mollyhf
NEWSLETTER: Get the day's top headlines from Times Editor Davan Maharaj >>
ALSO
3 surrender in Oregon standoff, but last holdout declares: 'I will die a free man'
Obama interview: 'Maybe I could have done ... a little better'
As voters size up John Kasich, battle for GOP establishment support shifts to South Carolina
Sign up for Essential California for the L.A. Times biggest news, features and recommendations in your inbox six days a week.
You may occasionally receive promotional content from the Los Angeles Times.