Justice Department to ban profiling by federal law enforcement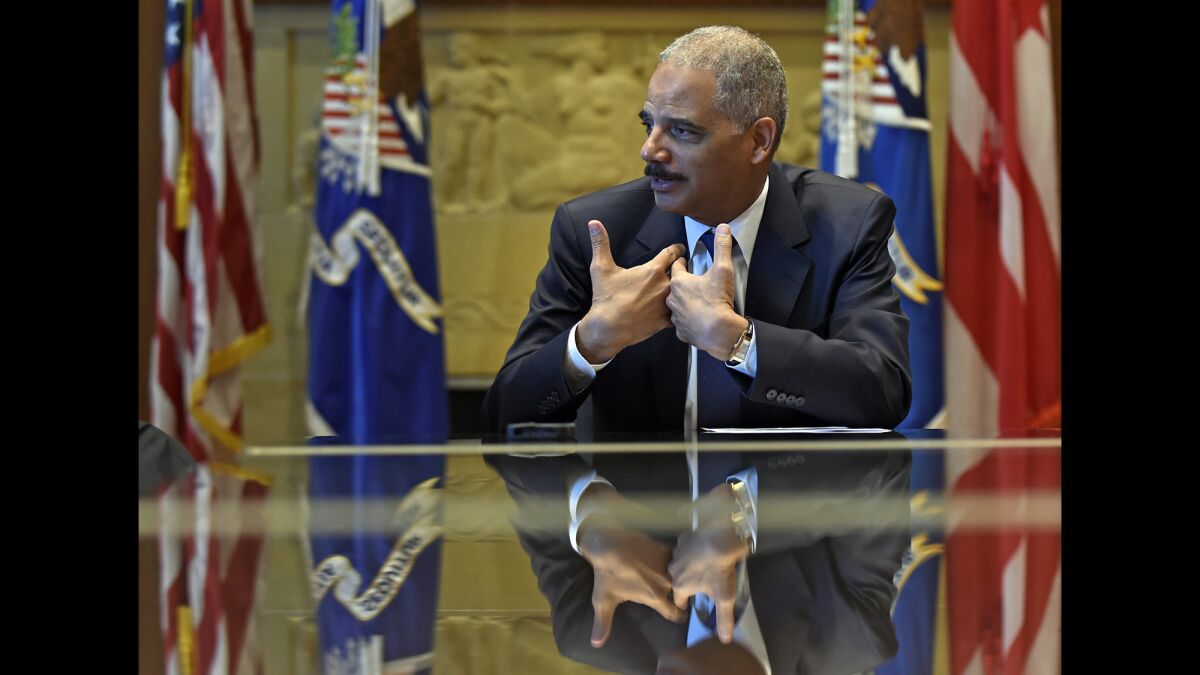 Reporting From WASHINGTON —
The Justice Department is expected to issue a broad new policy in the coming two to three weeks banning religious and other forms of profiling by federal law enforcement officers, department sources said Friday.
The long-awaited policy will not include an exemption for national security investigations, sources said. National security officials and others in the administration concerned about terrorism lobbied hard for such an exemption, according to congressional sources.
The new policy will cover ethnicity and sexual orientation as well as religion. Advocates of the new policy said they were surprised because the debate over the national security exemption had blocked movement for months.
Atty. Gen. Eric H. Holder Jr., who said Thursday he was stepping down, had been on the verge of announcing the new policy several months ago, but it was put on hold by the White House days before the intended announcement, according to a congressional aide who was not authorized to speak publicly on the matter. The White House insisted the policy be reviewed for its national security implications by the Department of Homeland Security, the aide said.
The new policy, though still being finalized, is expected to prohibit federal agents from conducting undercover surveillance of a mosque, for example, without some information that criminal activity is underway. Under the current rules, approved in the aftermath of the Sept. 11, 2001, terrorist attacks, law enforcement agencies were given broad latitude to monitor specific religious groups.
There may yet be some activities permitted that would rankle privacy advocates and groups representing Muslim Americans. For example, according to a Justice Department source, the recruiting of informants from a particular religious group may be allowed.
The new policy will add to long-standing prohibitions on racial profiling, extending that policy for the first time to national security investigations.
It will probably not extend to local law enforcement, as advocated by Sen. Benjamin L. Cardin (D-Md.).
Holder told the annual convention of the Congressional Black Caucus on Friday that he was committed to remaining active in his final weeks in office. He has promised to stay on until his successor is confirmed.
"There remains a great deal to be done," Holder said. "I have no intention of letting up or slowing down."
On Friday, the White House suggested it expected the Senate to confirm a replacement during the postelection lame-duck session of Congress, before a new Senate is sworn in next January.
White House spokesman Josh Earnest listed two other recent examples of nominees making it through in even more condensed timelines — Bob Gates' nomination as secretary of Defense in 2006 and Michael Mukasey's nomination for attorney general the following year.
"The president will make the case that the work of the attorney general is so important that the United States Senate should act promptly and in bipartisan fashion to confirm his nominee. That is a case that I think is easily made by this president in the same way that it was made by not just his immediate predecessor but by many of his predecessors," Earnest said.
President Obama is expected to name his choice within the next couple of weeks.
Kathleen Hennessey in the Washington bureau contributed to this report.
Must-read stories from the L.A. Times
Get the day's top news with our Today's Headlines newsletter, sent every weekday morning.
You may occasionally receive promotional content from the Los Angeles Times.