Q&A: Want to make a gun with a 3-D printer? Here is why gun control groups oppose the practice
It's made out of plastic, can take only a few hours to produce and fires bullets just like a metal gun.
Recently, with the emergence of new technology, questions over whether people should be able to access blueprints to make a firearm using a 3-D printer have become a part of the increasingly polarized gun debate. Opponents argue that it will open the door for criminals to easily access untraceable firearms, while supporters say that efforts to prevent the practice are useless and that there are already enough gun laws on the books.
In June, a Trump administration settlement gave the green light to a Texas-based company to post blueprints online showing people how to make 3-D-printed guns from the comfort of their home — a move that reversed course from the Obama administration. The company, Defense Distributed, said it would put its plans online beginning Wednesday, though at least one model's blueprint was available Friday.
But late Tuesday, in response to a joint lawsuit filed by several states' attorneys general, a federal judge issued a temporary restraining order blocking the release of downloadable blueprints for the 3-D-printed guns. Earlier in the day, President Trump said on Twitter that he was "looking into 3-D Plastic Guns being sold to the public" and that he would consult the National Rifle Assn.
MORE: Federal judge blocks release of blueprints for 3-D-printed guns »
Here's a look at the debate over the weapons:
What is a 3-D-printed gun and how is it created?
The firearms are usually made out of ABS plastic — the stuff that Lego pieces are made of — and are created using special printers that can cost thousands of dollars. Unlike metal firearms that have magazines that can usually hold several bullets, 3-D guns can hold just a bullet or two and then must be manually reloaded. There is no mandate for licensing 3-D guns, and they can be created without serial numbers, making them untraceable by law enforcement.
How did the debate over 3-D-printed guns begin?
In 2013, Cody Wilson, who owns Defense Distributed, posted plans online for creating a 3-D-printed handgun he called the Liberator. The blueprint was downloaded nearly 100,000 times in one week before the State Department under President Obama ordered it be taken down, arguing it violated federal export laws since some of the plans were downloaded by people outside the U.S. It violated the International Traffic in Arms Regulations that limit when and how Americans can sell weapons overseas, the government argued.
Wilson's website also sought to offer blueprints for creating AR-style long guns with 3-D printers.
For several years, Wilson has been engaged in a legal battle with the State Department, saying its decision violated his 1st Amendment right to free speech.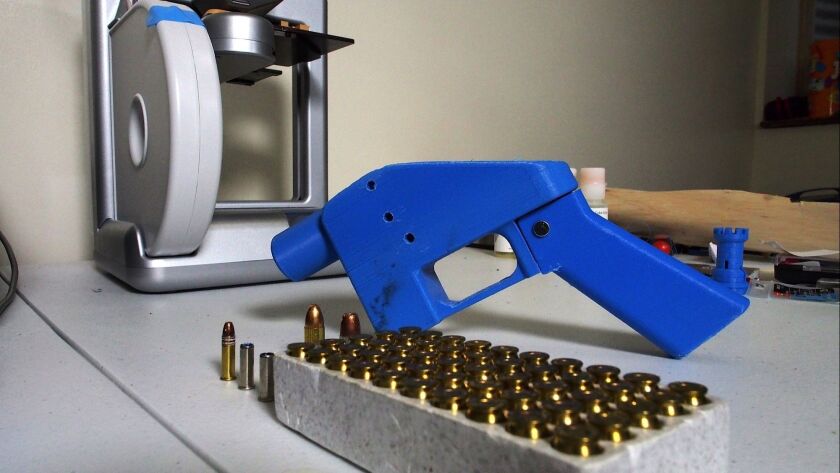 Why is it an issue now?
In June, the Trump State Department reversed course and gave Wilson and his company the go-ahead to post the blueprints online.
Wilson lauded the decision on Twitter and his website said he would begin posting blueprints online Aug. 1. The government also agreed to pay nearly $40,000 in legal fees that Wilson has accrued in the case.
"It's personally satisfying," Wilson told Fox News recently, adding that now U.S. gun culture has been "guaranteed safe passage" into the modern era.
What's the response from gun-control advocates and politicians?
There's been strong pushback.
On Monday, attorneys general from eight states — all Democrats — filed a joint lawsuit in federal court in Seattle calling on the Trump administration to stop the plans from being posted and seeking a nationwide temporary restraining order.
"What kind of world are we living in where a criminal, terrorist, or anybody with access to the internet and a 3-D printer can build a gun?" Oregon Atty. Gen. Ellen Rosenblum said in a statement.
"Once these tutorials to build 3-D guns are unblocked, there is no turning back. This action has been taken in utter disregard for public safety and I will not stand for it," she said.
The federal court ruling on Tuesday was praised by gun control advocates, even as Wilson vowed to appeal the decision.
In addition to the lawsuit, nearly two dozen state attorneys general — including Xavier Becerra of California — wrote a letter urging U.S. Atty. Gen. Jeff Sessions and Secretary of State Michael R. Pompeo to immediately withdraw from the settlement because of the "reckless disregard to public safety that 3-D guns creates."
These views were echoed by gun control groups like the Brady Campaign to Prevent Gun Violence and Everytown for Gun Safety.
"We will do everything in our power to make sure that untraceable, downloadable guns remain nothing more than an idea. To those who want to see this dangerous concept become reality, all we have to say is this: Not on our watch," said Avery Gardiner, co-president of the Brady Campaign.
Many opponents have referred to 3-D-printed guns as "ghost guns" because they lack serial numbers and owners do not need licenses. Further, concerns have been raised that these firearms could get onto planes and into high-security areas because they are not metal — only some have a metal firing pin or small metal plates — and could go undetected. And even gun experts have noted that because 3-D-printed guns do not have "rifling," the helical groove pattern on the inside of barrels, they tend to be inaccurate.
What has the Trump administration said?
Not much. The decision to settle with Wilson's company became public last week.
But as lawsuits from several states have surfaced in recent days, Trump took to Twitter — as is often the case — on Tuesday offering this: "I am looking into 3-D Plastic Guns being sold to the public. Already spoke to NRA, doesn't seem to make much sense!"
Dana Loesch, a spokeswoman for the NRA, said in a video posted online last week that 3-D-printed guns symbolize "freedom and innovation," adding that there are already laws that unsuccessfully try to stop criminals from getting guns.
Where does this leave us?
AAs the debate over guns continues in the U.S., many firearms enthusiasts are moving toward do-it-yourself methods of gun making.
In addition to 3-D guns, an unfinished lower receiver — part of a gun sometimes referred to as an "80% receiver" — can legally be purchased without a serial number from a seller who is not a federally licensed firearms dealer as long as it is missing the key components that would make it a firearm. After drilling a few remaining holes in the unfinished metal shell, a buyer can attach a barrel, trigger mechanism, stock and upper receiver to make a complete weapon.
Do-it-yourself gun culture in the U.S. has stirred anxiety in other countries.
Shortly after Wilson's company first posted plans for its Liberator in 2013, Britain's Daily Mail reported that two of its reporters had printed a gun and taken it on a train from London to Paris. The report raised concerns among European officials.
---
UPDATES:
4 p.m.: The article was updated with a federal court ruling temporarily blocking the release of the downloadable blueprints for 3-D guns.
2:55 p.m.: The article was updated with additional information about 3-D guns and how do-it-yourself gun making continues to emerge.
The article was originally published at 12:05 p.m.
---
Must-read stories from the L.A. Times
Get the day's top news with our Today's Headlines newsletter, sent every weekday morning.
You may occasionally receive promotional content from the Los Angeles Times.