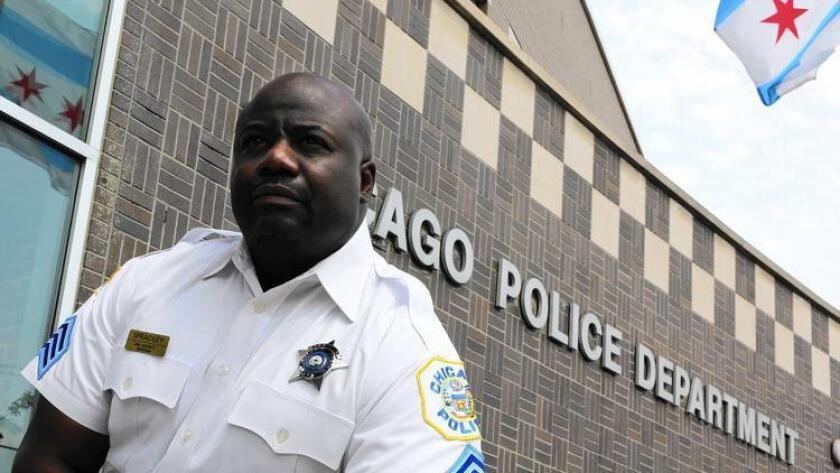 Reporting from CHICAGO —
Ernest Spradley, who is African American, says he chuckled when a suburban white cop pulled him over and told him he was going 95 mph down a main drag.
"I was like, 'Officer, I'm in an '88 Honda Civic automatic, not even a stick,'" Spradley recently recalled, a wry smile on his face.
Clearly not amused, the officer called him a vulgar name and said, "Are you trying to get smart with me?" Spradley recalled.
Before it was over, Spradley, a veteran Chicago cop, pulled out his police ID — not so much to get out of a ticket, he said, but so the officer would know he was armed and the situation wouldn't turn ugly.
Many black officers say they understand the conditions that brought young people to the streets to protest harsh treatment by police, white and black. But they bristle at attacks on cops at a time when violent crime in their city is a national topic.
"There are good and bad in every profession, any profession, and I don't deny we have bad cops," said a black veteran patrol officer assigned to a majority-black police district on the South Side, who asked not to be identified. "But what offends me the most is the protests like they're doing now. A possibly bad shooting happens somewhere else in the country — where is your protest over the 4-year-old who was just shot?"
Chris Fletcher, a 30-year veteran with the Chicago police before taking the police chief's job in suburban Calumet City, knows all too well the duality of the job. "I'm on both sides of the fence depending on what day it is," he said.
Fletcher can still recall the heated exchange with a close friend over the death of LaTanya Haggerty, an unarmed African American woman who was shot and killed in the summer of 1999 by a Chicago police officer who mistook her cellphone for a weapon.
"One of my nonpolice friends," Fletcher began, "he's like, 'Man, how can you stand up behind that? Because they just killed that girl and she just had a cellphone. That could have been you or me, your sister, your little cousin.'
"The public doesn't look at the other end. What if it wasn't a cellphone?" he said. "What if it was a gun? And police officers have to make that split [-second] decision, because you say I can wait to see if it's a cellphone and be killed.… The average officer isn't willing to take that chance with their life."
Black cops know how volatile things can be at a crime scene. But while they may face the same dangers as white officers, some black residents — be they witnesses, victims or even the accused — may open up more freely to an African American officer than to his or her white counterpart, some black cops say.
"Sometimes the victim may look to a familiar face and hear a little bit more clearer from a familiar face," said Spradley, who graduated from Morehouse College.
Black officers say they're as concerned as anyone about the callousness displayed toward African Americans by some of their white counterparts. They've faced it. Their family, friends and neighbors have complained about it.
But the officers say they don't have the political muscle to make changes. And they're preoccupied with a skyrocketing shooting and homicide rate.
Police shooting deaths of African Americans in Chicago and nationally are further putting black officers on the defensive — forced to answer for the actions of fellow law enforcement officers.
Officers say they feel blindsided with the release of every new viral video showing an attack on a black civilian.
Fletcher is among those officers who has deep concerns about policing in minority communities, while he also questions the media's treatment of the problem and the community's response.
"If you just looked at the media, you would think that the biggest issue for black folks is police brutality. But if you took a bloody weekend, all you've got to do is look at the number of people shot by police and the number of black people shot by black folks, and the [police] number pales in comparison," he said.
Fletcher was one of a number of officers disturbed by police actions seen in videos of the arrest of Sandra Bland, who died in a Texas jail last year, and the 16-shot death of Laquan McDonald in Chicago.
Starting out as a Chicago cop at 22 in the late 1980s, Fletcher said, he's seen the good, bad and ugly of police work and has always been troubled by some white colleagues who lacked empathy for the black residents they serve.
"I wouldn't say that all of the white officers, or even the average one, [have] no empathy," he said. "But I would say a lot of them don't have any empathy and at times they don't even understand that they don't. But in the things that they say, you see it."
Some older black officers say a lack of understanding and some heavy-handed, old-school policing tactics decried by activists and black cops alike have historic roots in Jim Crow segregation.
"It was a way you were raised and brought up. The officers that came in our community who were not black wanted you to fear them," said Greg Baker, a regional vice president of the National Organization for Black Law Enforcement Executives, who is also the police chief in South Holland.
Some retired cops are hoping recent incidents will shine a light on the need to hire more black officers. Only about 23% of officers in Chicago are African American; roughly a third of the city's population is black.
"You need police officers who can change hats," said Patricia Hill, former head of the African American Police League. In black communities, she said, cops sometimes "have to become the social worker, the teacher."
Spradley says his long-ago traffic stop that ended with an official warning from the suburban cop is a reminder of how police must work harder to maintain a respectful relationship with the people they serve.
"I want to be the police officer that responds when my coat gets snatched off my back, or somebody's chasing me down a street to get my gym shoes off my feet," he said. "I wanted to be that police officer that gave the service that I would want to have if I was the victim."
ALSO
Boy was decapitated on waterslide at Kansas park, source says
Arkansas deputy dies in shooting while responding to call, sheriff says
Baltimore police routinely violated the rights of blacks, Justice Department report says
---