House hearing on Amtrak crash focuses on train safety technology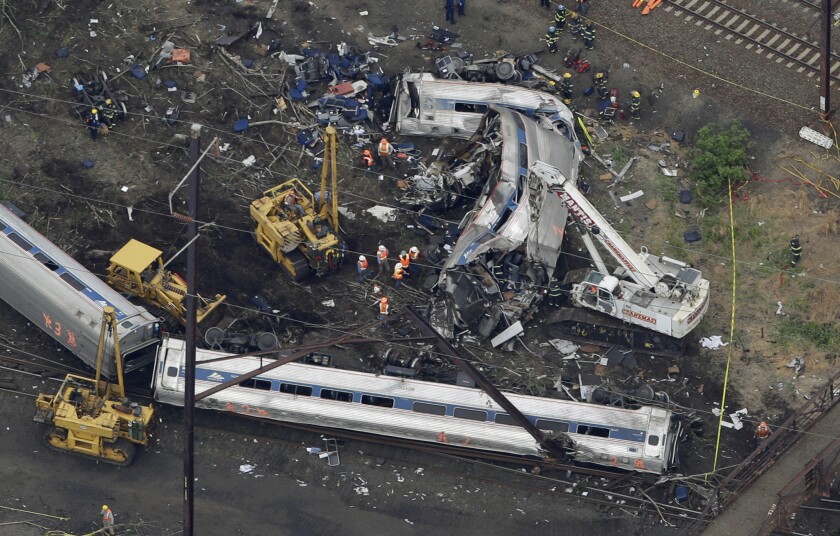 Reporting from New York —
At least 69 people have died since 2004 in train crashes that could have been prevented if technology that overrides human error had been installed, federal investigators said Tuesday at a congressional hearing into last month's deadly Amtrak derailment.
Much of the Washington hearing by the House Committee on Transportation and Infrastructure focused on positive train control, the technology long advocated by the National Transportation Safety Board. But speakers, who ranged from the NTSB chairman to a union leader, also addressed engineer fatigue, privacy issues arising from calls for inward-facing cameras on locomotives, and the need for funding to improve Amtrak's aging infrastructure.
Amtrak President and Chief Executive Joseph H. Boardman's voice broke at times as he repeated his vow to have positive train control installed on the entire Amtrak system by the end of the year, in accordance with a federally mandated deadline. Boardman also acknowledged that Amtrak had underestimated the potential for speeding on the curve where Amtrak Train 188 derailed May 12, killing eight passengers.
The railroad had a system installed on the southward track to slow trains if they were going into the curve at a dangerously high speed. The system was not on the northward track, because Boardman said the track's design made it less likely a train traveling north could derail there.
"It was a reasonable decision reached by reasonable experts under reasonable circumstances," Boardman said.
The system has been installed on the northern track as a result of the crash, which occurred when the train entered a curve zoned for 50 mph while traveling more than 100 mph.
Federal investigators have yet to determine why the train was going so fast, a point that rankled some committee members.
"I think this committee expects answers. I think the families are owed answers," Rep. Jeff Denham (R-Turlock) said, noting that it had been three weeks since the NTSB announced how fast the train was traveling.
The NTSB says investigators still are studying the cellphone records of engineer Brandon Bostian to determine whether he was distracted in the seconds before the derailment. Bostian's attorney, Robert Goggin, has said his client's phone was turned off and packed away in accordance with railway rules.
NTSB Chairman Christopher A. Hart called for railways to install inward-facing cameras in locomotives to help in crash investigations, but Dennis Pierce, the national president of the union representing locomotive engineers, said such cameras would infringe on workers' privacy while doing nothing to prevent accidents.
"Cameras don't slow or stop trains," he said. "Positive train control does."
Pierce also called for Amtrak to beef up staffing to ensure each locomotive has two crew members.
Twitter: @tinasusman
---
Must-read stories from the L.A. Times
Get all the day's most vital news with our Today's Headlines newsletter, sent every weekday morning.
You may occasionally receive promotional content from the Los Angeles Times.