Anti-Semitism in U.S. surged in 2017, a new report finds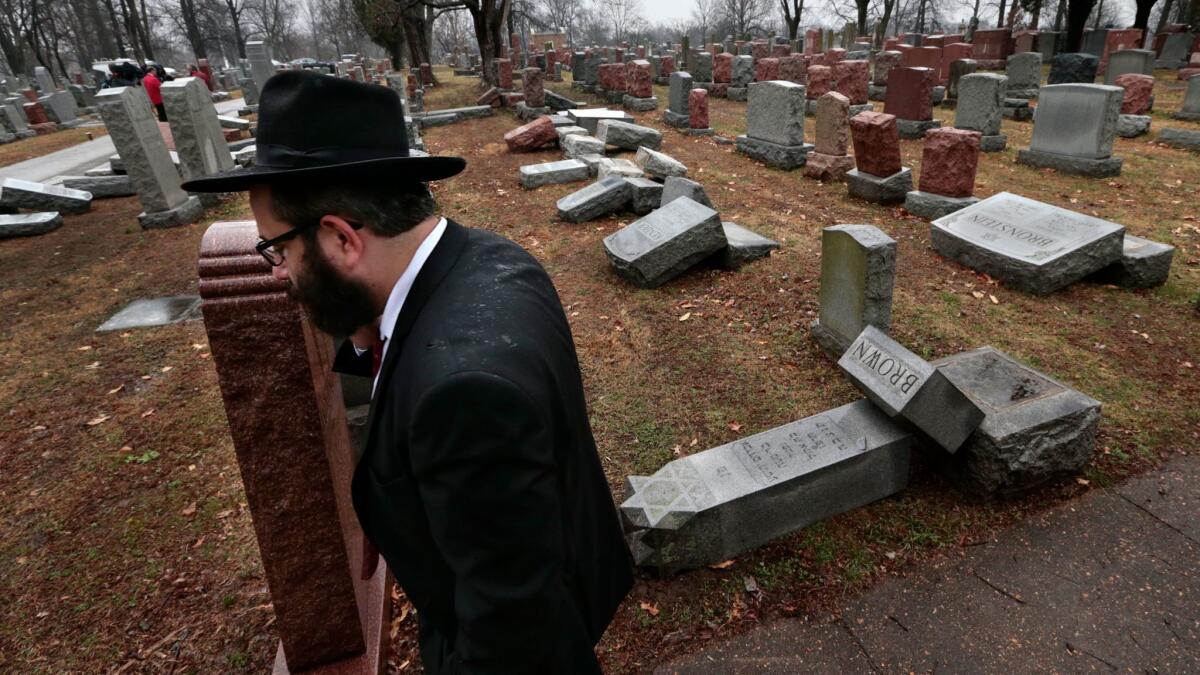 Harassment, threats and vandalism cases targeting Jews in the United States surged to near-record levels in 2017, jumping 57% over the previous year, according to a new report by a prominent civil rights organization.
The Anti-Defamation League counted 1,986 anti-Semitic incidents — the second-highest number since the group began tracking them nearly four decades ago.
The figure represents the largest annual jump the organization has ever recorded. Physical attacks, which accounted for fewer than 1% of the incidents, was the only category that fell.
The overall count, based on data from law enforcement, victims and local Jewish organizations, includes an increase in bomb threats against Jewish centers, vandalism at synagogues and Jewish cemeteries and threats at schools.
"We've never had a moment like this," said Jonathan Greenblatt, chief executive of the New York-based group. "We've seen so much intolerance sneak into the public."
Greenblatt pointed to newly resurgent white supremacists, such as those who took part in a deadly Charlottesville, Va., rally last year, as a major factor in the rise. "Hate groups and white supremacists feel emboldened, and they are not just coming out online but are also getting involved in political campaigns," Greenblatt said.
He also cited "the divisive state of our national discourse" and a poor example set by President Trump, who at times has been slow to denounce anti-Semitic attacks and during his campaign retweeted white supremacists and used what Greenblatt described as anti-Semitic imagery in social media posts.
Trump has denied any ill feeling toward Jews, noting that he has Jewish grandchildren and calling himself the "least anti-Semitic person you've ever seen in your entire life."
The audit released Tuesday counted 1,015 incidents of harassment, a jump of 41% over 2016 . They include 163 bomb threats against Jewish centers. Law enforcement arrested two men — in Missouri and Israel — last year on separate charges of making the threats. The audit also tallied 952 instances of vandalism, an increase of 86%.
In a departure from those trends, the number of physical assaults fell from 36 to 19 — a decline of 47%.
"Anti-Semitism is the canary in the coal mine. It often augurs other forms of bias — xenophobia, misogyny, racism," Greenblatt said.
Other civil rights groups have raised concerns recently about rising intolerance. In the annual count of hate groups it released this month, the Southern Poverty Law Center found that the number of white supremacist and neo-Nazi groups had grown the most last year — from 99 to 121.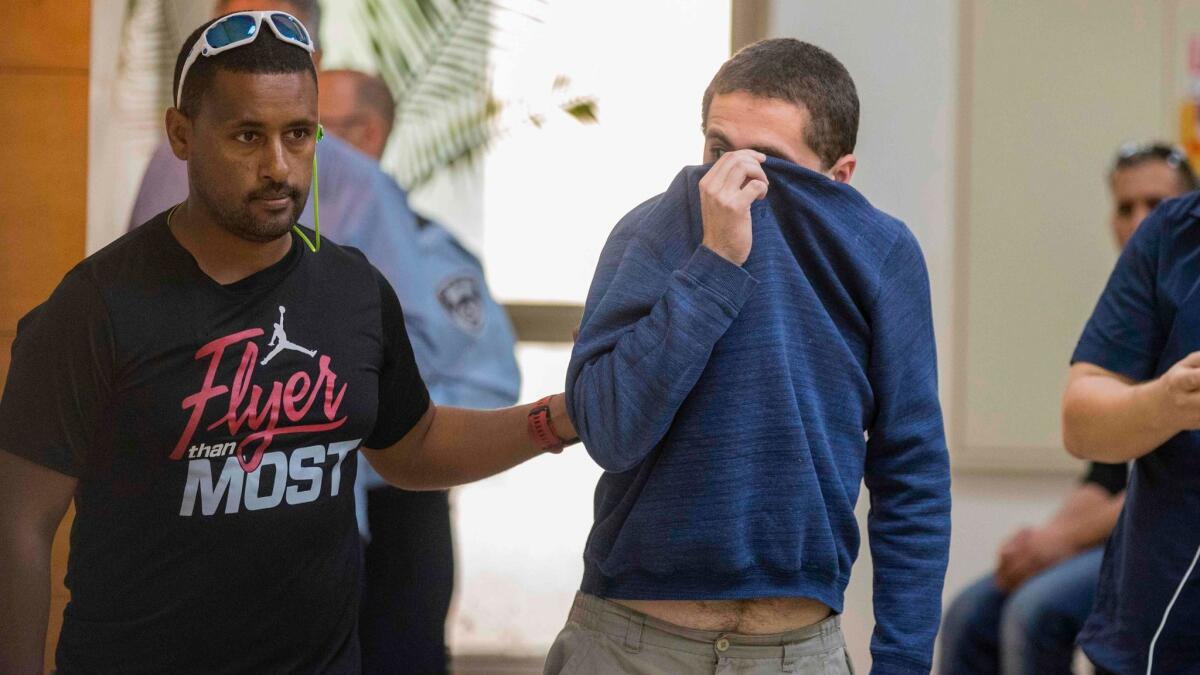 The FBI's latest data on hate crimes, released in November, showed 6,121 in 2016. That was a 4.6% increase compared with 2015. More than half were deemed to be racially motivated.
Growing reports of anti-Semitic incidents led the Anti-Defamation League last year to increase its data collection effort, and officials said the unprecedented numbers this year could in part be a result of more people reporting the crimes and threats.
Civil rights groups say that Trump has contributed to an atmosphere in which people feel freer to express hate. The president has pushed for travel, immigration and policing policies that civil rights groups say unfairly target Muslims, Latinos and blacks.
After the Charlottesville "Unite the Right" demonstration, which featured Nazi chants, Trump was criticized for refusing to budge on his view that the rally included "some very fine people."
Trump also drew criticism last year for deliberately leaving out the mention of Jews in a statement on Holocaust Remembrance Day; he mentioned them this year. In another instance, Greenblatt lashed out at the president for waiting six weeks before denouncing bomb threats against U.S. Jewish centers.
The growth in anti-Semitism in the U.S. comes amid a decline worldwide. In April, a report from the Kantor Center for the Study of Contemporary European Jewry at Tel Aviv University found that anti-Semitism incidents had dropped 12% globally. But the center, which surveyed 40 countries, said several English-speaking nations bucked the trend — including Britain, Australia and the U.S.
The report also predicted a "continuation of the widespread increase, sometimes dramatic, in verbal and visual anti-Semitism on social media and during demonstrations … that cannot be quantified."
By the Anti-Defamation League's count, the worst year for anti-Semitism in the U.S. was 1994, when the group recorded 2,066 incidents. That was a year of numerous deadly clashes between Israelis and Palestinians and the signing of a peace treaty between Israel and Jordan.
Jaweed Kaleem is The Times' national race and justice correspondent. Follow him on Twitter, Facebook and Instagram.
Sign up for Essential California for news, features and recommendations from the L.A. Times and beyond in your inbox six days a week.
You may occasionally receive promotional content from the Los Angeles Times.