In Arizona, Native Americans try to boost turnout: 'Our ancestors couldn't vote, but we can'
Reporting from SALT RIVER PIMA-MARICOPA, Ariz. —
Red mountains rise from the desert stillness. As a paved road breaks off, tribal government buildings emerge. Inside one, Angela Willeford works on voter guides, registration drives and "I voted!" stickers.
"We're being honest with our voters, saying, 'We need you to vote,'" said Willeford, special assistant to the president of the Salt River Pima-Maricopa Indian Community, just east of Scottsdale. "Our ancestors couldn't vote, but we can."
Arizona is a battleground in this year's midterm election, with lots of money flowing into the gubernatorial and U.S. Senate races. The state is home to the nation's third-largest Native American population — a group that grew by 11%, to 371,605 people, from 2010 to 2016, according to census figures on those who claim only Native American ancestry.
It is not immediately clear who would benefit the most from an uptick in Native American voting.
About 30% of American Indians nationwide say they are Democrats and 23% Republicans, according to a 2017 poll conducted by National Public Radio, the Robert Wood Johnson Foundation and the Harvard T.H. Chan School of Public Health. But 30% identify as independents, throwing a wild card into the mix.
Attaining influence at the ballot box has not come easily. In 1948, a legal battle made Arizona one of the last states with a large Native population to allow American Indians to vote. More recently, some say a lack of polling places in Indian Country and restrictive voter registration forms that do not accommodate rural or remote addresses have suppressed the Native vote in the state.
In 2014, the last midterm election, the average voter turnout at polling locations on or near reservations was around 37%, while about 48% of all registered Arizonans voted, according to a report by the Indian Legal Clinic at Arizona State University. Many polling locations serving large Native American populations had turnout below 20%, the report found.
But increasingly, advocates and Native rights groups are working to boost voter turnout. They believe the stakes are high in states like Arizona, where the Native population continues to grow, and fights over land rights and sacred sites are pressing. The issue of voter participation has pitted the skeptical, wary of broken promises and mistreatment, against those eager to find a voice beyond the reservation.
"This is a population that is becoming energized and ... seeing nontribal elections as increasingly important," said Jean Schroedel, an advisor to the Native American Voting Rights Coalition and professor of political science at Claremont Graduate University. "There's something going on at the base that I think is pretty unprecedented."
Schroedel is coauthor of a coalition report, published in January, about barriers facing Native voters in Arizona, New Mexico, Nevada and South Dakota. Though 65% of Native voters surveyed in Arizona said they voted in 2016, Schroedel said respondents are often reluctant to acknowledge that they didn't vote, raising doubts about the accuracy of the turnout figure.
Among the findings was a legacy of mistrust that has made many Native Americans reluctant to participate in nontribal elections. For instance, just 16% of Native people surveyed in Arizona had trust in local government, which affected their faith in the election process. Other common problems noted in the report included a lack of information about how or where to register to vote, ill-informed poll workers, difficulty for reservation residents describing nontraditional addresses on registration forms, and for many in rural areas, the distance to travel to vote, which most Native voters prefer to do in person.
"I think we need to be doing more education about why people should be participating in state and federal elections," said Patty Ferguson-Bohnee, director of Arizona State University's Indian Legal Clinic. "You might elect people who actually represent your interests."
Additionally, some tribal groups, like the Salt River Pima-Maricopa, are investing in nonpartisan voter education efforts.
The community includes what were historically two tribes: the Pima and Maricopa, longtime allies that occupied large stretches of land along the Gila and Salt rivers. They became federally recognized as one tribe in 1879. Their land spans 54,000 acres. There are about 10,000 enrolled members, about half of whom live here.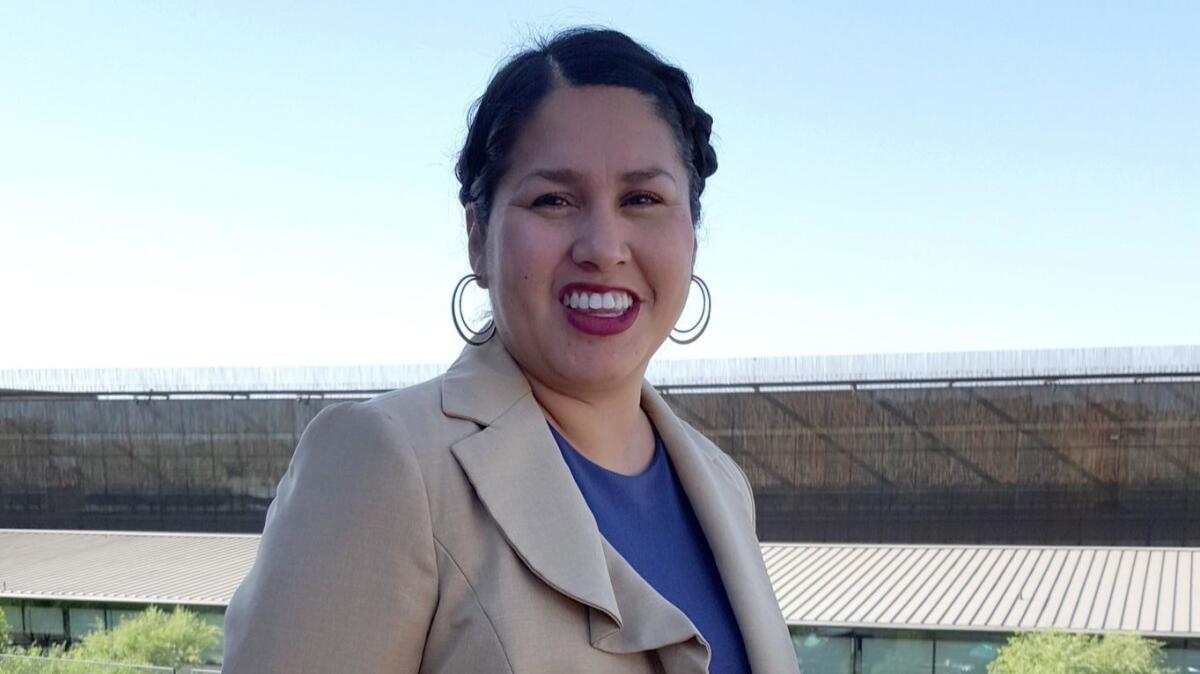 "I want our youth to understand how important it is to be engaged and exercise their power to vote," said Willeford, noting that healthcare ranks high among residents' concerns.
Among those inspired by participating in Willeford's canvassing efforts in 2016 was Dione Dallas, 19, who grew up in the community.
"After that, I got more engaged in what was going on in the world," Dallas said. "It was an eye-opener."
Dallas decided to major in government at Grand Canyon University and works as an intern for a congressional representative. She's developed a strong interest in water rights and veterans' issues, and is thinking about becoming an attorney and advocate for Native Americans.
"It's letting people know they have this right, so Native Americans have a voice in the country," she said.
Experts believe that the number of Native American voters in states like Arizona could prove consequential in some midterm congressional races.
"This is a population where, if they turn out, could make a huge difference. This is a young population," Schroedel said. "The two political parties better start paying attention, because they are growing and they are going to be a very important part of the electorate in a number of these states."
Several Native American candidates are running nationwide this year, including Eve Reyes-Aguirre of Phoenix, who is seeking the seat of retiring U.S. Sen. Jeff Flake, a Republican. She is running as a Green Party candidate in the state's Aug. 28 primary.
Reyes-Aguirre, an Izkaloteka Pueblo member, said her identity as an indigenous woman informed her decision to run for office for the first time.
"I realized our voices have been falling on deaf ears," she said. "Every decision we make, we think about how it's going to affect our children, our families, our people. We need to step forward."
Agha is a special correspondent.
Sign up for Essential California for news, features and recommendations from the L.A. Times and beyond in your inbox six days a week.
You may occasionally receive promotional content from the Los Angeles Times.