Huckabee, Obama face new hurdles in New Hampshire
Emily Bubar, 6, of Houlton, Maine, waits for Mike Huckabee to shake hands with someone before asking for an autograph in Henniker, N.H.
(Jay L. Clendenin / Los Angeles Times)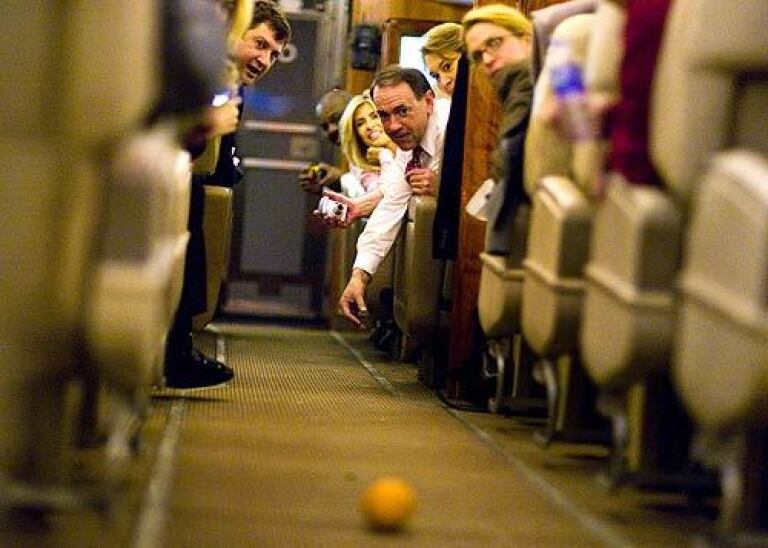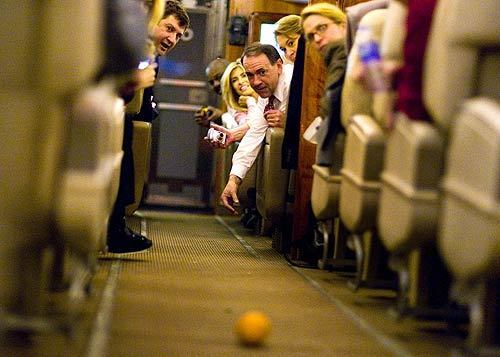 Mike Huckabee rolls an orange down the aisle upon takeoff Thursday night aboard a private plane heading to New Hampshire after his Iowa win.
(Jay L. Clendenin / Los Angeles Times)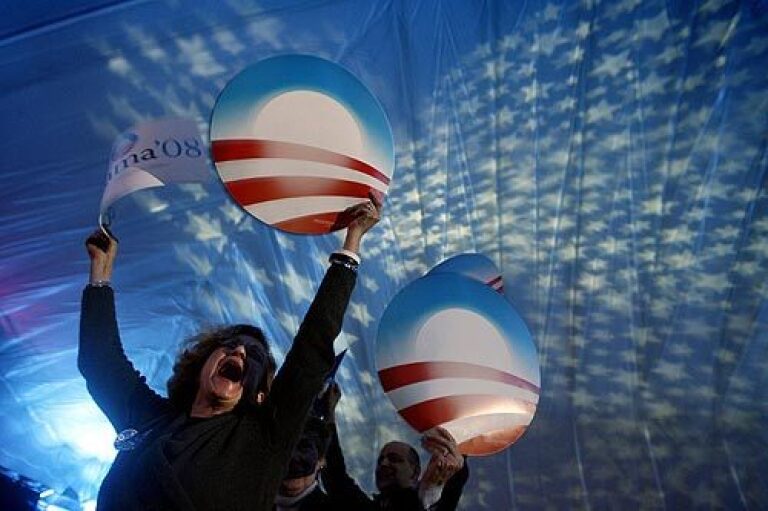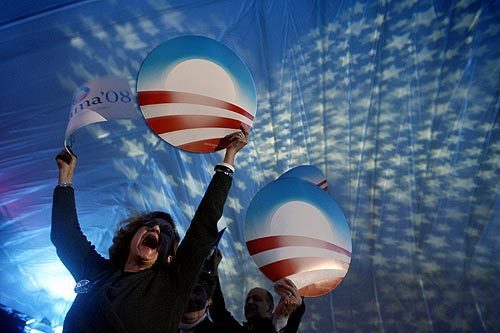 Hannah Banks of Boston cheers during a dinner in Milford, N.H., that was sponsored by the New Hampshire Democratic Party on Friday night. Hillary Rodham Clinton and Barack Obama spoke at the event.
(Rick Loomis / Los Angeles Times)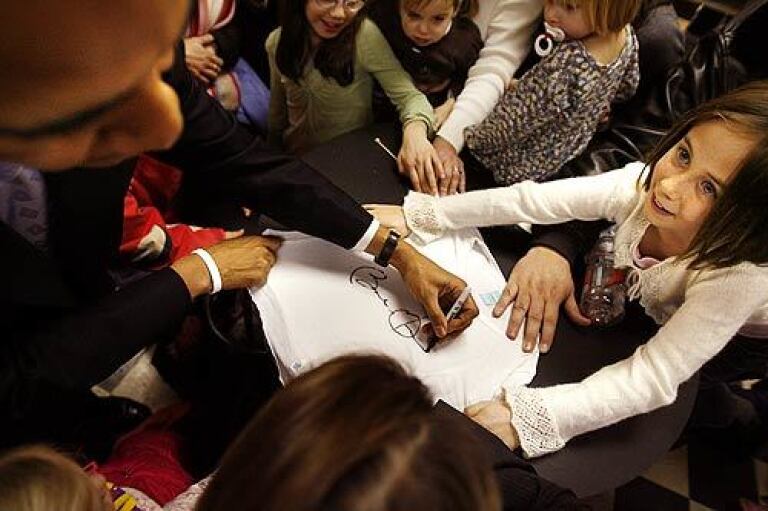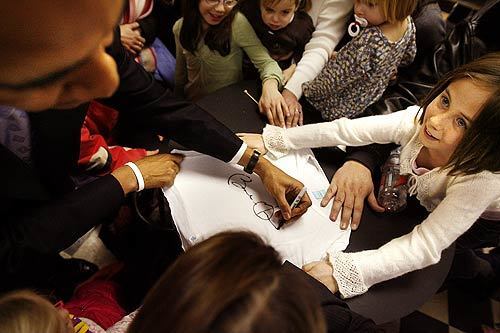 Democratic candidate Barack Obama signs a T-shirt for Kate Berminham, 9, at Moulton's Market in Amherst, N.H.
(Rick Loomis / Los Angeles Times)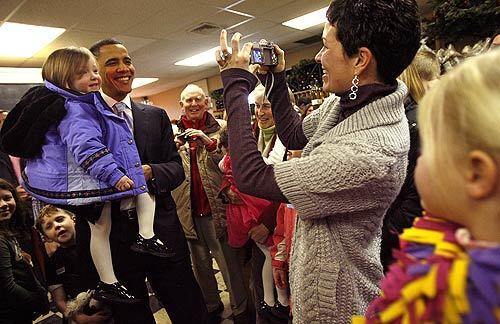 Barack Obama, all smiles after his decisive win in Iowa, poses with Caroline Graybill, 2, for a photo in Amherst, N.H.
(Rick Loomis / Los Angeles Times)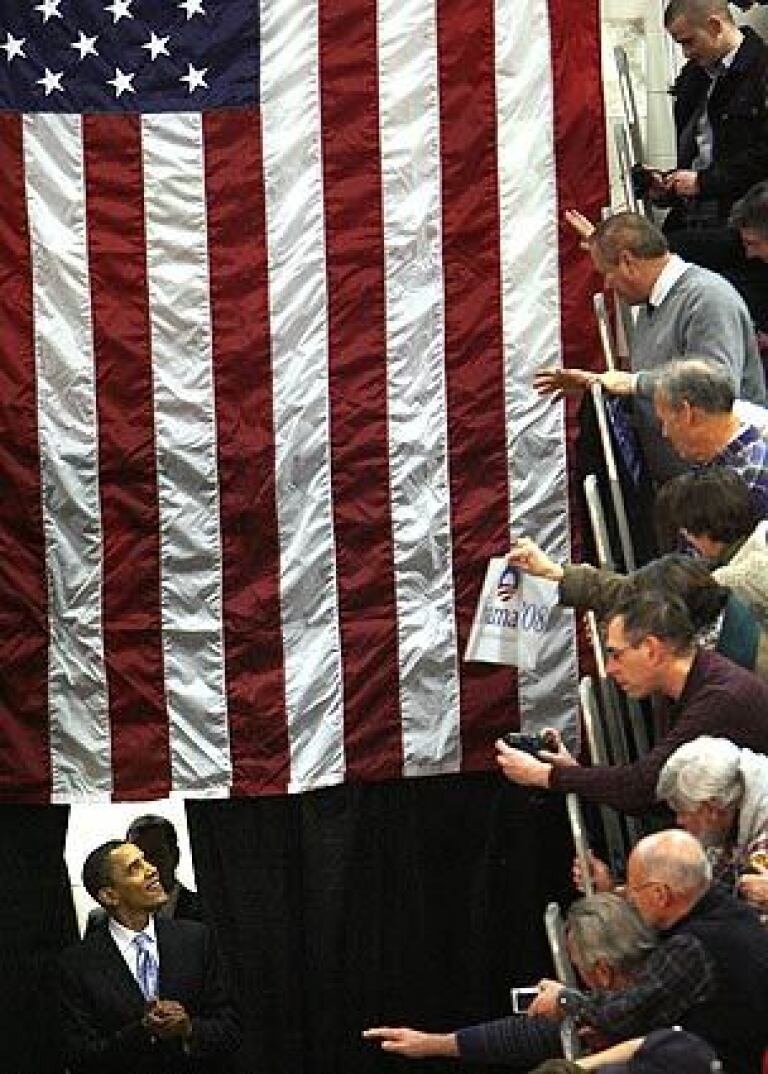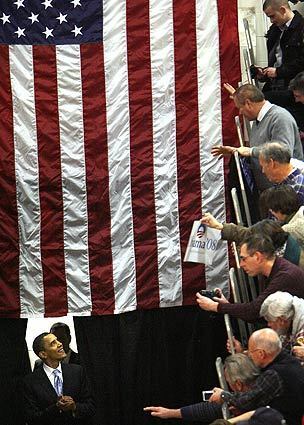 Democratic presidential candidate Barack Obama, fresh from a commanding win in Iowa, greets an enthusiastic crowd at the Concord High School gymnasium in Concord, N.H.
(Rick Loomis / Los Angeles Times)
Republican presidential candidate Mitt Romney leaves the Golden Egg restaurant in Portsmouth, N.H., after stopping in to greet patrons eating breakfast.
(Gina Ferazzi / Los Angeles Times)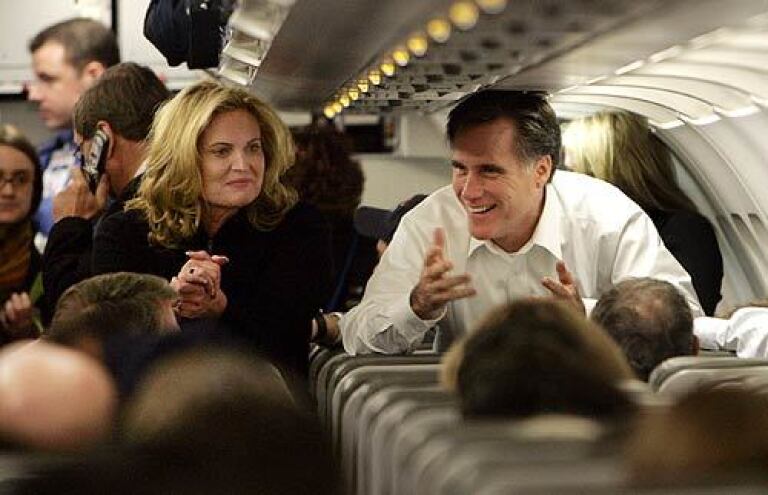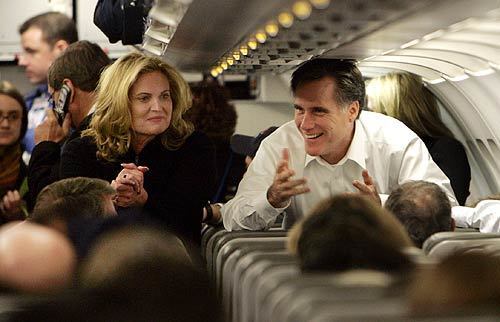 GOP hopeful Mitt Romney and wife Ann talk with campaign staffers before their plane takes off for New Hampshire.
(Gina Ferazzi / Los Angeles Times)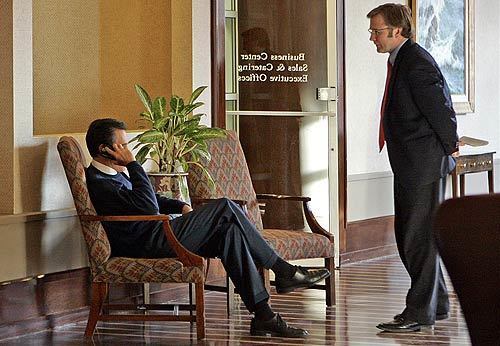 Mitt Romney. who finished second in the GOP caucus in Iowa, takes a cellphone call before a press conference today at the Portsmouth, N.H., Sheraton as his traveling press secretary, Eric Fehrnstrom, looks on.
(Gina Ferazzi / Los Angeles Times)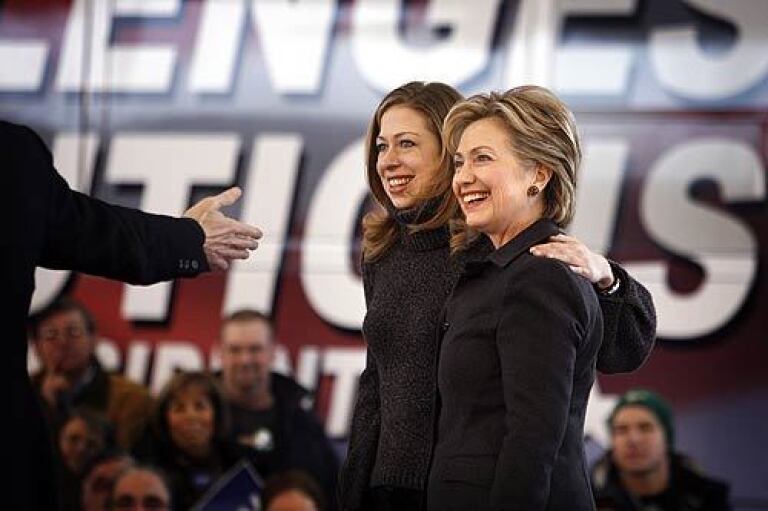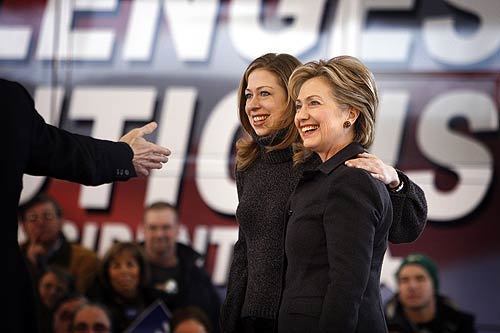 Sen. Hillary Rodham Clinton campaigns at the GFW Aeroservices hangar in Nashua, N.H., with her daughter, Chelsea, and her husband, former President Bill Clinton, whose hand gestures toward them.
(Barbara Davidson / Los Angeles Times)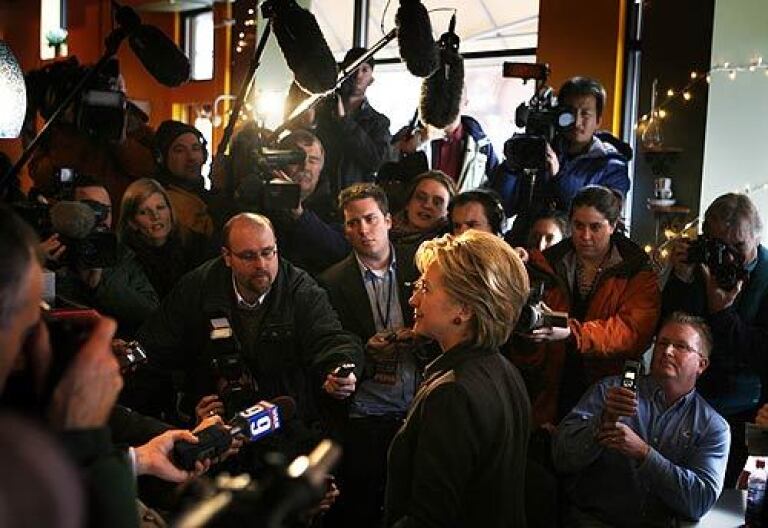 Clinton speaks to supporters and members of the media Friday at a cafe in Manchester, N.H. Coming off a third-place finish in the Iowa caucus, Clinton is looking to rebound in the New Hampshire primary Tuesday.
(Barbara Davidson / Los Angeles Times)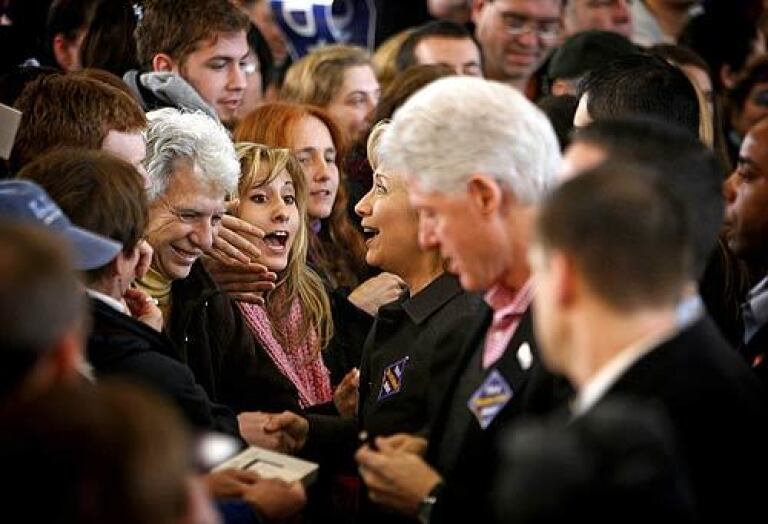 Democratic Sen. Hillary Rodham Clinton of New York campaigns with her husband, former President Bill Clinton, at the GFW Aeroservices hangar in Nashua, N.H.
(Barbara Davidson / Los Angeles Times)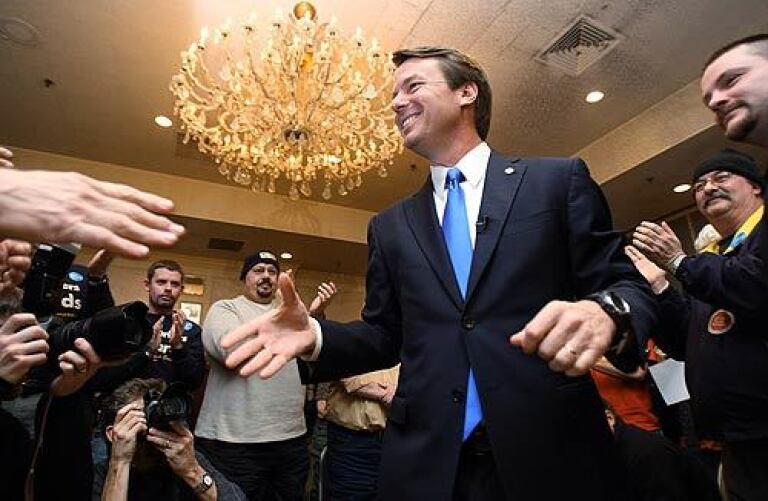 Democratic presidential candidate and former Sen. John Edwards greets supporters during a campaign stop at the Radisson hotel in Nashua, N.H.
(Mario Tama / Getty Images)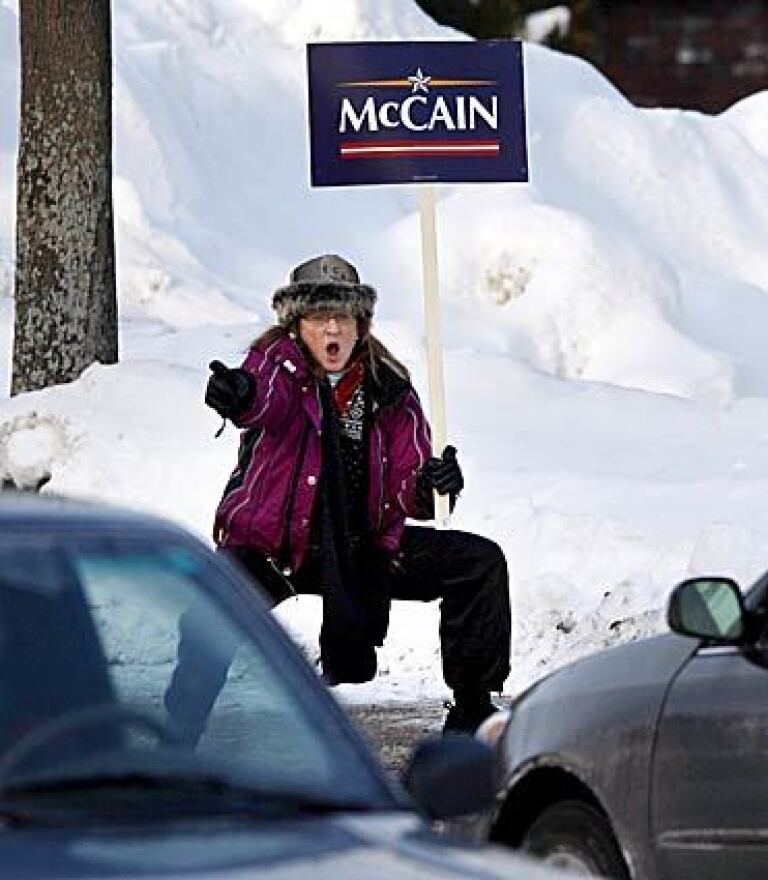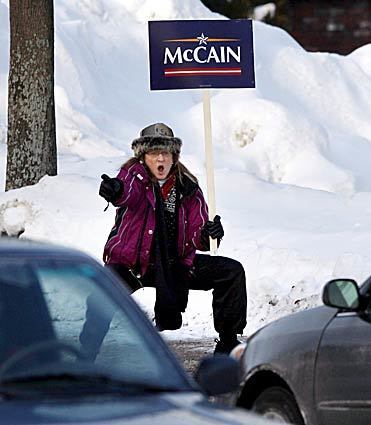 Nancy Weyl of Rochester, N.Y., shouts at passing cars as she shows her support for Arizona senator and Republican presidential hopeful John McCain. New Hampshire's primary -- the nation's first -- will be held Tuesday.
(Matt Campbell / EPA)
A police officer surveys the scene near Moulton's Market in Amherst, N.H., where a crowd had gathered to see presidential candidate Barack Obama.
(Rick Loomis / Los Angeles Times)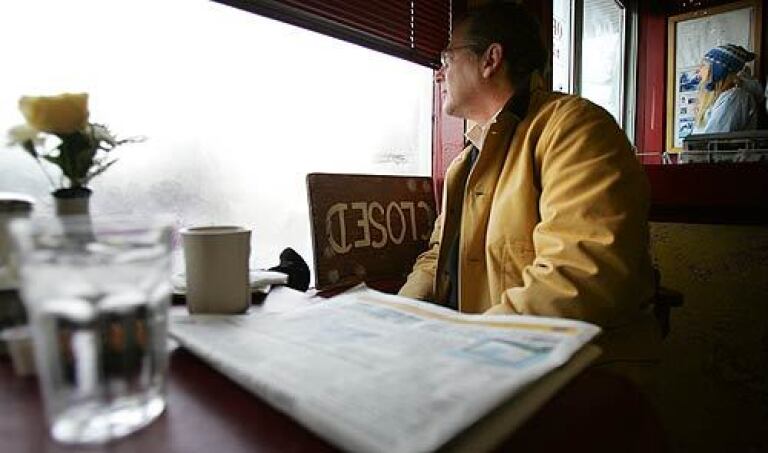 A patron peers out a foggy window to watch Mitt Romney's arrival at the Golden Egg restaurant in Portsmouth, N.H.
(Gina Ferazzi / Los Angeles Times)
Los Angeles Times Staff Writer
WASHINGTON —
It was political magic versus machine in Iowa on Thursday, and the magic won, as rookies in both parties scored upset victories over more seasoned candidates by attracting legions of new voters with bold calls for change.
But starting in New Hampshire on Tuesday, the challenge for the winners -- Democrat Barack Obama and Republican Mike Huckabee -- is to make their political magic work with voters in other states who may be less receptive to their anti-establishment message.
The risk for Obama and Huckabee is that they may suffer the fate of past insurgents who soared in early tests only to fizzle in late primaries. In 1984, Democrat Gary Hart had a surprise win in New Hampshire, but faded fast and was eventually trounced by the establishment's candidate, Walter F. Mondale.
The road ahead is clearly rougher for Huckabee than for Obama, who has plenty of money and a strong organization in place to build on his Iowa victory. Huckabee, like Hart before him, does not.
Both Iowa winners scored their upsets with similar political tools: populist calls for change and a degree of personal magnetism that set them apart from more traditional opponents who had once seemed invincible -- Sen. Hillary Rodham Clinton (D-N.Y.) and former Massachusetts Gov. Mitt Romney.
Iowa voters, embracing a Democrat who was a pied piper to students and a Republican who plays in a rock band, seemed to be sending the New Year's message: Out with the old, in with the new. Thousands of new voters flocked to the polls.
Even Republicans, who have dominated the federal government for more than a decade, seemed receptive to the call for change.
"People really are more important than the purse," Huckabee said, explaining how his poorly funded, disorganized campaign could beat the well-financed Romney juggernaut.
Yet New Hampshire may play to other candidates' strengths in ways that Iowa did not.
Clinton has much deeper political roots in the Granite State than in Iowa, where her husband never campaigned heavily for his own elections. And on the GOP side, the state's less-conservative Republican electorate has favored Romney and Sen. John McCain (R-Ariz.).
Moreover, there are far fewer of the evangelical conservatives who were key to Huckabee's Iowa victory.
And the new front-runners still confront the deep reservations among many of their parties' voters. For Huckabee, there is an idiosyncratic record that includes tax increases while he was governor of Arkansas. For Obama, a senator from Illinois, there is concern about a campaign message that some see as too vague and abstract, too lacking in specifics on key issues.
Both must address questions about their lack of experience in foreign affairs.
Those potential weaknesses surely will be exploited by their opponents, who include some of the best-funded, best-organized and most skillful campaigners in American politics.
Later this month, analysts say, Huckabee and Obama will campaign on more favorable ground in South Carolina, where evangelicals are influential among Republicans and African Americans are a crucial Democratic constituency.
Beyond the specifics of individual states, however, what remains to be tested is how far-reaching Iowa voters' evident desire for a new brand of political leadership will prove to be. How widespread is the desire for leaders who are more inspirational and unorthodox than Clinton and Romney, who emphasized experience and competence, not charisma?
Polls suggest the clamor for change is bipartisan: 72% of New Hampshire voters -- including 49% of Republicans -- think the country is seriously moving on the wrong track, according to a recent Los Angeles Times/Bloomberg poll.
But William A. Galston, a Clinton supporter who is a fellow at the Brookings Institution, said it was still unclear whether voters in later-voting states would prefer Obama's fresh face to Clinton's experience. Unless Obama delivers a knockout blow in New Hampshire, Galston said, the question will be confronted anew when the pace of campaigning slows after the New Hampshire primary.
"If voters have a chance to take a deep breath [before the multistate primary day of Feb. 5], will the enthusiasm for Obama give way to sober second thoughts?" Galston asked. "Who knows?"
Iowa's results showed that young people were more ready to take a chance on a fresh face, according to polling of people entering the caucuses; those polls showed a yawning generation gap. Obama drew support from 57% of voters in the 17-24 and 25-29 age categories. Clinton scored heavily among voters 60 and older.
Older voters did not dominate the caucuses as they have in the past: Voters under 30 made up 23% of the people attending the Democratic caucus -- about the same percentage as those over 65.
"Young people answered the call yesterday all across Iowa," Obama told an overflow crowd at a Concord, N.H., high school.
Clinton, meanwhile, conceded she needed to do better among younger voters, but tried to turn the debate again to a question of competence and experience.
"This is especially about all of the young people in New Hampshire who need a president who won't just call for change, or a president who won't just demand change, but a president who will produce change, just like I've been doing for 35 years," she said.
Huckabee also polled well among young voters: 40% of voters between 17 and 24 entered the caucuses backing him.
One sign of the anti-establishment strain in the younger generation of Iowa Republicans: 21% of that age group supported Rep. Ron Paul of Texas, the long-shot candidate who has challenged his party's orthodoxy.
No one knows if youth turnout will be as much of a factor in other states. But one other source of Obama's strength -- independent voters -- surely will be. In Iowa, independent voters preferred him over Clinton by a margin of 41% to 17%. In New Hampshire, independents can vote in either party's primary, and polls indicate they are far more likely this year to vote in the Democratic contest.
Huckabee's challenge will be to expand his appeal to independents and more moderate conservatives. In Iowa, he dominated among conservative voters but lagged behind McCain and Romney among independents and voters who identified themselves as moderates.
In New Hampshire, Romney took the message of Iowa voters and tried to turn it to his advantage by casting McCain as the candidate of the status quo.
"The message I got out of Iowa," Romney told reporters, "was that people in Iowa said they want change. The two Washington insiders -- John McCain and Hillary Clinton -- both lost, John McCain by a lot."
Perhaps the biggest surprise of Iowa was that the call for change struck a chord among Republicans. It is a natural theme and impulse among Democrats because they are trying to replace a Republican president. But GOP candidates had to tread gingerly around President Bush to avoid alienating voters who still admire him.
But Huckabee was not shy about differing with Bush, and he openly challenged his party to pay more attention to lower- and middle-class families who are struggling in an economy most Republicans like to hail.
"The change message worked as well in the Republican primary as it did in the Democrats'," said GOP pollster Neil Newhouse, who is affiliated with no presidential candidate. "I thought populism won last night."
Times staff writers Michael Finnegan, Maria L. La Ganga and Peter Nicholas in New Hampshire contributed to this report.
---
Must-read stories from the L.A. Times
Get the day's top news with our Today's Headlines newsletter, sent every weekday morning.
You may occasionally receive promotional content from the Los Angeles Times.