Tracking down guns used in crimes and terror attacks is still surprisingly low-tech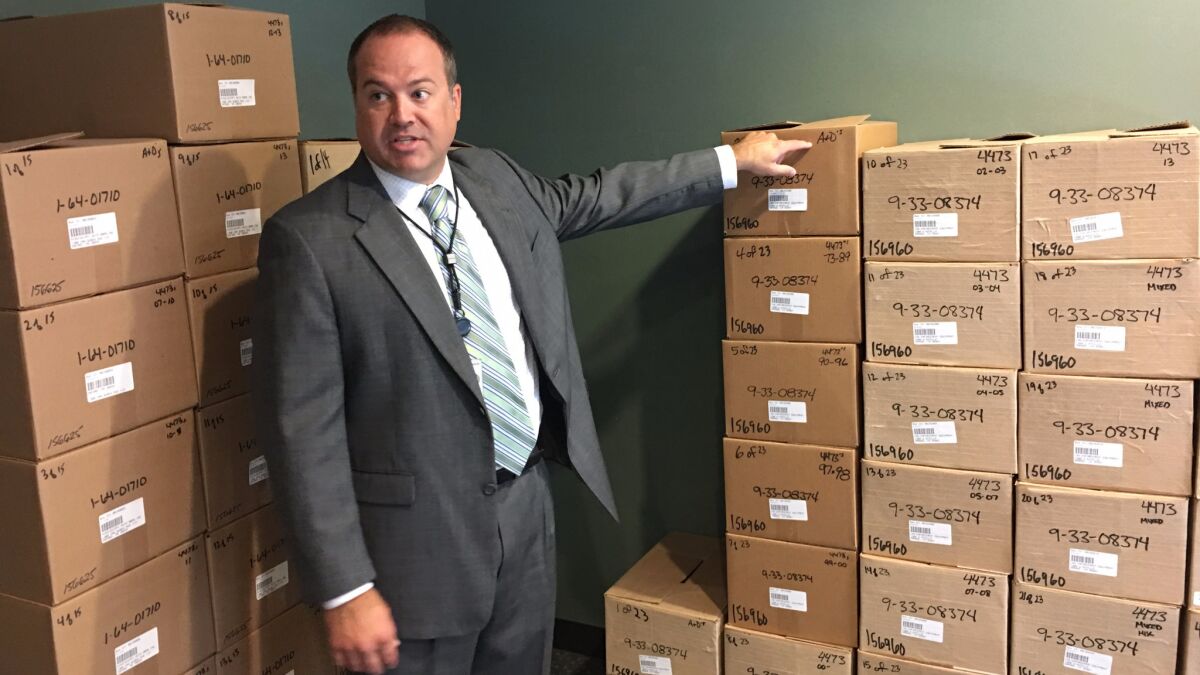 When Syed Rizwan Farook and his wife fatally shot 14 people in San Bernardino last December, law enforcement agents raced to track down one of their best leads: the guns used in the terror attack.
Within hours, they had identified 24-year-old Enrique Marquez Jr., Farook's neighbor, who provided authorities with critical background about the couple and was later indicted on terrorism and firearms charges.
Yet despite the urgency of the gun trace — and hundreds of similar searches conducted every day — it was a decidedly low-tech affair behind the scenes.
Rather than using supercomputers and government databases, gun traces today are still done in largely the same way they were in the 1970s, often relying on dusty files, microfilm, telephone calls and old-fashioned shoe leather.
"This is much harder than the average person thinks it should be," said Neil Troppman, a manager at the Justice Department center that runs the traces.
At a sprawling, nondescript office in Martinsburg, W.Va., the department's Bureau of Alcohol, Tobacco, Firearms and Explosives combs through nearly 1,200 requests each day from law enforcement agents nationwide seeking to trace a gun to its first retail sale.
"It's important to know where the gun was first sold," Troppman said. "That is a very good clue for law enforcement."
The work would be far easier for ATF's staff of 50 employees and 300 contractors if there were a national electronic database of gun owners and sales. But the National Rifle Assn. and gun-rights advocates have opposed such an idea, warning against allowing the government to collect such information.
The result is that traces can be tedious and time-consuming, sometimes requiring hours of scrolling through microfilm, digging through boxes, working the telephone or driving to gun stores, according to officials at ATF's National Tracing Center, which is responsible for tracking guns found at crime scenes.
It starts with a request, either sent electronically or via fax, from a law enforcement agency seeking a gun's origins.
An analyst next plugs the serial number into a privately operated database maintained by about 40 large firearms makers or wholesalers. They voluntarily set it up after being unable to individually keep up with the flood of requests. Though companies own the database, federal officials have access to search serial numbers to learn the name of the retailer that received the weapon.
If the gun maker is not part of the database, federal officials must call the manufacturer to learn where the gun was distributed.
The analyst next calls the wholesaler or retailer, which is obligated under a 1968 law to keep records concerning every weapon it receives, and who bought it.
In addition to a ledger of their sales, retailers must have gun buyers fill out a federal form, known as 4473, which includes their name, address, phone number, physical description and other personal information, including criminal record, citizenship and drug use. They must also disclose whether they are purchasing the weapon for themselves or someone else. Such information is forwarded to the investigating agency that requested it.
"We get this first purchaser and figure out where he sold it or who he gave it to," said ATF Agent Dave Scott, chief of the firearms tracing branch. "Now they have another person to talk to."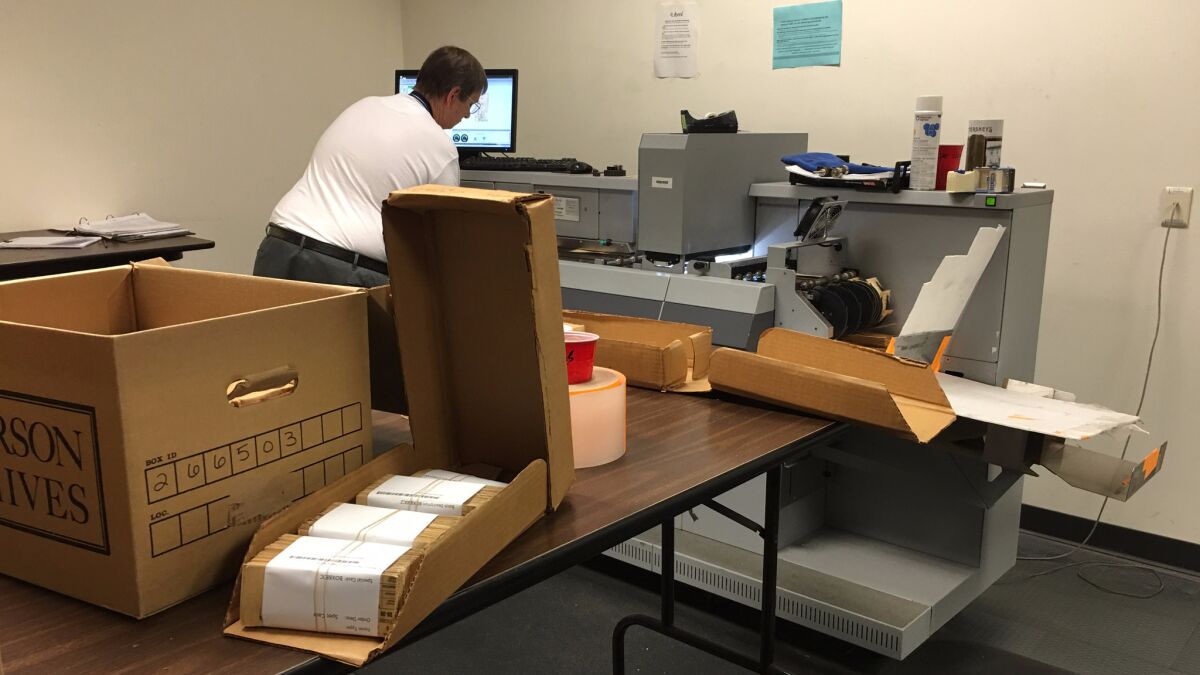 The job is more complicated when the dealer has gone out of business.
By law, defunct retailers, wholesalers and manufacturers are required to ship their records to ATF. And truckloads arrive at the center each day — so much, in fact, that the 140,000-square-foot center's floor buckled under the weight a few years ago.
Now the ATF keeps only 10,000 boxes inside the center, and the rest are stored outside in a row of nine rented trailers.
And the boxes keep coming. Since January, the agency has received about 2 million 4473 firearms transaction forms and ledgers a month, a 67% increase over what it had handled last year.
"We are not really sure why we have seen this increase," said Troppman. "Maybe more are going out of business. We don't know. It's a cycle. We go through a period where we get an influx of this work. It goes up and it goes down."
The newly arrived records are sorted and cataloged before being digitized on four industrial-sized scanners that churn through a total of about 400,000 records a day. The form and ledgers are uploaded into an ATF database of nearly 250 million firearms records from defunct vendors.
That total will increase to 800 million in coming weeks when the agency finishes digitally converting its collection of records on microfilm. For decades, the ATF had converted paper records to microfilm to reduce storage costs and to make searching records easier.
It's not a database in the true sense of the word — the ATF calls it a repository. Because it is precluded by law from creating a database or registry of gun owners or firearm transactions, the ATF is required to scan the records in such a way that they can't be queried or turned into searchable files.
In essence, the agency has created a virtual filing cabinet that must be combed much the same way an analyst would flip through a real one, rather than punching in a serial number to locate a record.
And since dealers are not required to use standardized sales ledgers, those records arrive in all sorts of formats. Some come on floppy discs, hard drives, large pieces of paper or index cards. They are not always in the best shape — analysts routinely process moldy, torn or even singed paperwork.
Recently, analysts opened one box to find a trash bag filled with soggy forms in a puddle of water, apparently recovered after some sort of disaster. The worst offenders end up in a display case nicknamed the "hall of shame."
Nat Avella, a supervisory firearms tracing specialist, has been chasing guns for 23 years. He traced the guns tied to Timothy McVeigh, who was responsible for the 1995 Oklahoma City bombing, and by the two teenagers who killed 13 and wounded 20 more at Columbine High School in 1999.
His analysts helped determine that the assault rifles used in the San Bernardino terrorist attack in December had been purchased at Los Angeles-area sporting goods stores, and they worked on recent high-profile cases involving the slayings of police officers in Dallas and Baton Rouge, La.
One recent trace led to the discovery of a murder victim. The man's stolen gun was found at a crime scene and, armed with ATF's trace information, police discovered his body at home when they went to check out the lead.
"We see so many a day," Avella said. "It is satisfying when you trace a gun to somebody else, and you know they can maybe find more suspects or provide a lead."
---
Must-read stories from the L.A. Times
Get the day's top news with our Today's Headlines newsletter, sent every weekday morning.
You may occasionally receive promotional content from the Los Angeles Times.