In an election about race, gentrification and party loyalty, Atlanta waits for a recount to determine its next mayor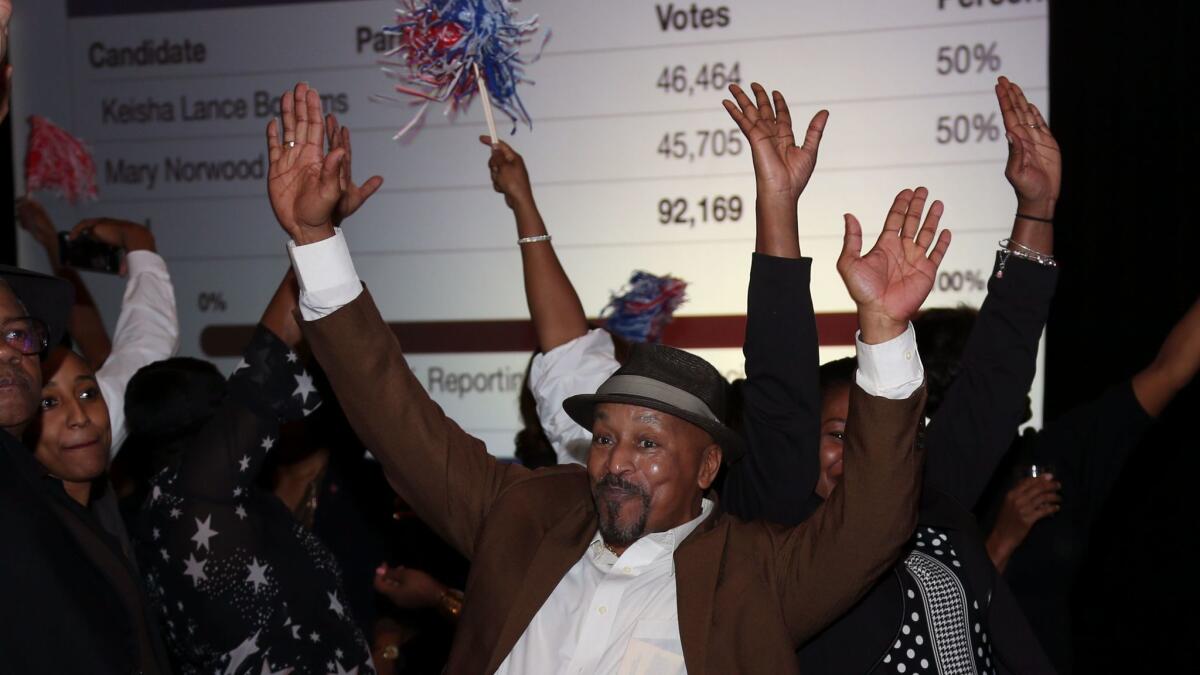 Reporting from Atlanta —
It was an agonizing choice for Gerald Griggs.
As a black man — a 39-year-old attorney and community activist — he felt the weight of civil rights history here and his loyalty to Democrats pulling him toward the black mayoral candidate, Keisha Lance Bottoms, a city councilwoman and the standard bearer of Atlanta's political establishment.
But as an opponent of the increasing inequality that rapid gentrification has brought to Atlanta, he was tempted to vote for a candidate who seemed more likely to break with the status quo, Mary Norwood, an independent who is white.
"Like so many people in the city, I'm torn. I want change," Griggs said before casting his vote Tuesday. "While it seemed on the outside that the city was progressing for everyone, it was in fact not progressing. We have some of the greatest wealth inequality of any city in the nation."
In the end, he went for the establishment black candidate. Bottoms declared victory early Wednesday after the initial tally put her ahead by 759 votes, but now awaits the results of a recount that officials said could take several days.
If it confirms Bottoms' lead, Atlanta will continue its streak, beginning in 1973, of electing only African American mayors.
"I believe in the dream that is Atlanta," Griggs said, noting he had grown up under the spell of Maynard Jackson, the city's first black mayor, and Andrew Young, another Atlanta mayor as well as a civil rights icon.
The results suggest that race was a primary factor in how people voted, with residents in the poorer, black neighborhoods in the south of the city overwhelmingly favoring Bottoms and those in the wealthier, white neighborhoods in the north backing Norwood.
That polarization, along with changing demographics and black turnout, ultimately defined the mayoral race, said Andra Gillespie, a political science professor at Emory University.
"The proportion of black voters was just enough that they could push Keisha Lance Bottoms over the top," she said.
The mix of voters has changed as Atlanta has become wealthier and whiter — with African Americans falling from 61% of the population in 2000 to 54% in 2010. So far, the black establishment has prevailed, as it appears it will this time, but it is unclear how long that will last.
This is the second time in a decade the city has come close to electing a white mayor. In 2009, Norwood trailed the current mayor, Kasim Reed, by 620 votes after the initial tally. Reed went on to win by a margin of 714 votes in a recount.
If Bottoms, 47, keeps her lead, she would become the city's second female black mayor.
A city councilwoman since 2010, she won endorsements from key Democratic figures such as Reed, Young and U.S. Sens. Kamala Harris and Cory Booker.
But some would-be allies saw her as a symbol of the status quo, citing her ties to Reed, whose administration has been dogged by an ongoing federal investigation into city contracting. She has also been criticized for drawing two city salaries — as a city councilwoman and head of the Atlanta and Fulton County Recreation Authority — and failing to pay her water bills in full.
Norwood, a 65-year-old city councilwoman and longtime community organizer from the tony neighborhood of Buckhead, bills herself as a populist outsider and has earned a reputation for doggedly attending community meetings across the city and making herself widely available to constituents. Georgia Democrats cast her as a secret Republican, highlighting her links to GOP donors and hesitancy on issues such as racial profiling.
Still, several black leaders, including former Mayor Shirley Franklin and City Council President Ceasar Mitchell, endorsed Norwood.
"This election is about character, transparency and integrity," Franklin said. "Not race."
"By her resume, knowledge of issues, demonstrated commitment to public service and integrity, Norwood is easily the better candidate," liberal columnist Jay Bookman wrote in the Atlanta Journal-Constitution.
As Bottoms declared victory early Wednesday, she declared she was committed to working for the good of all residents, extending an olive branch to Norwood's supporters.
"I look forward to engaging with you, making sure that our city continues to move forward," she said. "And for those who did not support me, I look forward to working with you as well because this is still a city for all of us."
With Atlanta elections likely to continue to be closely contested as the city's demographics shift, longtime political observers said future mayoral candidates will probably have to work harder to appeal to a broader cross-section of voters.
"We have to acknowledge there's racially polarized voting in the city," Gillespie said. "Candidates are going to have to work out how to understand voter concerns and bring voters together in a way that unites communities and doesn't divide."
Ultimately, Gillespie said, a white mayor would not spell the end of African American power and political prominence in the city.
"There's been a long-term investment in the idea that Atlanta demonstrates its racial progressivism by having top-level African American political leadership," she said. "If Mary Norwood were elected mayor, that symbol is gone. Atlanta would have to rethink what 'the city too busy to hate' looks like."
While Griggs sees division across the city, he hopes to press Bottoms and other politicians to tackle the underlying issues of economic inequality, affordable housing and criminal justice reform that have left many black voters dissatisfied with the status quo.
"What you have now is a city that is divided," he said. "We got to pull the city back together by making sure economic prosperity flows to the entire city and that the policies that come from City Hall reflect the values of Atlanta — black and white."
Jarvie is a special correspondent.
Sign up for Essential California for news, features and recommendations from the L.A. Times and beyond in your inbox six days a week.
You may occasionally receive promotional content from the Los Angeles Times.