Austin bombings revive debate over domestic terrorism designation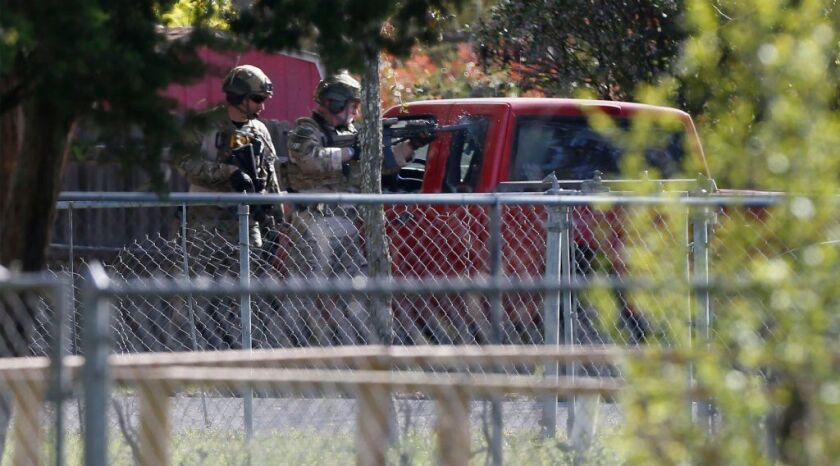 Reporting from Washington —
As authorities frantically searched for clues in a string of bombings in Austin, Texas, the White House appeared to quash the notion that the serial attacks could be considered an act of domestic terrorism.
It was far from the first time the question had come up.
"There is no apparent nexus to terrorism at this time," Press Secretary Sarah Huckabee Sanders tweeted Tuesday about the Austin bombings — hours before Mark Anthony Conditt blew himself up in his sport-utility vehicle early Wednesday as law enforcement authorities in Texas closed in.
Describing a particular act or acts of violence as domestic terrorism is not just a legal question. Particularly during President Trump's time in office, "terrorism" has become a highly politicized term, one heavily freighted with questions surrounding race, ethnicity, religion and immigration status.
The Austin bombings, and debate about what to call them, were reminiscent of previous deadly episodes on U.S. soil. Was it terrorism when a sniper-style gunman killed dozens at an outdoor concert in Las Vegas? Or when a young white supremacist was identified as the driver who rammed his car into a crowd of anti-Nazi protesters in Charlottesville, Va., killing a woman? Or when an assailant with a furious grudge against Republicans gunned down GOP members of Congress at a softball practice?
Here is a look at some of the legal and political issues surrounding the concept of domestic terrorism.
Is there a definition of domestic terrorism in U.S. law?
Yes. Section 802 of the Patriot Act, passed after the attacks of Sept. 11, 2001, defines domestic terrorism as an act "dangerous to human life" that violates state or federal criminal laws, if it intended to do any of the following : intimidate or coerce a civilian population; seek to influence the policy of a government by intimidation or coercion; or attempt to affect the conduct of a government by mass destruction, assassination or kidnapping.
How does that translate into charges against a given suspect?
It usually doesn't — in large measure because the Patriot Act doesn't specifically define domestic terrorism as a crime, and perpetrators are more likely to face a variety of other charges. The Patriot Act expanded government powers to investigate terrorism, and some of those powers apply to instances of domestic terrorism. So what the act does, according to the American Civil Liberties Union, is expand the type of conduct that can be investigated as part of a terrorism inquiry, not designate a criminal charge that can be used in court.
Does an attacker's motive matter? How about the identities of the victims?
As the Austin bombings began to garner national attention, early victims included two African American men who were killed and an elderly Latina who was injured. On Monday, three Democratic members of Congress pushed for the case be treated as an ongoing terrorism attack. Reps. Bennie Thompson of Mississippi, Cedric L. Richmond of Louisiana and Sheila Jackson Lee of Texas also called for a determination of whether the bombings were ideologically or racially motivated.
"We cannot stand idly by while our communities are under attack," they wrote in a joint statement. "This has become a national security issue, and the full investigative force of the federal government must be focused on stopping these attacks."
Motive does matter, especially when it is shown that an attacker has targeted a particular group. Legal scholars point out that in terrorism-style acts, hate-crime designations can result in considerably more stringent sentencing.
How about the identity of the perpetrator?
In recent months, critics have pointed out a pattern: When the perpetrator is white, mass killings have often failed to generate a speedy or forceful response from the White House. By contrast, Trump swiftly leaped into the fray after the nightclub massacre in Orlando, Fla., in 2016, when he was a candidate; and the mowing down of pedestrians on a bike path in New York City last year — both perpetrated by attackers who were Muslim.
In the New York attack, charges against Sayfullo Saipov, an Uzbek immigrant who voiced support for Islamic State, included providing material support for a terrorist organization. Trump expressed hopes he would be executed.
Public profiling of an attacker's religion, which often precedes investigative findings and criminal convictions, troubles some rights groups. "It is deeply problematic that when it is someone who is Muslim, or perceived to be Muslim, all sorts of dire ramifications come into play," said Hina Shamsi, director of the ACLU's national security project.
Sentiment toward Muslims has more often come into play involving overseas attacks. Trump routinely weighs in on foreign strikes before the circumstances are fully known. On several occasions, he has characterized incidents as terrorist attacks before local officials are prepared to do so. And the president has also repeatedly used foreign attacks as an occasion to rail against allied governments for insufficient toughness toward Islamic extremism.
What has the Trump administration said about the outcome in Austin?
Law enforcement officials took a somber, measured tone in describing the events early Wednesday in Round Rock, Texas, outside Austin, where Conditt blew himself up as members of a SWAT team approached. Trump, though, struck an almost celebratory note. "AUSTIN BOMBING SUSPECT IS DEAD," he tweeted Wednesday. "Great job by law enforcement and all concerned!"
So was the string of bombings in Austin terrorism?
It's too soon to say. With the suspect dead, much remains uncertain: whether more bombs were planted, whether Conditt acted alone, whether some larger ideology or political aim underpinned the bombings. Authorities are studying a cellphone recording of Conditt talking obsessively about the types of bombs he assembled. It was, Austin Police Chief Brian Manley told reporters Wednesday, "the outcry of a very challenged young man."
---
Must-read stories from the L.A. Times
Get all the day's most vital news with our Today's Headlines newsletter, sent every weekday morning.
You may occasionally receive promotional content from the Los Angeles Times.