Loretta Lynch visits Baltimore, meets Freddie Gray's family, mayor, police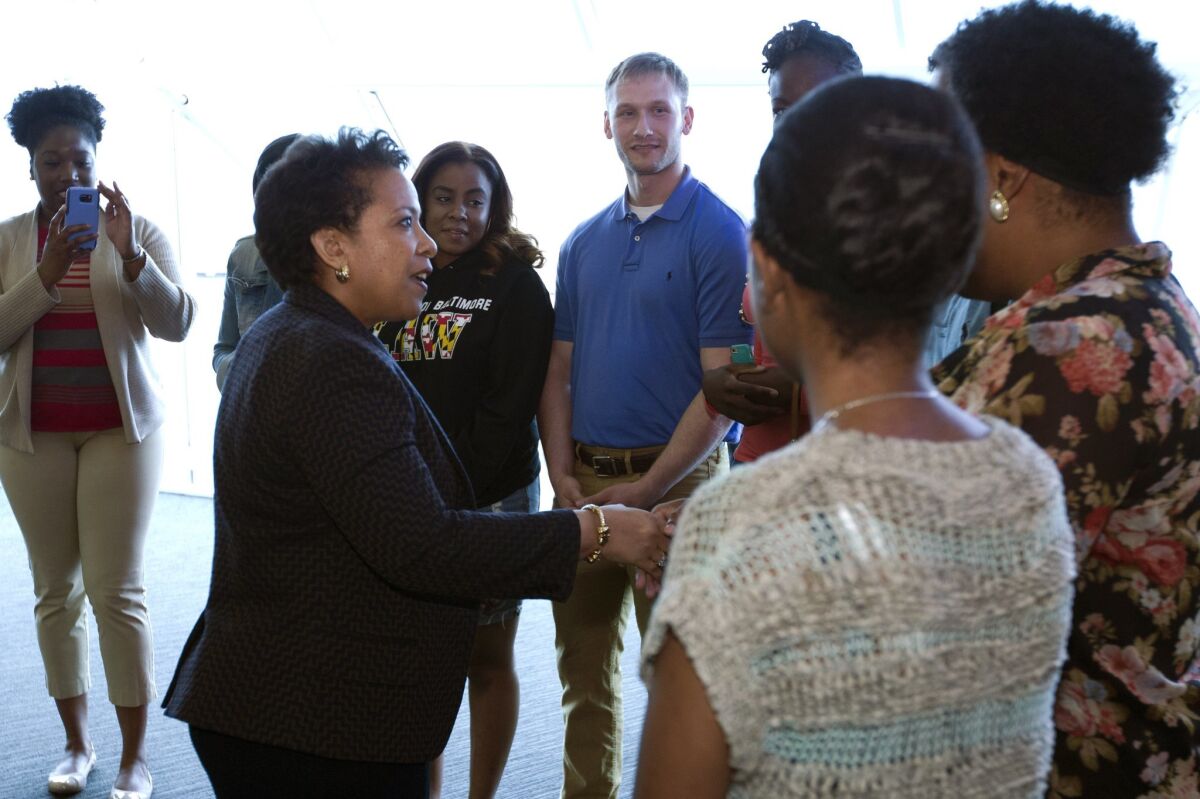 With the curfew canceled and National Guard troops withdrawing from the city, Baltimore faced the physical task of rebuilding after last week's rioting and looting, while political leaders were looking at the even more difficult job of rebuilding trust in the emotionally charged city.
Freddie Gray last month was fatally injured after his arrest, setting off protests, riots and looting, and later the arrest of the six officers involved in the case.
Though the situation has improved, just how tense the city remained was clear on Monday when the media falsely reported that another black man had been shot by cops. Police quickly quelled the rising temperature on the street by announcing that they had not fired any shots.
Amid those concerns, Loretta Lynch paid her first visit to Baltimore since she was sworn in as the nation's 83rd attorney general on April 27. She met with members of Gray's family, community and civic leaders and later with police.
Her predecessor, Eric H. Holder Jr., visited Ferguson, Mo. when riots scarred that city after a confrontation between an unarmed African American man, 18-year-old Michael Brown, and a white police officer ended with Brown dead in the street.
No details were released about Lynch's comments to Gray's relatives, who refused to answer questions about the session. The s Justice Department has already announced that it is investigating the possibility that Gray's civil rights were violated.
At her first stop, in the student center of the University of Baltimore, Lynch thanked political and community leaders and said it was inspiring to see people come together to reclaim the city.
"This is a flashpoint situation," Lynch told the first group, which included political figures. "We lost a young man's life and it begins to represent so many things."
Later, Lynch met and praised police officers who were on duty during last week's demonstrations, when more than 100 officers were injured and nearly 500 people were arrested.
"Thanks to all of you. I'm looking at the hardest-working police officers in America," said Lynch, according to media pool reports from the scene. "To all of you on the front lines, I want to thank you. You really have become the face of law enforcement."
Gray died April 19, a week after he was arrested by Baltimore officers, who had placed him in a police van that would deliver him to the precinct headquarters. But Gray, handcuffed with feet shackled, arrived unconscious and with a severed spine.
Lynch's visit comes days after Baltimore State's Attorney Marilyn J. Mosby announced criminal charges against the six officers involved in Gray's arrest and transport. The six, who face charges ranging from assault to second-degree murder, are free on bail.
City officials last year requested Justice Department help in examining police practices and procedures, a long-simmering issue in Baltimore that became more urgent after a Baltimore Sun series found the city had paid nearly $6 million since 2011 in court judgments and settlements for lawsuits alleging brutality and other misconduct.
"I have worked on this issue for years," Mayor Stephanie Rawlings-Blake said at her meeting with Lynch. "We can't afford to fail. The relationship between police and the community is like a marriage."
The death of Gray came in a year when the stressful relations between the African American community and police has become a national issue. In addition to the Ferguson case, there have been racially charged cases in North Charleston, S.C.; Staten Island; Tulsa, Okla.; and Cleveland.
The peak of the Baltimore rioting and looting was April 27 in the area around Penn North. More than 235 businesses were damaged, according to the Baltimore Development Corp., which is affiliated with the city and is charged with helping economic development.
But it was the looting and burning of the CVS store, at Pennsylvania and North avenues that became the symbol of the rioting, just hours after Gray's funeral. The store remains closed along with a CVS store on West Franklin Street. Three other damaged stores have reopened.
CVS is expected to reopen the store at Penn and North, though the timetable is unclear, company officials said.
"We have a long history of serving inner-city communities and are 100% committed to serving our patients and customers in Baltimore. We are working diligently to formulate our rebuilding plans and hope to make an announcement in the near future," Mike DeAngelis, a company spokesman, said in an email to the Los Angeles Times.
Follow @latimesmuskal for national news
---
Must-read stories from the L.A. Times
Get the day's top news with our Today's Headlines newsletter, sent every weekday morning.
You may occasionally receive promotional content from the Los Angeles Times.