Black officers and court officials, growing in numbers, hope to rethink U.S. policing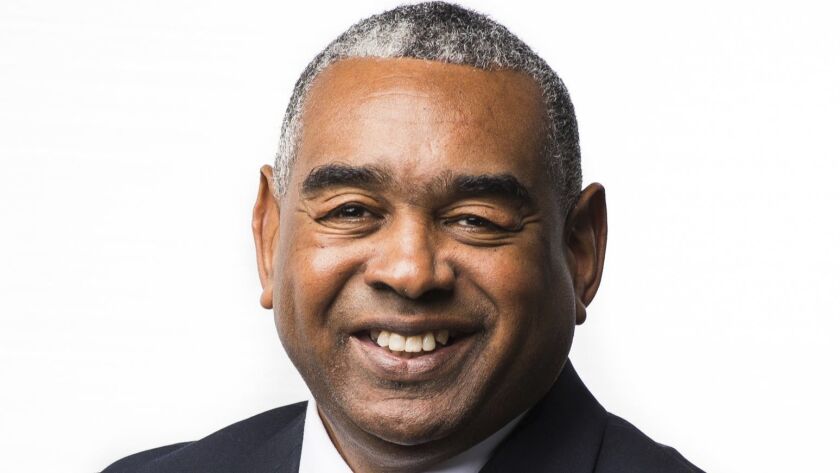 Reporting from Birmingham, Ala. —
Veteran Alabama law enforcement officer Mark Pettway grew up in a black neighborhood called "Dynamite Hill" because the Ku Klux Klan bombed so many houses there in the 1950s and '60s.
Now, after becoming the first black person elected sheriff in Birmingham — on the same day voters elected the community's first black district attorney — Pettway, 54, sees himself as part of a new wave of officers and court officials tasked with enforcing laws and rebuilding community trust fractured by police shootings, mass incarceration, and uneven enforcement that critics call racist.
In a state where conservative politicians typically preach about getting tough on crime, Jefferson County's new sheriff ran and won on an alternative message. He favors decriminalizing marijuana, opposes arming school employees, supports additional jailhouse education programs to reduce recidivism and plans for deputies to go out and talk to people more often, rather than just patrolling.
"Going forward we need to think about being smarter and not being harder," said Pettway, a Democrat.
While the nation's law enforcement officers are still mostly white men, and groups including the American Civil Liberties Union and Black Lives Matter call for sweeping changes in the criminal justice system, minorities appear to be making gains nationwide.
In Pettway's case, strong turnout by African American voters, combined with national concern over police shootings of unarmed people of color, helped him defeat longtime Sheriff Mike Hale, a white Republican, says Angela K. Lewis, interim chairwoman of political science at the University of Alabama at Birmingham.
Winners in other cities attributed their success to similar factors.
Houston voters elected 17 black women as judges in the midterm. Even before the election, nearly the entire criminal justice system in the Georgia city of South Fulton was run by black women, including the chief judge, prosecutor, chief clerk and public defender. They're offering more chances for criminal defendants to avoid convictions through pretrial programs and increased use of taxpayer-funded lawyers to protect the rights of the accused.
Chief Judge Tiffany C. Sellers of South Fulton's municipal court says officials also explain court procedures in detail to defendants, many of whom haven't been in court before and are scared.
"Black and brown people often feel disenfranchised from the system, and I want them to understand what is going on," Sellers said. "At the end of the day they may not like what I did with their case, but at least they know I explained things to them."
Midterm voters in five North Carolina counties elected black Democratic sheriffs for the first time, including Gerald Baker in Wake County. He defeated a longtime Republican incumbent by campaigning on ending the county's participation in a Trump administration program to detain people suspected of being in the country illegally. He also advocated greater police accountability.
The message resonated in a county where a deputy and two highway troopers were charged in the beating of a black man earlier this year. Kyron Hinton suffered injuries including a broken nose, multiple dog bites and a fractured eye socket.
"If we make a mistake out here in the actions that we take, then we should take responsibility for those things," Baker said in an interview after the election.
Yet despite gains by people of color, officials like Baker still represent a minority in U.S. law enforcement.
A Justice Department report released in 2013 showed that law enforcement agencies had become more racially and ethnically diverse over a 26-year period, yet the nation's overall law enforcement community remained overwhelmingly white and male.
Local police departments, which typically patrol inside city police jurisdictions, were about 73% white, the report said. Sheriff's offices, which usually patrol in less urban areas and often operate county jails, were even whiter — about 78%.
The report said research found that African American, Latino and Asian American communities were all underrepresented within police agencies relative to the populations they served. The disparity was greatest among blacks in areas where black population is proportionately largest, the report said.
In Birmingham, Sheriff-elect Pettway of Jefferson County says he wants to increase hiring of minorities and women after he takes office in January. The department's roughly 680-person staff should better reflect the county's population, which is almost evenly split between blacks and whites, he said.
Some of Pettway's positions track those of the National Organization of Black Law Enforcement Executives, which has about 3,000 members from all levels of police work. The group opposes arming teachers and held a conference last year aimed at broadening communication between police and community members.
Pettway says he plans to increase the use of police body cameras, which he said was a big selling point during his campaign.
"People loved that," he said. "With all the things that have been happening in law enforcement, people wanted accountability."
---
Must-read stories from the L.A. Times
Get all the day's most vital news with our Today's Headlines newsletter, sent every weekday morning.
You may occasionally receive promotional content from the Los Angeles Times.