Border agency removes its own chief of internal affairs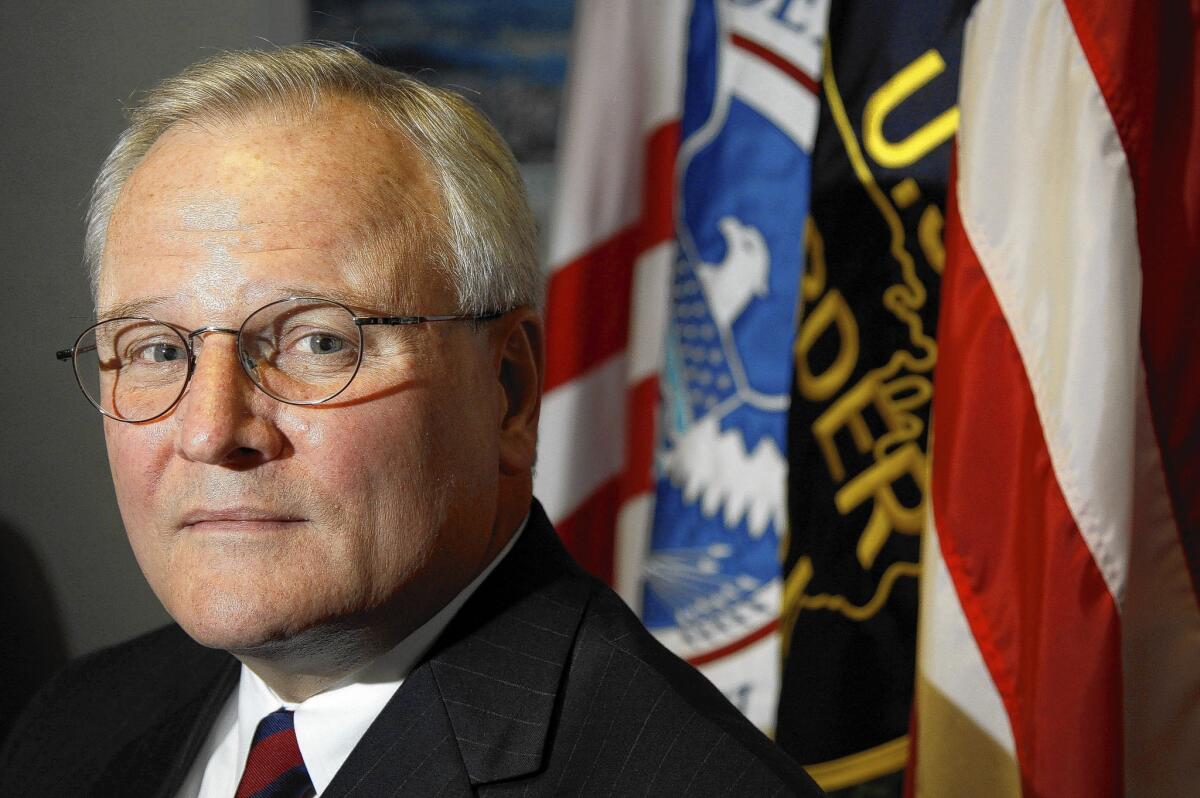 Reporting from WASHINGTON —
The head of internal affairs for U.S. Customs and Border Protection, the federal government's largest law enforcement workforce, was removed from his post Monday amid criticism that he failed to investigate hundreds of allegations of inappropriate use of force by armed border agents, officials said.
James F. Tomsheck had been responsible since 2006 for rooting out misconduct and corruption among the 60,000 border agents, port officers and other officials in Customs and Border Protection, the parent agency of the Border Patrol. He has been shifted to a temporary assignment.
The head of Customs and Border Protection, R. Gil Kerlikowske, asked FBI Director James B. Comey to assign a senior FBI agent to replace Tomsheck with orders to be more aggressive at investigating alleged abuses, officials said. It is highly unusual for a federal agency to bring an outsider in to run internal affairs.
Mark Morgan, the FBI deputy assistant director for inspections, will assume the post this month on an interim basis and focus on "investigating allegations and complaints, specifically regarding use of force," according to Chris O'Neil, a spokesman for Kerlikowske.
The high-level shake-up reflects an attempt by new leaders in the Department of Homeland Security to confront allegations of widespread abuses by America's border security agencies. Members of Congress, advocacy groups and other critics have complained of a systemic lack of transparency or accountability for alleged misconduct and excessive force.
Jeh Johnson, the secretary of Homeland Security, and his top deputy, Alejandro Mayorkas, both promised lawmakers before they took office to address concerns about abuses by federal officers charged with securing the nation's borders. Partly as a result, Customs and Border Protection has sought to impose stricter use-of-force policies in recent weeks.
Senior Homeland Security officials concluded that Tomsheck had not assigned enough investigators to review hundreds of complaints of abuse and excessive force by Border Patrol agents, said a senior official who spoke on condition of anonymity to discuss internal deliberations.
"There will be a complete examination of internal affairs," the senior official said.
For years, Customs and Border Protection officials have refused to tell families of those injured or killed by border agents if internal affairs had determined that an agent had acted improperly, or if any disciplinary action was taken.
Between Jan. 1, 2010, and Dec. 31, 2013, for example, at least 22 people were killed by Border Patrol agents, mostly on the Southwest border, and many more were injured. Hundreds of immigrants and others filed formal complaints of official misconduct, including beatings, sexual abuse and other assaults.
Only 14 agents were disciplined during that four-year period for violating use of force policies, according to data provided to The Times on Monday in response to a Freedom of Information Act request.
Eight of the 14 were suspended, and five were given reprimands. Another agent was demoted or removed from his post, or resigned. Some of the data were blacked out, and the agency did not provide any details of the cases involved or the identities of the agents who were disciplined.
"What happened with these past cases?" asked Chris Rickerd, a border security expert for the American Civil Liberties Union in Washington. "It is one thing to take the important step of changing leadership. But one has to know what happened before."
In some cases, officials told lawmakers and families of survivors that internal affairs investigations were put on hold until criminal investigations by local police, the FBI or other law enforcement agencies were completed. But those results weren't released either.
"Hiding behind that is not healthy and it doesn't serve [the agency] well at all," the senior official said. "The vast, vast majority of people are doing a good job under trying circumstances."
The latest data are consistent with earlier reports that suggest internal affairs rarely found cause for disciplinary actions in shootings and abuse cases.
Records released last month showed that 13 out of 809 abuse complaints sent to the office of internal affairs for official review between January 2009 and January 2012 led to disciplinary action against border agents or officers.
A separate study conducted last year by the Police Executive Research Forum, a group of law enforcement experts, criticized Customs and Border Protection for a "lack of diligence" in investigating deadly force incidents. That study was leaked to The Times in February after agency officials prevented lawmakers from seeing its conclusions.
"It is not clear that CBP consistently and thoroughly reviews all use of deadly force incidents," the study's authors wrote.
As head of internal affairs, Tomsheck oversaw a broad range of investigative and security programs, including background investigations and clearances, misconduct investigations and corruption detection. During his tenure, he expanded the office's presence, adding staff and creating 20 field offices.
But he directed agents away from investigating individual cases of alleged wrongdoing in favor of assisting other agencies, including the Government Accountability Office and the Department of Homeland Security inspector general, in conducting broader audits, the senior official said.
Tomsheck did not return requests for comment Monday. The Nebraska native began as a police officer in Omaha, but spent most of his 34-year law enforcement career in the Secret Service.
Sign up for Essential California for the L.A. Times biggest news, features and recommendations in your inbox six days a week.
You may occasionally receive promotional content from the Los Angeles Times.