Dzhokhar Tsarnaev jury begins deliberating sentence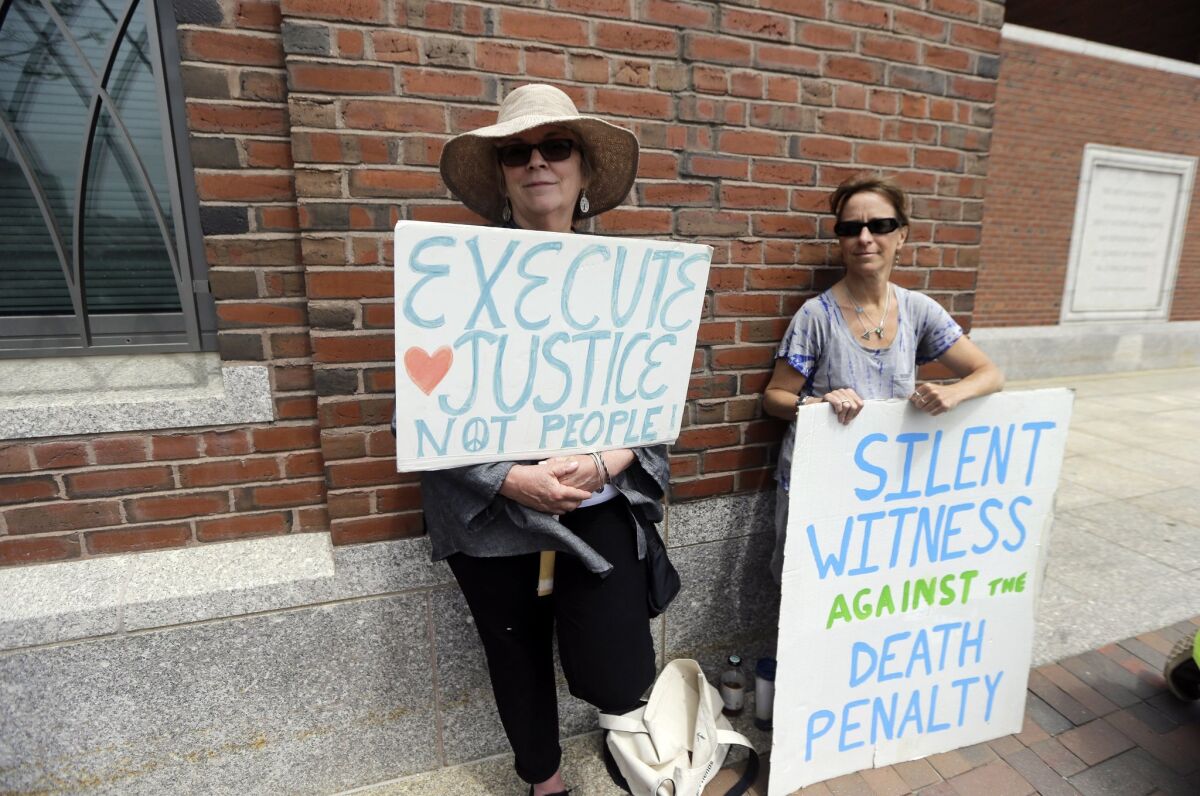 Reporting from Boston —
The jury in the Boston Marathon bombing trial completed its first day of deliberations Wednesday afternoon, seeking to find what the judge described as the "proper punishment" for Dzhokhar Tsarnaev, after hearing prosecutors demand a death sentence for "killing innocents" and defense lawyers urge them "to choose life."
The jury deliberated for about an hour Wednesday after hearing the closing arguments from the two sides.
"No remorse, no apology," Stephen D. Mellin, a federal prosecutor from the Department of Justice's Capital Case section in Washington, said of Tsarnaev. He described the defendant as "a terrorist who felt justified for what he thought was doing the right thing, killing innocents."
Mellin described the loss suffered by one family at the marathon's finish line on April 15, 2013: Eight-year-old Martin Richard bled to death; his sister Jane, 6, lost a leg; their mother, Denise Martin, was blinded in one eye.
Tsarnaev "didn't care because death and misery was what he sought that day," Mellin said. "There is no just punishment for that, other than death."
Mellin recounted the victims screaming in pain in the middle of Boylston Street in "a river of blood" and said Tsarnaev had purposely chosen to explode his bomb at the annual marathon on Patriot's Day in Boston, a school holiday. The prosecutor called the race "a targeted site for terrorism" and said "that makes it even worse. The Boston Marathon is a family event."
He urged the jury to not worry that a death sentence would make Tsarnaev a martyr. "A death sentence is not giving him want he wants. It's giving him what he deserves," Mellin said.
Defense lawyer Judy Clarke spoke next. "I come before you and ask you to choose life," she said as she opened her appeal to the jury.
"I'm not asking you to excuse him, there are no excuses. I'm not asking you for sympathy. Our sympathies lie with those who suffered," she said. "I'm asking you to try to understand how the unimaginable occurred."
Clarke spoke of Tsarnaev as the youngest brother in a dysfunctional family and described how his parents doted on his elder brother, Tamerlan, and ignored the shy and withdrawn Dzhokhar. She recalled how his mother and brother became radicalized, while his father suffered from mental trauma.
"There were serious problems in the home," Clarke said. "Dzhokhar remained the hidden child." Finally, she said, he "followed Tamerlan around like a little puppy."
"Dzhokhar Tsarnaev is not the worst of the worst, and that's what the death penalty is reserved for, the worst of the worst," she said.
"Is this a life worth saving? Is there hope for him? Is this a life worth redemption?" she asked, adding that "today he is sorry. And he's remorseful."
Because they have the higher burden of trying to put someone to death, prosecutors received the last word. William D. Weinreb said both brothers planted separate pressure-cooker bombs at the race. "They were both men of action," Weinreb said. "They committed this together, they each had roles to play."
"These were political crimes designed to harm the United States," the prosecutor said.
The jury of seven women and five men has two options: Death at the federal execution chamber in Indiana or life with no parole in a solitary cell at the Supermax prison in Colorado. They are expected to return Thursday morning for further deliberations.
"The choice is yours and yours alone to make," Judge George A. O'Toole Jr. instructed the jurors. "No juror is ever required to impose a sentence of death," he cautioned.
Tsarnaev, 21, a Russian immigrant, was convicted last month of all 30 charges in the bombings that killed three and wounded more than 260 others. Among the injured were 17 people who lost limbs. Separately, a young officer at the Massachusetts Institute of Technology was shot dead in his patrol car during the manhunt for the Tsarnaev brothers.
A death sentence would mark the first time federal prosecutors have won the ultimate penalty in a terrorism case in the post-Sept. 11 era.
A life sentence would keep Clarke's record perfect for never losing a client to death row, despite representing some of the most notorious criminals in recent U.S. history.
On Twitter: @RickSerranoLAT
---
Must-read stories from the L.A. Times
Get the day's top news with our Today's Headlines newsletter, sent every weekday morning.
You may occasionally receive promotional content from the Los Angeles Times.