On fourth anniversary of Boston Marathon bombings, a day of public service, resiliency and strength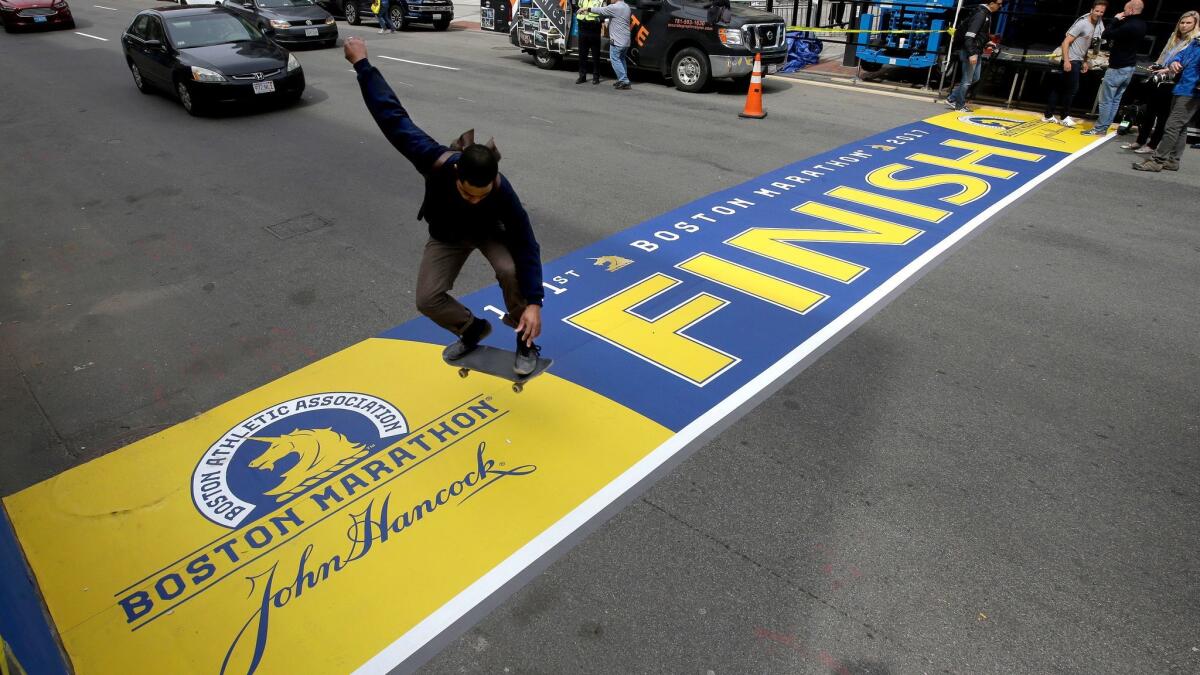 It was 2:49 p.m. when the bombs exploded on Boylston Street, separated by 12 seconds and 210 yards. The two brothers who put them there, Dzhokhar and Tamerlan Tsarnaev, wanted to tear Boston apart.
Little did they know how much they would bring it together.
Saturday marks four years since the Boston Marathon bombings, which killed three people, injured hundreds of others and sent a city into lock-down and disarray.
But for Monday's iconic 26.2-mile run on a course the city expects more than 30,000 people to traverse, Boston isn't mourning, somber or quiet.
It's loudly celebrating.
"The race itself is, in many ways, a commemoration of what happened," said T.K. Skenderian, a spokesman for the marathon, which will take place for the 121st time. "There is no moment of silence on marathon day."
The runners will run, and the crowds — a rowdy bunch known to sit on lounge chairs and gulp beers as they watch — will cheer them on, as they've done since 1897.
And for the third year, on Saturday the city will observe one of the worst terrorist attacks in the country since Sept. 11, 2001, with a spirit of generosity.
One Boston Day, as the city holiday is dubbed, is expected to bring thousands of residents and visitors out in support of the "resiliency" and "strength" of the streets and people jolted on Boylston Street.
It could be described as a massive, coordinated community service festival across the region. It kicks off at 8 a.m. as Mayor Marty Walsh takes part in a wreath laying at the bombing sites in the city's Back Bay neighborhood by the finish line.
At 10 a.m., volunteers from the American Red Cross hold a blood drive at the Sheraton Boston, blocks from where the bombs once ripped off limbs.
Across the Charles River at ArtBar in Cambridge, proceeds from a lunch will be donated to the Sean A. Collier Self Sponsor Scholarship Fund. It's named after the officer who was shot in the head and killed by the Tsarnaevs as he patrolled the Massachusetts Institute of Technology campus three days after the bombings.
Back in Boston, a fleet of volunteers will honor the youngest victim killed in the bombing, 8-year-old Martin Richard, by doing something he loved to do in his Dorchester neighborhood: picking up trash and planting flowers.
Firefighters and police will be honored throughout the day. At the Blaze Pizza chain, employees will give free slices to all first responders.
And at 2:49 p.m., volunteers around the city will pause for a moment of silence.
"The Boston Marathon is a key part of our city's identity, and continues to show the world that Boston is strong, and our traditions will endure, no matter what," Walsh said in a statement. "The spirit of the day on April 15 shows the best of Boston: how Bostonians from all backgrounds come together to line the streets, celebrate one another and do good for their community."
The city has encouraged residents to submit online pledges to do "acts of kindness" and post them to social media using the hashtag #OneBostonDay. As of Friday, there were 5,142 pledges.
Pledges are also being taken outside the city and continuing throughout the year.
North of Boston, the Malden Islamic Center is planning a Mediterranean food festival to raise funds for Bread of Life, a faith-based organization that gives food to low-income families in Malden and other suburbs.
"It's really about building a stronger community together and trying to help others on a day when there was so much pain," said the mosque's administrative director, Nichole Mossalam. She was formerly the executive director of the Islamic Society of Boston, a small mosque in Cambridge that the Tsarnaevs occasionally attended.
Meanwhile, new details about events leading up to the attacks emerged this week.
The FBI had said previously that it had interviewed the elder brother, Tamerlan, two years before the bombings, but the agency did not disclose details about that interview until it released a report on the matter Monday.
In 2011, Tamerlan Tsarnaev told federal agents who visited him in Cambridge that he had "respect for all religions and feels that any religion makes your life better," according to the report.
The FBI had investigated him after the Russian government suggested he was a "follower of radical Islam" and said he had planned to "join unspecified underground groups." But the FBI did not find Tsarnaev, who is believed to have in part been radicalized online, to be involved in "any terrorism activity."
Tamerlan Tsarnaev died in the days following the bombings after a confrontation in which he was shot by police in Watertown, Mass. His brother, Dzhokhar Tsarnaev, survived, and was found guilty of multiple charges in 2015.
Now 23, he's on death row at ADX Florence, a federal supermax prison in Colorado.
Jaweed Kaleem is The Times' national race and justice correspondent. Follow him on Twitter, Facebook and Instagram.
ALSO
As Trump and Texas crack down on illegal immigration, Austin rebels
Arkansas judge blocks state from using lethal injection drug, halting executions
A sad farewell for Dolores Westfall, whose 'retirement' was motoring from job to job in an RV
Sign up for Essential California for news, features and recommendations from the L.A. Times and beyond in your inbox six days a week.
You may occasionally receive promotional content from the Los Angeles Times.