After Las Vegas massacre, Congress has failed to act on 'bump stocks.' But states and cities are taking the lead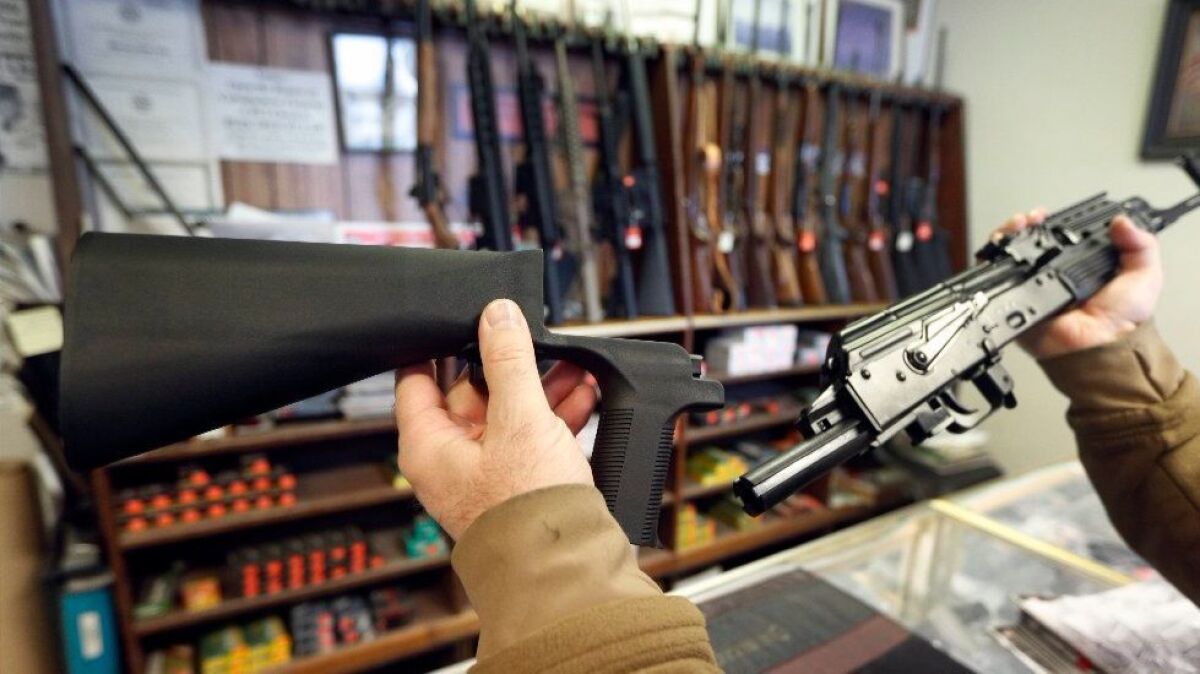 For once, a mass shooting seemed to create a bipartisan consensus — rare in the polarized debate over gun control — that something had to change.
In the days after a gunman killed 58 people at an outdoor country music festival on the Las Vegas Strip in October, members of Congress set their sights on "bump stocks," devices that allow a semiautomatic firearm to mimic a fully automatic one.
Lawmakers called for more regulation of bump stocks and even outright bans. They vowed — Democrats and Republicans alike — to make the issue a legislative priority.
But that was then.
Four months after the deadliest mass shooting in modern U.S. history, Congress has not acted on bump stocks, while states and local governments have moved to limit the sale and possession of the devices.
In Massachusetts, which has some of the strictest gun laws in the country, the Democratic-controlled Legislature passed a measure in November banning bump stocks, becoming the first state to pass such legislation in the wake of the Las Vegas shooting. Lt. Gov. Karyn Polito, filling in for Gov. Charlie Baker, a fellow Republican, signed the bill into law.
Those who owned a bump stock before the Massachusetts law took effect must contact local law enforcement and hand over the device for destruction or face criminal charges.
"This is battlefield weaponry that has no place in society at all," said Massachusetts state Rep. David Linsky, a Democrat, who championed the legislation. "We had to do something. … Too often Congress does not act on these issues, so it's left up to the states. These devices are killing machines."
Last month, New Jersey lawmakers passed a bill banning the sale and possession of bump stocks. The legislation gives gun owners 90 days to surrender their bump stocks. Licensed firearm manufacturers and retailers have 30 days to turn over the devices to law enforcement. It was signed into law by outgoing Republican Gov. Chris Christie. He offered no public comment as to why he supported the legislation.
Several other states, including Connecticut and Washington, are also considering bump stock bans.
Municipalities have taken action too.
In December, City Council members in Columbia, S.C., approved an ordinance banning within city limits the use of bump stocks and trigger cranks — small devices that fit over the trigger and can fire a weapon multiple times with a single turn. Under the ordinance, however, it is still legal to own bump stocks and trigger cranks, as long as they are stored in separate containers from firearms.
Denver City Council members last month passed a measure that will make it illegal to sell, carry, store or possess bump stocks.
For some council members, the issue is deeply personal. The Denver metro area is home to some of the worst mass shootings in U.S. history. In 1999, 12 students and a teacher were killed at Columbine High School in Littleton. And in 2012, 12 people were killed and 70 others were injured in a shooting at an Aurora movie theater.
Denver City Councilman Albus Brooks called the measure "harm reduction" for the community.
"This is about reducing the damage a mass shooter can inflict. … Is the ban going to stop the next mass shooting? I don't know," Brooks said. "But I'm certain it will help save lives because someone won't be able to essentially fire an automatic weapon."
Calls for greater regulation have followed most mass shootings in recent years, but various proposals — such as more thorough background checks — have repeatedly failed to gain traction.
But the Las Vegas shooting stood out not only for the carnage — hundreds wounded along with the 58 dead — but because of how Stephen Paddock carried out his rampage. It took only about 10 minutes. In the aftermath, bump stocks were seen as a way of getting around the National Firearms Act, which mandates strict federal regulation of automatic weapons.
Last October, in the days after the shooting, the National Rifle Assn. — which steadfastly opposes stricter gun controls — indicated a willingness to compromise on bump stocks. The group said it "believes that devices designed to allow semi-automatic rifles to function like fully-automatic rifles should be subject to additional regulations." At the same time, it called on the Bureau of Alcohol, Tobacco, Firearms and Explosives, which authorizes the sale of bump stocks, to implement tougher rules.
Last week, a spokeswoman for the NRA said the group stood by its statement. The NRA said new rules, rather than legislation, were the best way to regulate bump stocks, so when a bipartisan group of lawmakers in Congress presented federal legislation to ban bump stocks, the NRA voiced opposition, labeling it, among other things, an infringement on 2nd Amendment rights. The legislation, spearheaded by Democratic Sen. Dianne Feinstein of California, has stalled.
While state and local measures to address bump stocks continue to progress, manufacturers of the devices have faced a flurry of lawsuits in recent months. Texas-based Slide Fire Solutions, which created bump stocks, is named in several lawsuits filed in the wake of the Las Vegas shooting.
Christine Caria was at the Route 91 Harvest music festival working as a vendor selling cowboy boot accessories. She was trampled trying to flee as Paddock rained bullets down onto the crowd from the 32nd floor of the Mandalay Bay hotel.
"The gunfire was coming from everywhere," Caria, 50, said. "It was automatic fire — no stopping at all. Bullets were flying all over the place."
Caria traveled to Washington last fall to meet with lawmakers in support of Feinstein's bill. She's dismayed it has stalled, but is also optimistic about the efforts afoot in states around the country.
"This will be something I will fight for. … There needs to be bans," she said. "State by state, I'll work to make sure these devices are off the streets. They're not needed."
Twitter: @kurtisalee
Must-read stories from the L.A. Times
Get the day's top news with our Today's Headlines newsletter, sent every weekday morning.
You may occasionally receive promotional content from the Los Angeles Times.