Prosecutor describes tense, armed standoff at Cliven Bundy ranch: 'We were outgunned'
Reporting from Las Vegas —
Nevada rancher Cliven Bundy and his sons repeatedly violated court orders to remove their cattle from public land while inciting and escalating an armed standoff with government agents near their Bunkerville ranch more than three years ago, federal prosecutors told a Las Vegas jury Tuesday.
Acting U.S. Atty. Steven Myhre laid out the government's case against Bundy and two of his sons, Ammon and Ryan Bundy, along with cohort Ryan Payne, during an opening statement that lasted about two hours.
The standoff, which ended when federal officials backed down and released Bundy's cattle, helped the 71-year-old rancher attain folk-hero status in the eyes of those who say the federal government squelches personal freedom.
Myhre told jurors that the case wasn't about free speech, legitimate protest or even gun rights. Instead, he said, jurors needed to weigh whether the nation would be better governed by the rule of law or the end of a gun.
But Bundy's attorney, Bret Whipple, said the federal government was the aggressor, and that decades-long attempts to seize cattle and demand payments on land Bundy's family had used since 1877 caused the standoff. Whipple said the Bundy protest had always been peaceful.
The standoff, which drew self-described militia members from several states, grew larger, Whipple said, because Americans from around the country saw a family being abused by federal authorities and wanted to come to their aid.
"Why were they there?" Whipple asked. "Because in America, it's OK to help."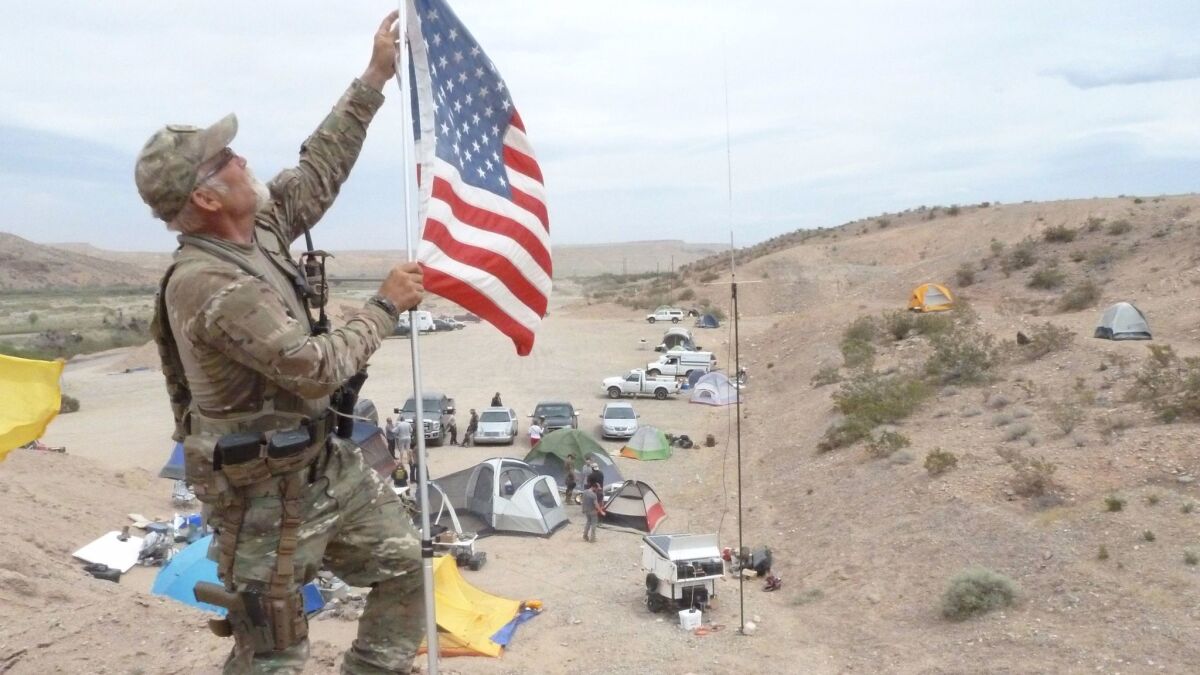 The high-profile case is expected to push into 2018 as federal prosecutors aim to prove the Bundy family and militia leader Payne tried to stop the federal government from seizing cattle that were grazing on public land by threatening a federal officer, carrying and using a firearm, and engaging in a conspiracy.
Cliven Bundy, 71, has become a revered figure among those who believe the federal government has overstepped its authority in requiring grazing fees for cattle on land controlled by the federal Bureau of Land Management, and has raised the larger question of federal control of land in the West.
Myhre methodically took jurors through a timeline leading up to the April 12, 2014, standoff at an overpass along Interstate 15 about 90 miles north of Las Vegas. He said the conflict began in 1993, when Cliven Bundy decided to stop getting permits and paying grazing fees for his cattle that had settled on federal land.
Whipple argued that Bundy had tried to pay the state of Nevada the grazing fees because he didn't recognize BLM sovereignty over grazing land, and he said the family held water rights in the areas in which the cattle were grazing.
The prosecutor countered that Bundy had plenty of opportunities to comply with court orders and said his violation of those lawful demands gave federal authorities the right to remove the cattle.
"Mr. Bundy interfered," Myhre said. "The level of interference escalated."
Using photos to illustrate the heightened tensions, Myhre supplied a narrative for jurors with the use of social media posts and a recording of a conservative California talk radio program in which the Bundys claimed to be victims of government tyranny. Myhre told jurors those claims were false and that the BLM was simply executing a lawful court order to remove cattle that were grazing illegally.
The trial will continue with opening statements from the other defendants Wednesday.
As Myhre spoke, the pictures showed militia members carrying rifles in confrontations with law enforcement — including an image of Ammon Bundy being tasered by police after running his ATV into a truck driven by federal workers involved in the removal of cattle.
But Whipple said Ammon Bundy rammed his ATV into the truck because it wasn't removing cattle. He said the truck was carrying private property, including water pipes that help sustain the farm.
Whipple showed the jury video of a woman being thrown to the ground, a woman prosecutors claimed was standing in the way of trucks and was moved for her safety. But Whipple said the video showed the woman wasn't in front of the trucks.
Whipple didn't dispute that some Bundy supporters were armed, but he showed images of other supporters praying with a Bible under an overpass during the standoff — saying it was a protest of government overreach that wasn't about guns. He said the gathering of people believed the Bundys were in danger.
"At the end of the day, the government is us," Whipple said. "The government said 'no more.' "
Myhre said federal officers feared for their lives when about 400 Bundy supporters faced off against about 30 federal agents. He told jurors they would hear testimony from officers saying: "We were outnumbered. We were outgunned."
The case is a high-profile showdown for the federal government as it looks to rebound from several recent losses to the Bundys in court.
Both Ammon Bundy, 42, and Ryan Bundy, 44, were acquitted on similar federal felony charges related to their roles in a 41-day standoff at an Oregon wildlife preserve in 2016. Twice this year, Las Vegas juries either acquitted or deadlocked on multiple charges pinned to several Bundy cohorts involved in the Bunkerville clash.
Federal prosecutors did manage to get Eric J. Parker, 34, of Hailey, Idaho, and O. Scott Drexler, 47, of Challis, Idaho, to plead guilty last month to one count of obstruction of court order.
This trial has already seen a few twists and turns, and opening arguments were delayed last week.
And it threatened to be delayed again Tuesday when Myhre asked for a continuance after asking to review emails that had been brought to his attention this week. But that request was opposed by the defendants and denied by U.S. District Judge Gloria Navarro.
"Let's get it done," Cliven Bundy told the judge.
Last week, the Bundys — along with Payne — asked Navarro for a pretrial release. Late Monday, she granted that request to Ryan Bundy, who will serve as his own attorney and had claimed hardship in processing motions and preparing his defense from his jail cell in Pahrump. He will have an ankle monitor and live in a halfway house during the trial.
The other three defendants were denied pretrial release.
Twitter: @davemontero
---
UPDATES:
6:30 p.m.: The story was updated with background and comments from defense attorney Bret Whipple.
2:20 p.m.: The story was updated with opening statements from the prosecution.
The story was originally published at 6:50 a.m.
Must-read stories from the L.A. Times
Get the day's top news with our Today's Headlines newsletter, sent every weekday morning.
You may occasionally receive promotional content from the Los Angeles Times.